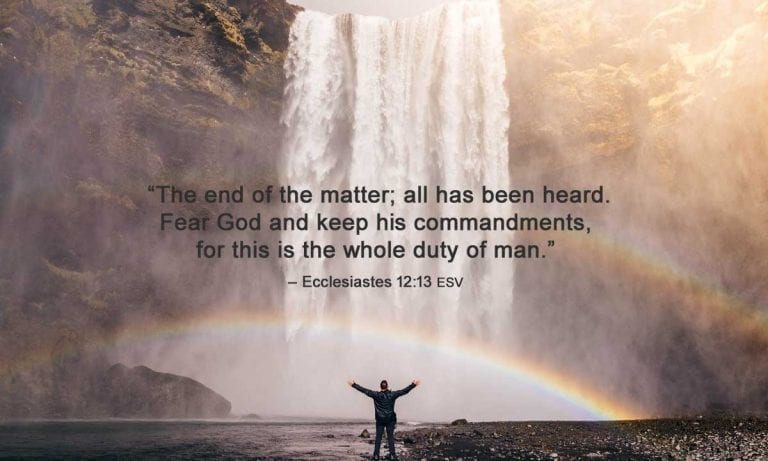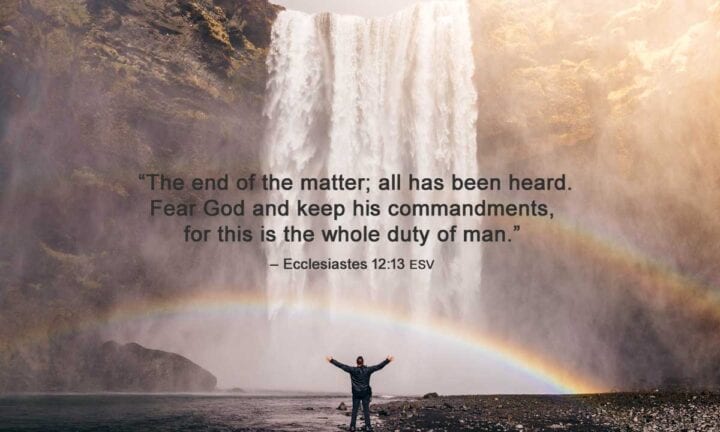 The best thing that God gave us is the gift of life. It's not just the life of us human beings but the life around us. We may face trials in life but we should always keep moving forward and never give up. This very life that He gave us should be treasured and we should be forever thankful for it. It's something that needs to be appreciated no matter what the situation may be.
Our journey through this life is not easy but it's worth living with all the mercy and grace that God's been blessing us. When we're in our "lowest of lows" or "highest of highs" we should always remember to live in His word that is found in the Bible; it shows God's wisdom and promises to us.
With all the things that have been going on in your life, it's the best feeling to be comforted by His words and take time to meditate upon them. Now here are 100 inspirational Bible verses about life that will help you find its true meaning and purpose.
1. "The Lord shall preserve thee from all evil: he shall preserve thy soul. The Lord shall preserve thy going out and thy coming in from this time forth, and even for evermore."– Psalm 121:7-8 | KJV
2. "Those whom I love, I reprove and discipline, so be zealous and repent." – Revelation 3:19 | ESV
3. "See then that ye walk circumspectly, not as fools, but as wise, Redeeming the time, because the days are evil." –Ephesians 5:15-16 | KJV
4. "Whatever you do, work at it with all your heart, as working for the Lord, not for human masters, since you know that you will receive an inheritance from the Lord as a reward. It is the Lord Christ you are serving." – Colossians 3:23-24 | NIV
5. "He that followeth after righteousness and mercy findeth life, righteousness, and honour." – Proverbs 21:21 | KJV
6. "You are the light of the world. A city set on a hill cannot be hidden." – Matthew 5:14 | ESV
7. "For what shall it profit a man, if he shall gain the whole world, and lose his own soul?" – Mark 8:36 | KJV
8. "For we live by faith, not by sight." – 2 Corinthians 5:7 | NIV
9. "My flesh and my heart faileth: but God is the strength of my heart, and my portion forever." – Psalm 73:26 | KJV
10. "But as he who called you is holy, you also be holy in all your conduct, since it is written, 'You shall be holy, for I am holy.'" –1 Peter 1:15-16 | ESV
11. "As in water face answereth to face, so the heart of man to man." – Proverbs 27:19 | KJV
12. "For, Whoever would love life and see good days must keep their tongue from evil and their lips from deceitful speech. They must turn from evil and do good; they must seek peace and pursue it."– 1 Peter 3:10-11 | NIV
13. "For thou art my rock and my fortress; therefore for thy name's sake lead me, and guide me." – Psalm 31:3 | KJV
14. "Or do you not know that your body is a temple of the Holy Spirit within you, whom you have from God? You are not your own, for you were bought with a price. So glorify God in your body." – 1 Corinthians 6:19-20 | ESV
15. "Shew me thy ways, O Lord; teach me thy paths." – Psalm 25:4 | KJV
16. "Above all else, guard your heart, for everything you do flows from it." – Proverbs 4:23 | NIV
17. "And be not conformed to this world: but be ye transformed by the renewing of your mind, that ye may prove what is that good, and acceptable, and perfect, will of God." – Romans 12:2 | KJV
18. "But I do not account my life of any value nor as precious to myself, if only I may finish my course and the ministry that I received from the Lord Jesus, to testify to the gospel of the grace of God." – Acts 20:24 | ESV
19. "Rest in the Lord, and wait patiently for him: fret not thyself because of him who prospereth in his way, because of the man who bringeth wicked devices to pass." – Psalm 37:7 | KJV
20. "Then Jesus declared, 'I am the bread of life. Whoever comes to me will never go hungry, and whoever believes in me will never be thirsty.'" – John 6:35 | NIV
21. "He that keepeth his mouth keepeth his life: but he that openeth wide his lips shall have destruction." –Proverbs 13:3 | KJV
22. "Again Jesus spoke to them, saying, 'I am the light of the world. Whoever follows me will not walk in darkness, but will have the light of life.'" – John 8:12 | ESV
23. "Surely goodness and mercy shall follow me all the days of my life: and I will dwell in the house of the Lord forever." – Psalm 23:6 | KJV
24. "For I command you today to love the Lord your God, to walk in obedience to him, and to keep his commands, decrees, and laws; then you will live and increase, and the Lord your God will bless you in the land you are entering to possess." – Deuteronomy 30:16 | NIV
25. "Follow peace with all men, and holiness, without which no man shall see the Lord." – Hebrews 12:14 | KJV
26. "Because your steadfast love is better than life, my lips will praise you. So I will bless you as long as I live; in your name, I will lift up my hands." – Psalm 63:3-4 | ESV
27. "Who is a wise man and endued with knowledge among you? let him shew out of a good conversation his works with meekness of wisdom." – James 3:13 | KJV
28. "For whoever wants to save their life will lose it, but whoever loses their life for me will find it." – Matthew 16:25 | NIV
29. "I am crucified with Christ: nevertheless I live; yet not I, but Christ liveth in me: and the life which I now live in the flesh I live by the faith of the Son of God, who loved me and gave himself for me." – Galatians 2:20 | KJV
30. "Whoever has the Son has life; whoever does not have the Son of God does not have life." – 1 John 5:12 | ESV
31. "He that believeth on me, as the scripture hath said, out of his belly shall flow rivers of living water." – John 7:38 | KJV
32. "The one who gets wisdom loves life; the one who cherishes understanding will soon prosper." – Proverbs 19:8 | NIV
33. "He is in the way of life that keepeth instruction: but he that refuseth reproof erreth." – Proverbs 10:17 | KJV
34. " 'All things are lawful for me," but not all things are helpful. "All things are lawful for me," but I will not be dominated by anything." – 1 Corinthians 6:12 | ESV
35. "To everything, there is a season and a time to every purpose under the heaven." –Ecclesiastes 3:1 | KJV
36. "Do not say, "Why were the old days better than these?" For it is not wise to ask such questions." – Ecclesiastes 7:10 | NIV
37. "Commit thy way unto the Lord; the trust also in him, and he shall bring it to pass. And he shall bring forth thy righteousness as the light, and thy judgment as of the noonday." – Psalm 37:5-6 | KJV
38. "In the day of prosperity be joyful, and in the day of adversity consider: God has made the one as well as the other, so that man may not find out anything that will be after him."– Ecclesiastes 7:14 | ESV
39. "Take therefore no thought for the morrow: for the morrow shall take thought for the things of itself. Sufficient unto the day is the evil thereof." – Matthew 6:34 | KJV
40. "This is how God showed his love among us: He sent his one and only Son into the world that we might live through him." – 1 John 4:9 | NIV
41. "For as in Adam all die, even so in Christ shall all be made alive." – 1 Corinthians 15:22 | KJV
42. "For to set the mind on the flesh is death, but to set the mind on the Spirit is life and peace." – Romans 8:6 | ESV
43. "Let no man despise thy youth; but be thou an example of the believers, in a word, in conversation, in charity, in spirit, in faith, in purity." – 1 Timothy 4:12 | KJV
44. "Do everything without grumbling or arguing, so that you may become blameless and pure, children of God without fault in a warped and crooked generation. Then you will shine among them like stars in the sky as you hold firmly to the word of life." – Philippians 2:14-16 | NIV
45. "This is the day which the Lord hath made; we will rejoice and be glad in it." – Psalm 118:24 | KJV
46. "The thief comes only to steal and kill and destroy. I came that they may have life and have it abundantly." – John 10:10 | ESV
47. "Therefore I say unto you, Take no thought for your life, what ye shall eat, or what ye shall drink; nor yet for your body, what ye shall put on. Is not the life more than meat, and the body than raiment?" – Matthew 6:25 | KJV
48. "He replied, 'Blessed rather are those who hear the word of God and obey it.'" –Luke 11:28 | NIV
49. "The heart is deceitful above all things, and desperately wicked: who can know it? I the Lord search the heart, I try the reins, even to give every man according to his ways, and according to the fruit of his doings." –Jeremiah 17:9-10 | KJV
50. "For though we walk in the flesh, we are not waging war according to the flesh." – 2 Corinthians 10:3 | ESV
51. "All scripture is given by inspiration of God, and is profitable for doctrine, for reproof, for correction, for instruction in righteousness: That the man of God may be perfect, thoroughly furnished unto all good works." – 2 Timothy 3:16-17 | KJV
52. "Since we live by the Spirit, let us keep in step with the Spirit."–Galatians 5:25 | NIV
53. "Jesus saith unto him, I am the way, the truth, and the life: no man cometh unto the Father, but by me." – John 14:6 | KJV
54. "For a thousand years in your sight are but as yesterday when it is past, or as a watch in the night." – Psalm 90:4 | ESV
55. "Whosoever shall confess that Jesus is the Son of God, God dwelleth in him, and he in God." – 1 John 4:15 | KJV
56. "What good will it be for someone to gain the whole world, yet forfeit their soul? Or what can anyone give in exchange for their soul?" – Matthew 16:26 | NIV
57. "My son, forget not my law; but let thine heart keep my commandments: For the length of days, and long life, and peace, shall they add to thee." – Proverbs 3:1-2 | KJV
58. "For 'In him, we live and move and have our being'; as even some of your own poets have said, 'For we are indeed his offspring.'" –Acts 17:28 | ESV
59. "For to me to live is Christ, and to die is gain."– Philippians 1:21 | KJV
60. "Blessed is the one who perseveres under trial because, having stood the test, that person will receive the crown of life that the Lord has promised to those who love him." – James 1:12 | NIV
61. "Thou wilt shews me the path of life: in thy presence is the fulness of joy; at thy right hand, there are pleasures for evermore." – Psalm 16:11 | KJV
62. "There is a way that seems right to a man, but its end is the way to death." – Proverbs 14:12 | ESV
63. "He that walketh uprightly walketh surely: but he that perverteth his ways shall be known." – Proverbs 10:9 | KJV
64. "Hope deferred makes the heart sick, but a longing fulfilled is a tree of life." – Proverbs 13:12 | NIV
65. "For whether we live, we live unto the Lord; and whether we die, we die unto the Lord: whether we live, therefore, or die, we are the Lord's."– Romans 14:8 | KJV
66. "For freedom, Christ has set us free; stand firm therefore, and do not submit again to a yoke of slavery."– Galatians 5:1 | ESV
67. "I will never forget thy precepts: for with them, thou hast quickened me." –Psalm 119:93 | KJV
68. "For this is what the high and exalted One says— he who lives forever, whose name is holy: 'I live in a high and holy place, but also with the one who is contrite and lowly in spirit, to revive the spirit of the lowly and to revive the heart of the contrite.'" – Isaiah 57:15 | NIV
69. "And God said, Let us make man in our image, after our likeness: and let them have dominion over the fish of the sea, and over the fowl of the air, and over the cattle, and over all the earth, and over every creeping thing that creepeth upon the earth." – Genesis 1:26 | KJV
70. "As for you, you meant evil against me, but God meant it for good, to bring it about that many people should be kept alive, as they are today." – Genesis 50:20 | ESV
71. "But if the Spirit of him that raised up Jesus from the dead dwell in you, he that raised up Christ from the dead shall also quicken your mortal bodies by his Spirit that dwelleth in you." – Romans 8:11 | KJV
72. "For you know that it was not with perishable things such as silver or gold that you were redeemed from the empty way of life handed down to you from your ancestors, but with the precious blood of Christ, a lamb without blemish or defect." – 1 Peter 1:18-19 | NIV
73. "Whether therefore ye eat, or drink, or whatsoever ye do, do all to the glory of God." – 1 Corinthians 10:31 | KJV
74. "So also faith by itself, if it does not have works, is dead." –James 2:17 | ESV
75. "What shall we say then? Shall we continue in sin, that grace may abound? God forbid. How shall we, that are dead to sin, live any longer therein?" – Romans 6:1-2 | KJV
76. "His divine power has given us everything we need for a godly life through our knowledge of him who called us by his own glory and goodness." – 2 Peter 1:3 | NIV
77. "For I am in a strait betwixt two, having a desire to depart, and to be with Christ; which is far better: Nevertheless to abide in the flesh is more needful for you." – Philippians 1:23-24 | KJV
78. "Blessed are those whose way is blameless, who walk in the law of the Lord!" – Psalm 119:1 | ESV
79. "For whosoever will save his life shall lose it; but whosoever shall lose his life for my sake and the gospel's, the same shall save it." – Mark 8:35 | KJV
80. "I know that there is nothing better for people than to be happy and to do good while they live. That each of them may eat and drink, and find satisfaction in all their toil—this is the gift of God." – Ecclesiastes 3:12-13 | NIV
81. "And he humbled thee, and suffered thee to hunger, and fed thee with manna, which thou knewest not, neither did thy fathers know; that he might make thee know that man doth not live by bread only, but by every word that proceedeth out of the mouth of the Lord doth man live." –Deuteronomy 8:3 | KJV
82. "For the love of Christ controls us, because we have concluded this: that one has died for all, therefore all have died; and he died for all, that those who live might no longer live for themselves but for him who for their sake died and was raised." – 2 Corinthians 5:14-15 | ESV
83. "Bring forth, therefore, fruits meet for repentance." – Matthew 3:8 | KJV
84. "I know what it is to be in need, and I know what it is to have plenty. I have learned the secret of being content in any and every situation, whether well fed or hungry, whether living in plenty or in want." – Philippians 4:12 | NIV
85. "And God said, Behold, I have given you every herb bearing seed, which is upon the face of all the earth, and every tree, in the which is the fruit of a tree yielding seed; to you, it shall be for meat." –Genesis 1:29 | KJV
86. "The earth is the Lord's and the fullness thereof, the world and those who dwell therein." –Psalm 24:1 | ESV
87. "For bodily exercise profiteth little: but godliness is profitable unto all things, having the promise of the life that now is, and of that which is to come." – 1 Timothy 4:8 | KJV
88. "Therefore, since we are surrounded by such a great cloud of witnesses, let us throw off everything that hinders and the sin that so easily entangles. And let us run with perseverance the race marked out for us." –Hebrews 12:1 | NIV
89. "For thus saith, the Lord unto the house of Israel, Seek ye me, and ye shall live." – Amos 5:4 | KJV
90. "The Lord redeems the life of his servants; none of those who take refuge in him will be condemned." – Psalm 34:22 | ESV
91. "For whosoever will save his life shall lose it: but whosoever will lose his life for my sake, the same shall save it." –Luke 9:24 | KJV
92. "Yet for us, there is but one God, the Father, from whom all things came and for whom we live; and there is but one Lord, Jesus Christ, through whom all things came and through whom we live." – 1 Corinthians 8:6 | NIV
93. "Take no thought for your life, what ye shall eat; neither for the body, what ye shall put on. The life is more than meat, and the body is more than raiment."– Luke 12:22-23 | KJV
94. "Whoever finds his life will lose it, and whoever loses his life for my sake will find it." – Matthew 10:39 | ESV
95. "Finally, brethren, farewell. Be perfect, be of good comfort, be of one mind, live in peace; and the God of love and peace shall be with you." – 2 Corinthians 13:11 | KJV
96. "Live as free people, but do not use your freedom as a cover-up for evil; live as God's slaves." – 1 Peter 2:16 | NIV
97. "Go thy way, eat thy bread with joy, and drink thy wine with a merry heart; for God now accepteth thy works." – Ecclesiastes 9:7 | KJV
98. "Of his own will, he brought us forth by the word of truth, that we should be a kind of firstfruits of his creatures." – James 1:18 | ESV
99. "Let us hear the conclusion of the whole matter: Fear God, and keep his commandments: for this is the whole duty of man." – Ecclesiastes 12:13 | KJV
100. "Behold, his soul which is lifted up is not upright in him: but the just shall live by his faith." – Habakkuk 2:4 | KJV
There's so much to be grateful for in our life, we should just fully surrender it all to Him. Be faithful and believing in His word, and also trust in His will. Feel free to share this with someone who needs inspiration and comfort through God's word and wisdom.
ALSO READ: 12+ Bible Verses that will Help You Live a Long Life
Online courses recommended for you: