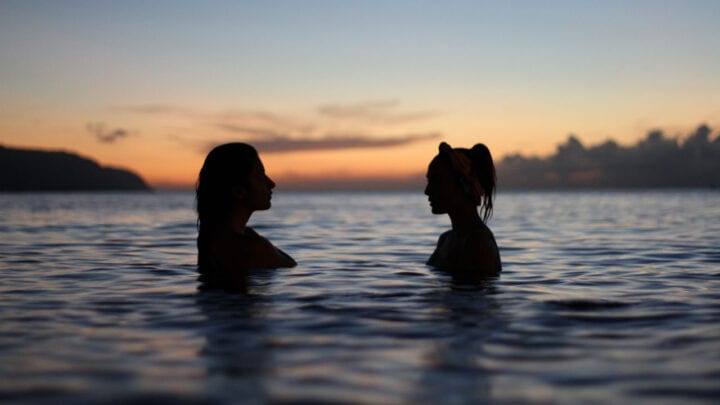 There is a Japanese saying that states that each person has three faces: one they show to their family, one they show to the ones they love, and one they only show to themselves. While this may be true, it seems like they have forgotten to mention the fake faces people often wear.
In a more optimistic world, fake people are unlikely to exist, but in this harsh reality we live in, this type of person is becoming more like an epidemic with each passing day. If you are unsure about the sincerity of your so-called friends, here are five ways to identify fake people.
1. They make everything about them.
Picture this: you're talking to one of your friends about your current dilemma with your partner, and then all of a sudden she cuts you off and says that she doesn't really want to listen because it's taking a toll on her.
Fake people don't care about you nor do they care about what you're going through. If you find yourself talking about your problems to a friend, and they turn the situation to make it about them, then it's highly likely that your "friend" is a fake one.
2. They're not there when you need them.
People with a large circle of friends experience this a lot. When everything's rainbow and butterflies, you may find yourself surrounded by people whom you call your friends, but when there comes a time that you may reach an all-time low, it's rare to see the same number of friends around you.
Take my advice and guard your circle closely. Always remember that quality is more important than quantity. It's no use having a bunch of people when none of them are there to catch your back during times of need.
ALSO READ: True Friends vs Fake Friends: What are the Differences?
3. They whisper behind your back.
Now, this is a tough one because you will never know unless someone they've been whispering to finally feels the guilt to tell you all about it. You may wonder why they bothered to be friends with you in the first place if they were just going to go behind your back. You will never know the answers to your thoughts.
Fake people like tearing other people apart. They will approach you, pretending to be your friend when all they've been doing was getting any dirty information on you and then airing it out when the opportunity arrives.
4. They secretly love seeing you in misery.
These kinds of people may never tell you this, but they absolutely love seeing you in your misery. They don't care about you or how you feel because they're really not at all invested in the friendship. They may loan their shoulders from time to time to cry on, but they don't really care.
In fact, they might even take advantage of your situation, which will bring us to the next identifier.
5. They like taking opportunities from you.
Fake people will definitely seize the chance to snatch an opportunity from you. Oh, that guy you secretly like? She's already dating him. What about that role for a play you've been working so hard on? She has connections and got someone else to cast her.
The worst part is they might even act innocent and turn the situation against you, making it look like you're the one stealing their thunder.
Now that we have learned how to spot a fake person, here are a few ways to permanently deal with them:
1. Cut them off from your life.
The most obvious and fastest way to deal with it is to cut them off from your life indefinitely. They don't need you and you surely don't need them, so why bother with the communication? If you're absolutely sure that they don't hold your trust, then get a pair of scissors and say goodbye.
When you do cut them off, it's best to tell them why you're doing it. Tell them how you feel and if you feel betrayed. Let them know that you are not fooled by their plastic front and that you'd rather live life with fewer complications.
ALSO READ: 11 Ways to Deal with Toxic People in Your Life
2. Confront them about their sincerity.
Another sure way to deal with it is to simply confront them about it. If you're having doubts about your friend, then find a time when it's just the two of you and then talk to her about it. Now, how do you tell if they're being true or not?
A lot of fake friends are very good at acting innocent, but watch out, action speaks louder than words. If one contrasts the other, then it's a definite fake.
3. Focus on more uplifting things.
Remember, you don't need those kinds of people in your life and you are much better off without them anyway. Once you remove them from your sight, it's time to focus on more positive things. Harness that leftover negative energy for the betterment of yourself.
Life can only throw you so many lemons so you better make use of it.
4. Ignore their words and tune them out.
Sometimes, these kinds of people cannot be avoided. For example, it's a family relative, your brother's girlfriend, or even a co-worker. The best thing to do is to maintain a civil relationship, but that doesn't mean you to lap it up to them.
Just nod along, smile, and let their fake energy drift into one ear and out the other.
If only we had some sort of device to pick out the fake people from the real ones, but unfortunately, that's not how life works. Not all people in the world are nice and we can't control who comes in into our lives but we definitely have a say on who gets to stay.
Always remember that it's no use having a lot of friends when it's all just a bunch of fake ones. Treasure those you know are real and let them know how much you value their trust and friendship. The world can sometimes be cruel, so we need all the friends we can get.
ALSO READ: Fake People vs. Genuine People: 20 Differences You Should Know