The other day I was at Michael's looking for the 2019 Happy Planner for a friend. The first staff member I talked to had no idea what a  Happy Planner was. I was shocked considering Michael's has always stocked The Happy Planner. The new planners weren't in yet, so I texted my friend and told her that the staff member didn't even know what The Happy Planner was. She texted back, 'Poor uninformed happy plannerless people'.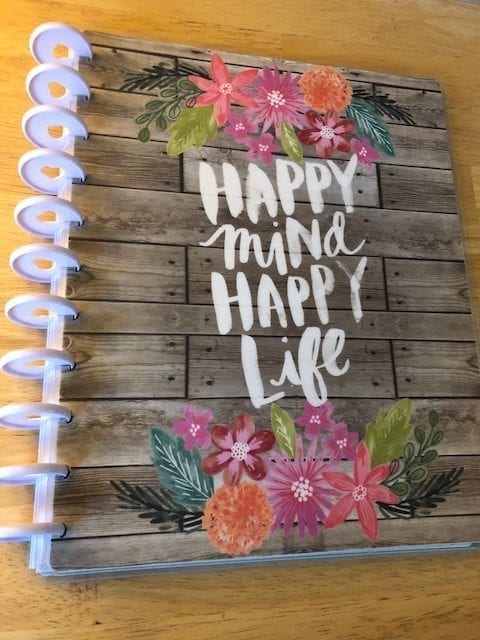 The truth is that The Happy Planner is a great planner for keeping track of your to-do lists, goals, memories, and anything else. And, once you start using this planner, it becomes hard NOT to use it. There are a few reasons why.
Bullet Journaling With More Structure
I'm not going to lie. Watching people bullet journal on YouTube made me want to become an amazing bullet journaler. But, I'm not good at it. I can't draw like these people. I don't have the time or patience to draw out calendars, monthly spreads, weekly spreads, boxes, habit trackers, etc. But, I still want the freedom to create a planner that matches my mood, style, and monthly and weekly needs.
That's where The Happy Planner comes in. It already has your monthly and weekly spreads. But, it leaves a lot of blank space for you to draw, put stickers, or write in. So, I kind of feel like a bullet journaler when using my Happy Planner, except there is a lot more structure for me to work with.
So Many Options To Choose From
I find the number of planners that The Happy Planner makes a little insane, but awesome too. There are so many different types that they are able to spread them out between stores. For instance, Michael's, Hobby Lobby, Staples, and Joann all get their own unique planners.
This can be a bummer too, because if you only have Michael's available to you, and a planner you like goes to Joann's, then it kind of sucks.
BUT, their website has all the styles to choose from, so it doesn't matter where you live, you can get it if you really want to.
Different Themes
Each planner has its own theme. For instance, there is an Empowered Woman Happy Planner that focuses on being a strong woman, and there is a Fresh Romance Happy Planner which focuses on romantic themes.
Each planner comes with a cover page, monthly cover pages, and overall colors and design that correlate to the theme you buy.
Horizontal and Vertical
Some planners have a vertical weekly layout like this:
And some have a more traditional horizontal weekly layout like this:
Easily Add Or Take Out Pages
This is hands down my favorite part of The Happy Planner. All of the paper inside the planner is punched with a special punch that allows the paper to fit around the unique rings in the planner. You can easily tear out the paper, without hurting it, and put new paper back in. Yes, you do have to buy the paper punch if you want to put your own paper into the happy planner, but it's totally worth it.
View this post on Instagram
Note: There is different size punches for the different size Happy Planners, so if you have a Big Happy Planner, you need the big size punch.
Mini, Classic, Or Big Size
Another choice you have is between a mini, classic, or big Happy Planner. I use the big size for work because it provides more space to write and take notes. The mini is perfect for carrying around. The classic is travel-friendly in a book bag or suitcase, and a lot of stickers made for The Happy Planner are made to fit into the classic size layouts the best.
Happy Planners For Men Isn't An Option
They really do gear The Happy Planner to women or men who like a more feminine layout. They do have some planners for kids, but the majority are geared towards women. That sucks because I'm sure that a lot of men would benefit from these planners!
The Happy Planner Allows Creativity With Structure
If you want a planner where you can be creative while still having the monthly and weekly layouts done-for-you, The Happy Planner is a great option.
Because the unique disc system allows you to add and remove pages, you can easily create extra pages on paper and add them to your planner, which gives you the ability to create spreads that you can't add into other planners.
But, if you just want to use it 'as is', you can do that too.
Along with their website and the stores that carry the planners, you can buy some things on Amazon. Not everything, but I did buy my hole punch from there.
If you have any questions about The Happy Planner, feel free to ask in the comments below!