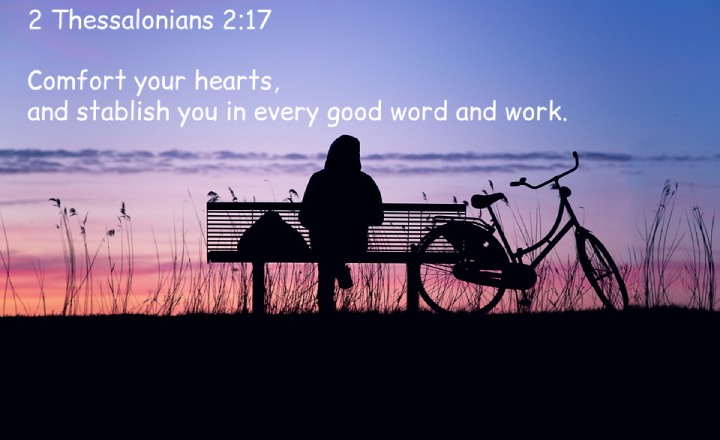 No matter what storms we face in life, we can find comfort and peace in God. The Bible tells us that God is our refuge and strength, an ever-present help in times of trouble (Psalm 46:1). When we put our trust in Him, He will see us through whatever challenges come our way.
God doesn't promise that life will be easy. In fact, Jesus himself said that we would have trials and tribulations in this world (John 16:33). But He also promised to be with us always, even to the end of the age (Matthew 28:20). So when the going gets tough, we can take comfort in knowing that we are never alone.
The peace of God is not a feeling or an emotion. It's a supernatural peace that comes from Him and guards our hearts and minds (Philippians 4:7). This peace can give us the strength to face anything life throws our way.
If you're going through a difficult time, know that God is with you. Lean on Him for strength and comfort, and let His peace fill your heart.
Prayer:
Dear Heavenly Father, thank You for being my refuge and strength. I know that I can always count on You, no matter what storms I face in life. Thank You for Your peace that guards my heart and mind. I pray that Your peace would fill me today, so that I may face whatever comes my way with strength and courage. In Jesus' name, Amen.
Reflection:
What is one thing you can do today to lean on God for strength and comfort?
How has God's peace helped you through a difficult time in your life?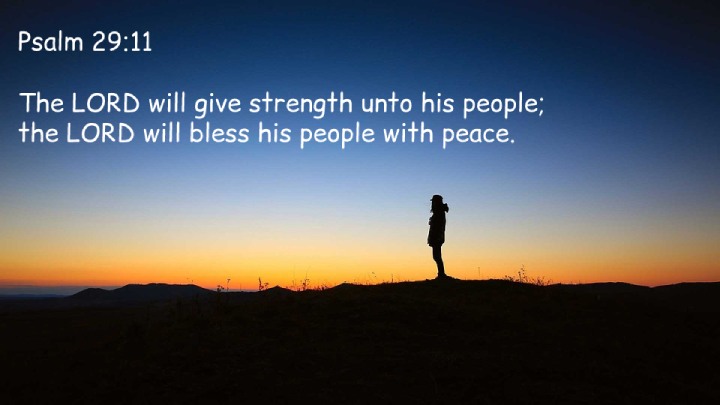 Bible Verses About Peace And Comfort
1. Acts 9:31
Then had the churches rest throughout all Judaea and Galilee and Samaria, and were edified; and walking in the fear of the Lord, and in the comfort of the Holy Ghost, were multiplied.
2. Romans 5:4
And patience, experience; and experience, hope:
3. Isaiah 32:18
And my people shall dwell in a peaceable habitation, and in sure dwellings, and in quiet resting places;
4. Zechariah 8:5
And the streets of the city shall be full of boys and girls playing in the streets thereof.
5. Psalm 4:8
I will both lay me down in peace, and sleep: for thou, LORD, only makest me dwell in safety.
6. Psalm 29:11
The LORD will give strength unto his people; the LORD will bless his people with peace.
7. 2 Corinthians 1:5
For as the sufferings of Christ abound in us, so our consolation also aboundeth by Christ.
8. Romans 15:5
Now the God of patience and consolation grant you to be likeminded one toward another according to Christ Jesus:
9. 1 Corinthians 1:3
Grace be unto you, and peace, from God our Father, and from the Lord Jesus Christ.
10. Romans 15:13
Now the God of hope fill you with all joy and peace in believing, that ye may abound in hope, through the power of the Holy Ghost.
11. 2 Thessalonians 2:17
Comfort your hearts, and stablish you in every good word and work.
12. Proverbs 3:2
For length of days, and long life, and peace, shall they add to thee.
13. Psalm 62:5
My soul, wait thou only upon God; for my expectation is from him.
14. Philippians 4:7
And the peace of God, which passeth all understanding, shall keep your hearts and minds through Christ Jesus.
15. Genesis 15:15
And thou shalt go to thy fathers in peace; thou shalt be buried in a good old age.
16. Galatians 6:16
And as many as walk according to this rule, peace be on them, and mercy, and upon the Israel of God.
17. 2 Thessalonians 3:16
Now the Lord of peace himself give you peace always by all means. The Lord be with you all.
18. 2 Corinthians 1:2
Grace be to you and peace from God our Father, and from the Lord Jesus Christ.
19. Romans 15:4
For whatsoever things were written aforetime were written for our learning, that we through patience and comfort of the scriptures might have hope.
20. 2 Corinthians 1:4
Who comforteth us in all our tribulation, that we may be able to comfort them which are in any trouble, by the comfort wherewith we ourselves are comforted of God.
21. Isaiah 40:1
Comfort ye, comfort ye my people, saith your God.
22. Romans 14:17
For the kingdom of God is not meat and drink; but righteousness, and peace, and joy in the Holy Ghost.
23. Luke 2:10
And the angel said unto them, Fear not: for, behold, I bring you good tidings of great joy, which shall be to all people.
24. 2 Corinthians 13:11
Finally, brethren, farewell. Be perfect, be of good comfort, be of one mind, live in peace; and the God of love and peace shall be with you.
25. Romans 1:6
Among whom are ye also the called of Jesus Christ:
26. Psalm 94:19
In the multitude of my thoughts within me thy comforts delight my soul.
27. Isaiah 66:13
As one whom his mother comforteth, so will I comfort you; and ye shall be comforted in Jerusalem.
28. Isaiah 66:12
For thus saith the LORD, Behold, I will extend peace to her like a river, and the glory of the Gentiles like a flowing stream: then shall ye suck, ye shall be borne upon her sides, and be dandled upon her knees.
29. Psalm 34:14
Depart from evil, and do good; seek peace, and pursue it.
30. John 14:27
Peace I leave with you, my peace I give unto you: not as the world giveth, give I unto you. Let not your heart be troubled, neither let it be afraid.
31. John 16:33
These things I have spoken unto you, that in me ye might have peace. In the world ye shall have tribulation: but be of good cheer; I have overcome the world.
32. Isaiah 51:3
For the LORD shall comfort Zion: he will comfort all her waste places; and he will make her wilderness like Eden, and her desert like the garden of the LORD; joy and gladness shall be found therein, thanksgiving, and the voice of melody.
33. Romans 1:7
To all that be in Rome, beloved of God, called to be saints: Grace to you and peace from God our Father, and the Lord Jesus Christ.
34. Isaiah 57:21
There is no peace, saith my God, to the wicked.
35. Ephesians 6:22
Whom I have sent unto you for the same purpose, that ye might know our affairs, and that he might comfort your hearts.
36. Isaiah 57:19
I create the fruit of the lips; Peace, peace to him that is far off, and to him that is near, saith the LORD; and I will heal him.
37. Zechariah 1:17
Cry yet, saying, Thus saith the LORD of hosts; My cities through prosperity shall yet be spread abroad; and the LORD shall yet comfort Zion, and shall yet choose Jerusalem.
38. 2 Corinthians 13:14
The grace of the Lord Jesus Christ, and the love of God, and the communion of the Holy Ghost, be with you all. Amen.
39. Matthew 5:4
Blessed are they that mourn: for they shall be comforted.
40. 1 Thessalonians 5:3
For when they shall say, Peace and safety; then sudden destruction cometh upon them, as travail upon a woman with child; and they shall not escape.
41. Jeremiah 16:5
For thus saith the LORD, Enter not into the house of mourning, neither go to lament nor bemoan them: for I have taken away my peace from this people, saith the LORD, even lovingkindness and mercies.
42. Psalm 71:21
Thou shalt increase my greatness, and comfort me on every side.
43. Romans 1:12
That is, that I may be comforted together with you by the mutual faith both of you and me.
44. Psalm 34:18
The LORD is nigh unto them that are of a broken heart; and saveth such as be of a contrite spirit.
45. 2 Corinthians 1:3
Blessed be God, even the Father of our Lord Jesus Christ, the Father of mercies, and the God of all comfort;
Online courses recommended for you:
Books recommended for you:
ALSO READ: