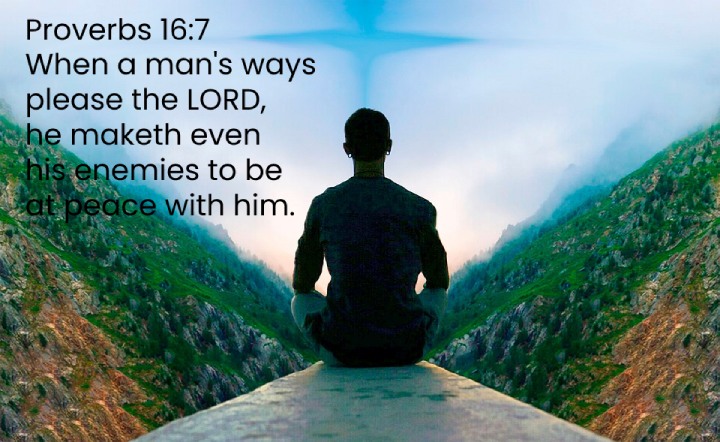 Individual Peace And World Peace
Peace is a state of mind that allows an individual to be content with oneself and the world around them. It is the absence of fear, anger, and anxiety.
There are different types of peace that an individual can find: personal, communal, national, and international. Personal peace is the most important type because it is what allows an individual to have inner stillness and live a content life. Communal peace happens when a group or community comes together and lives in harmony. National peace is when a country achieves tranquility and no longer experiences war or conflict within its borders. International peace is achieved when all countries come together and live in harmony without any conflict.
Peace of mind and world peace are two different things, but they are related.
Peace of mind is a state of being where you feel calm and in control. You may have days when everything goes smoothly, or weeks or even months when things are relatively calm. But you can also have moments or periods of peace of mind even in the midst of chaos.
Peace on earth is different. It's a state where there is no violence, no war, no hate. It's an ideal we all hope for, but it seems to be getting harder and harder to achieve.
The good news is that, even though we can't control everything in the world around us, we can control our own thoughts and reactions. And when we focus on creating peace within ourselves, it ripples out into the world.
Why Peace of Mind Is Important?
Peace of mind is one of the most important things in life. It's what allows you to live a happy, productive life. Without it, you're constantly stressed and worried, and you can't enjoy life to the fullest. That's why it's so important to find ways to achieve peace of mind.
There are many different ways to achieve peace of mind. Some people do yoga or meditation, while others find relief in nature or spending time with friends and family. The key is finding what works for you and doing it regularly.
One of the best ways to achieve peace of mind is through religious faith. When you have a strong belief in something, it's easier to let go of your fears and worries. That's why many people find comfort in Bible verses about peace.
How To Find Peace Of Mind?
Peace is a state of mind and heart that is free from worry, agitation, and stress. It's the ability to remain calm and centered in the midst of chaos. We all want peace in our lives, but it seems to be something that always seems just out of reach. Why is it so difficult to find peace? And how can we get it?
The truth is, we live in a fallen world that's full of turmoil, heartache, and pain. There's no way to avoid these things entirely. But thanks be to God, we don't have to go through life alone! In the midst of our struggles, we can find hope, strength, and peace in the One who loves us most—Jesus Christ.
When we invite Jesus into our lives, He promises to give us His peace. "Peace I leave with you; my peace I give to you. Not as the world gives do I give to you. Let not your hearts be troubled, neither let them be afraid" (John 14:27). This is the kind of peace that surpasses all understanding (Philippians 4:7).
The Bible has a lot to say about peace. In fact, there are over 500 verses that mention the word "peace" or refer to the concept of peace. As you read through these Bible verses about peace, ask God to help you find His peace in the midst of your storm.
Bible Verses About Peace
1. Deuteronomy 29:9
Keep therefore the words of this covenant, and do them, that ye may prosper in all that ye do.
2. Joshua 1:9
Have not I commanded thee? Be strong and of a good courage; be not afraid, neither be thou dismayed: for the LORD thy God is with thee whithersoever thou goest.
3. Psalm 37:11
But the meek shall inherit the earth; and shall delight themselves in the abundance of peace.
4. Haggai 2:9
The glory of this latter house shall be greater than of the former, saith the LORD of hosts: and in this place will I give peace, saith the LORD of hosts.
5. Proverbs 17:1
Better is a dry morsel, and quietness therewith, than an house full of sacrifices with strife.
6. Psalm 85:8
I will hear what God the LORD will speak: for he will speak peace unto his people, and to his saints: but let them not turn again to folly.
7. Jeremiah 29:7
And seek the peace of the city whither I have caused you to be carried away captives, and pray unto the LORD for it: for in the peace thereof shall ye have peace.
8. Isaiah 54:13
And all thy children shall be taught of the LORD; and great shall be the peace of thy children.
9. Isaiah 14:30
And the firstborn of the poor shall feed, and the needy shall lie down in safety: and I will kill thy root with famine, and he shall slay thy remnant.
10. Proverbs 16:7
When a man's ways please the LORD, he maketh even his enemies to be at peace with him.
11. Psalm 119:50
This is my comfort in my affliction: for thy word hath quickened me.
12. Psalm 119:165
Great peace have they which love thy law: and nothing shall offend them.
13. 1 Chronicles 4:40
And they found fat pasture and good, and the land was wide, and quiet, and peaceable; for they of Ham had dwelt there of old.
14. Isaiah 41:10
Fear thou not; for I am with thee: be not dismayed; for I am thy God: I will strengthen thee; yea, I will help thee; yea, I will uphold thee with the right hand of my righteousness.
15. Psalm 29:11
The LORD will give strength unto his people; the LORD will bless his people with peace.
16. Psalm 37:3
Trust in the LORD, and do good; so shalt thou dwell in the land, and verily thou shalt be fed.
17. Isaiah 48:18
O that thou hadst hearkened to my commandments! then had thy peace been as a river, and thy righteousness as the waves of the sea: