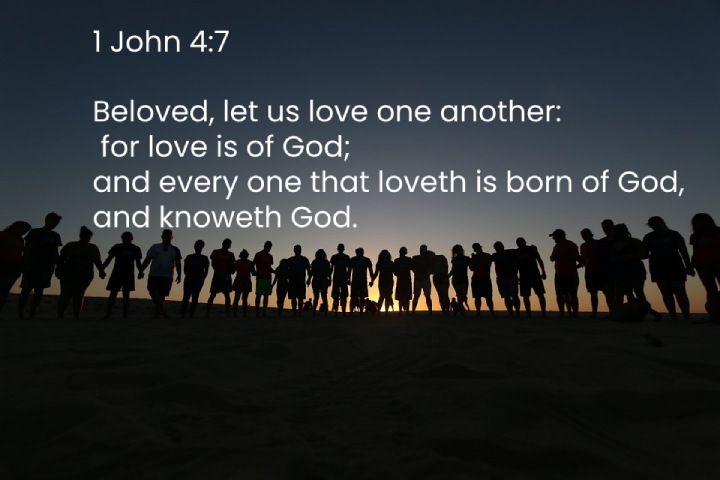 What Is Loving Everyone?
Loving everyone means that you have a kind and caring heart for all people, no matter who they are or what they have done. You treat them with respect and kindness, and you do your best to make them feel loved and accepted.
Loving everyone is a wonderful thing because it makes the world a more peaceful and loving place. It helps us to connect with others on a deeper level, and it teaches us how to be compassionate and understanding.
If we all loved everyone, the world would be a much better place. We all need love, and when we give it, we get it back. So let's all work together to spread love and compassion to everyone we meet!
Why Is It Important To Love All People?
Love is a powerful emotion that can make people do amazing things. When people feel love, they want to share it with others. This is why it is so important to love all people. When we love everyone, we are spreading love and happiness to the world.
When we hate someone, we are only putting negative energy into the world. This makes the world a less happy place. It is much better to focus on the good in people and spread love instead of hate.
We should love all people because it's the right thing to do. We are all human beings and we should respect and care for one another. When we love others, we are kind and compassionate to them, and we make the world a better place.
It's important to love all people because we are all equal. Everyone deserves to be treated with kindness and respect, no matter who they are or what they have done. We should also love ourselves – it's just as important!
When we love others, we help them feel good about themselves and make them happy. It feels good to make someone else happy, and it helps create positive energy in the world. So loving others is not only the right thing to do – it's also good for us!
It's easy to love the people who are kind and caring to us, but it's much more challenging to love those who are not. However, it's important to remember that we are all human beings deserving of love and respect. Everyone has something good about them, even if it's hidden deep down. By loving all people, we can help make the world a better place for everyone.
Love is a powerful force that can change the world for the better. We should all try to spread love as much as possible!
Can A Person Love Everyone?
Yes, a person can love everyone. The act of love is one that is given freely and without judgment. It is a pure emotion that comes from the heart. When you love someone, you accept them for who they are and you want the best for them. You want to see them happy and you are there for them when they need you.
People who love everyone are some of the most compassionate people in the world. They see the good in everyone and they believe that everyone is capable of achieving great things. They are optimistic and they always look for the best in people. People who love everyone see the world through rose-colored glasses.
Loving everyone is not always easy. There will be times when people disappoint you or do something that hurts you. But, if you truly love someone, you will forgive them and you will move on. You will also remember the good times that you have shared together.
Loving everyone is a beautiful thing. It makes the world a better place and it brings joy to those who give and receive it. So, if you are looking for a way to make a difference in the world, start by loving everyone.
How Do You Show Love To Everyone?
When you show love to everyone, you are kind, caring and compassionate. You put others before yourself and always try to do what is best for them. You respect others, even if you don't agree with them, and you never judge or criticize them. You also accept people for who they are, flaws and all, and you never try to change them.
Lastly, you always express your love in a positive way, through kind words and actions. When you show love to everyone, you make the world a better place. You bring happiness and joy into the lives of others, and you make them feel loved, accepted and valued. You brighten up people's days, and you make them feel special.
In short, you make a positive difference in the world simply by showing your love to others, by being the best person you can be, and by always expressing your love in a positive way.
Kindness, compassion, respect, acceptance and positivity are the key ingredients of love. So go out into the world and spread some love today – the world needs it!
What Does Jesus Say About Love For All?
Love is the most important thing in life.
Jesus said that the most important commandment is to love God with all your heart, mind, soul, and strength, and to love your neighbor as yourself. He also said that if you love Him, you will keep His commandments. We should love everyone because God loves everyone, and we are to be imitators of God.
Jesus said that the second most important commandment is like the first, "You shall love your neighbor as yourself." We are to love our enemies and pray for those who persecute us. God is love, and we should have His love in us. If we don't have love, we are nothing. Love is patient, kind, not jealous or boastful, not proud or rude. It does not demand its own way. It is not irritable or touchy. It does not hold grudges and will hardly notice when others do it wrong. Love never gives up; and its faith, hope, and patience never fail (1 Corinthians 13:4-8).
Jesus showed us what true love looks like by dying on the cross for our sins. He didn't have to do that, but He did it because He loves us. If we love Him, we will keep His commandments. One of the most important things we can do is to love others. Jesus said that if we love Him, we will keep His commandments (John 14:15). So, let us show our love for Him by obeying His commands to love one another. God bless!
Bible Verses About Loving Everyone
1. Proverbs 20:6
Most men will proclaim every one his own goodness: but a faithful man who can find?
2. Romans 12:10
Be kindly affectioned one to another with brotherly love; in honour preferring one another;
3. John 13:35
By this shall all men know that ye are my disciples, if ye have love one to another.
4. Ephesians 6:24
Grace be with all them that love our Lord Jesus Christ in sincerity. Amen.
5. 1 John 4:15
Whosoever shall confess that Jesus is the Son of God, God dwelleth in him, and he in God.
6. 2 Corinthians 3:2
Ye are our epistle written in our hearts, known and read of all men:
7. 1 John 4:9
In this was manifested the love of God toward us, because that God sent his only begotten Son into the world, that we might live through him.
8. 1 John 4:7
Beloved, let us love one another: for love is of God; and every one that loveth is born of God, and knoweth God.
9. John 15:19
If ye were of the world, the world would love his own: but because ye are not of the world, but I have chosen you out of the world, therefore the world hateth you.
10. 1 John 2:29
If ye know that he is righteous, ye know that every one that doeth righteousness is born of him.
11. 1 Corinthians 16:24
My love be with you all in Christ Jesus. Amen.
12. 1 Corinthians 8:3
But if any man love God, the same is known of him.
13. 1 Thessalonians 3:12
And the Lord make you to increase and abound in love one toward another, and toward all men, even as we do toward you:
14. John 3:20
For every one that doeth evil hateth the light, neither cometh to the light, lest his deeds should be reproved.
15. John 15:12
This is my commandment, That ye love one another, as I have loved you.
16. 1 John 5:4
For whatsoever is born of God overcometh the world: and this is the victory that overcometh the world, even our faith.
17. Philippians 2:4
Look not every man on his own things, but every man also on the things of others.
18. 1 John 4:19
We love him, because he first loved us.
19. 1 John 4:11
Beloved, if God so loved us, we ought also to love one another.
20. Hebrews 13:1
Let brotherly love continue.
21. Romans 12:16
Be of the same mind one toward another. Mind not high things, but condescend to men of low estate. Be not wise in your own conceits.
22. Romans 12:4
For as we have many members in one body, and all members have not the same office:
23. 1 John 5:1
Whosoever believeth that Jesus is the Christ is born of God: and every one that loveth him that begat loveth him also that is begotten of him.
24. 1 John 4:8
He that loveth not knoweth not God; for God is love.
25. John 13:34
A new commandment I give unto you, That ye love one another; as I have loved you, that ye also love one another.
26. John 3:21
But he that doeth truth cometh to the light, that his deeds may be made manifest, that they are wrought in God.
27. 1 John 3:16
Hereby perceive we the love of God, because he laid down his life for us: and we ought to lay down our lives for the brethren.
28. 1 John 4:16
And we have known and believed the love that God hath to us. God is love; and he that dwelleth in love dwelleth in God, and God in him.
29. 1 John 2:23
Whosoever denieth the Son, the same hath not the Father: (but) he that acknowledgeth the Son hath the Father also.
30. Romans 1:7
To all that be in Rome, beloved of God, called to be saints: Grace to you and peace from God our Father, and the Lord Jesus Christ.
31. 1 John 4:21
And this commandment have we from him, That he who loveth God love his brother also.
32. John 3:16
For God so loved the world, that he gave his only begotten Son, that whosoever believeth in him should not perish, but have everlasting life.
33. Ephesians 4:6
One God and Father of all, who is above all, and through all, and in you all.
34. Matthew 22:39
And the second is like unto it, Thou shalt love thy neighbour as thyself.
35. Matthew 5:44
But I say unto you, Love your enemies, bless them that curse you, do good to them that hate you, and pray for them which despitefully use you, and persecute you;
36. Philippians 2:21
For all seek their own, not the things which are Jesus Christ's.
37. 1 John 3:10
In this the children of God are manifest, and the children of the devil: whosoever doeth not righteousness is not of God, neither he that loveth not his brother.
38. 1 Corinthians 16:22
If any man love not the Lord Jesus Christ, let him be Anathema Maranatha.
39. 1 Peter 2:17
Honour all men. Love the brotherhood. Fear God. Honour the king.
40. Proverbs 8:17
I love them that love me; and those that seek me early shall find me.
41. Matthew 10:37
He that loveth father or mother more than me is not worthy of me: and he that loveth son or daughter more than me is not worthy of me.
42. Galatians 6:10
As we have therefore opportunity, let us do good unto all men, especially unto them who are of the household of faith.
43. Luke 6:32
For if ye love them which love you, what thank have ye? for sinners also love those that love them.
44. 1 Peter 1:22
Seeing ye have purified your souls in obeying the truth through the Spirit unto unfeigned love of the brethren, see that ye love one another with a pure heart fervently: