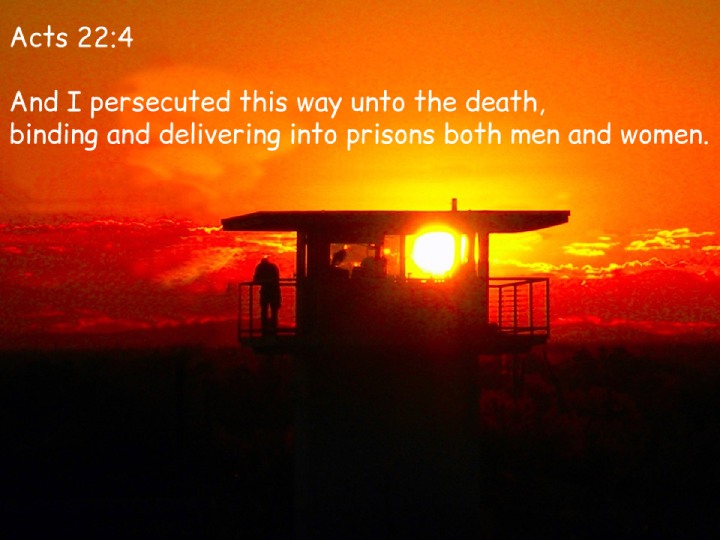 Persecution is defined as the systematic mistreatment of a person or group based on their beliefs. Christians have faced persecution throughout history, both from within and without the Church. Early Christians were persecuted by the Roman Empire, and later by other empires and states. In Today, Christians continue to be persecuted in many parts of the world.
The Bible contains many accounts of persecution, including the persecution of Jesus himself. Christ warned his disciples that they would face persecution (John 15:20). The apostle Paul also wrote about facing persecution (2 Timothy 3:12). Persecution is actually a sign that a person or group is faithful to Christ and his teachings. As Christ said, "Blessed are those who are persecuted for righteousness' sake, for theirs is the kingdom of heaven" (Matthew 5:10).
Despite the persecutions Christians have faced, the Church has continued to grow. This is because persecution often leads to increased faith and witness. As the early Church father Tertullian wrote, "The blood of martyrs is the seed of the Church." When Christians are persecuted, they often become more committed to their faith, and their witness serves as an encouragement to others.
If you are facing persecution for your faith, know that you are not alone. The Bible contains many stories of people who suffered for their beliefs. These stories can inspire and encourage you in your own faith journey. And, importantly, remember that Christ himself was persecuted and understands what you are going through. He is with you always, even in the darkest of times.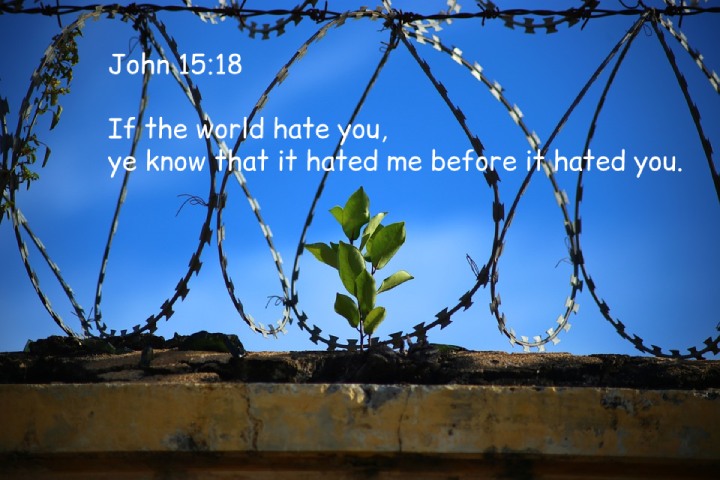 Bible Verses About Persecution
1. Revelation 17:6
And I saw the woman drunken with the blood of the saints, and with the blood of the martyrs of Jesus: and when I saw her, I wondered with great admiration.
2. John 15:19
If ye were of the world, the world would love his own: but because ye are not of the world, but I have chosen you out of the world, therefore the world hateth you.
3. 1 John 3:1
Behold, what manner of love the Father hath bestowed upon us, that we should be called the sons of God: therefore the world knoweth us not, because it knew him not.
4. Genesis 4:8
And Cain talked with Abel his brother: and it came to pass, when they were in the field, that Cain rose up against Abel his brother, and slew him.
5. 1 Kings 19:2
Then Jezebel sent a messenger unto Elijah, saying, So let the gods do to me, and more also, if I make not thy life as the life of one of them by to morrow about this time.
6. 1 Thessalonians 3:4
For verily, when we were with you, we told you before that we should suffer tribulation; even as it came to pass, and ye know.
7. Jeremiah 26:8
Now it came to pass, when Jeremiah had made an end of speaking all that the LORD had commanded him to speak unto all the people, that the priests and the prophets and all the people took him, saying, Thou shalt surely die.
8. John 17:14
I have given them thy word; and the world hath hated them, because they are not of the world, even as I am not of the world.
9. Genesis 3:15
And I will put enmity between thee and the woman, and between thy seed and her seed; it shall bruise thy head, and thou shalt bruise his heel.
10. Zechariah 2:8
For thus saith the LORD of hosts; After the glory hath he sent me unto the nations which spoiled you: for he that toucheth you toucheth the apple of his eye.
11. 1 Peter 5:8
Be sober, be vigilant; because your adversary the devil, as a roaring lion, walketh about, seeking whom he may devour:
12. Isaiah 50:6
I gave my back to the smiters, and my cheeks to them that plucked off the hair: I hid not my face from shame and spitting.
13. Revelation 6:8
And I looked, and behold a pale horse: and his name that sat on him was Death, and Hell followed with him. And power was given unto them over the fourth part of the earth, to kill with sword, and with hunger, and with death, and with the beasts of the earth.
14. Psalm 119:161
SCHIN. Princes have persecuted me without a cause: but my heart standeth in awe of thy word.
15. Revelation 13:7
And it was given unto him to make war with the saints, and to overcome them: and power was given him over all kindreds, and tongues, and nations.
16. Mark 13:9
But take heed to yourselves: for they shall deliver you up to councils; and in the synagogues ye shall be beaten: and ye shall be brought before rulers and kings for my sake, for a testimony against them.
17. Acts 22:4
And I persecuted this way unto the death, binding and delivering into prisons both men and women.
18. Zechariah 3:1
And he shewed me Joshua the high priest standing before the angel of the LORD, and Satan standing at his right hand to resist him.
19. Nehemiah 6:1
Now it came to pass, when Sanballat, and Tobiah, and Geshem the Arabian, and the rest of our enemies, heard that I had builded the wall, and that there was no breach left therein; (though at that time I had not set up the doors upon the gates;)
20. Psalm 69:26
For they persecute him whom thou hast smitten; and they talk to the grief of those whom thou hast wounded.
21. 1 John 3:13
Marvel not, my brethren, if the world hate you.
22. Mark 10:30
But he shall receive an hundredfold now in this time, houses, and brethren, and sisters, and mothers, and children, and lands, with persecutions; and in the world to come eternal life.
23. Revelation 2:10
Fear none of those things which thou shalt suffer: behold, the devil shall cast some of you into prison, that ye may be tried; and ye shall have tribulation ten days: be thou faithful unto death, and I will give thee a crown of life.
24. Amos 2:1
Thus saith the LORD; For three transgressions of Moab, and for four, I will not turn away the punishment thereof; because he burned the bones of the king of Edom into lime:
25. 1 Samuel 24:14
After whom is the king of Israel come out? after whom dost thou pursue? after a dead dog, after a flea.
26. Matthew 13:21
Yet hath he not root in himself, but dureth for a while: for when tribulation or persecution ariseth because of the word, by and by he is offended.
27. Isaiah 53:7
He was oppressed, and he was afflicted, yet he opened not his mouth: he is brought as a lamb to the slaughter, and as a sheep before her shearers is dumb, so he openeth not his mouth.
28. Amos 1:6
Thus saith the LORD; For three transgressions of Gaza, and for four, I will not turn away the punishment thereof; because they carried away captive the whole captivity, to deliver them up to Edom:
29. John 15:20
Remember the word that I said unto you, The servant is not greater than his lord. If they have persecuted me, they will also persecute you; if they have kept my saying, they will keep yours also.
30. Mark 3:21
And when his friends heard of it, they went out to lay hold on him: for they said, He is beside himself.
31. Mark 12:7
But those husbandmen said among themselves, This is the heir; come, let us kill him, and the inheritance shall be ours.
32. Jeremiah 15:15
O LORD, thou knowest: remember me, and visit me, and revenge me of my persecutors; take me not away in thy longsuffering: know that for thy sake I have suffered rebuke.
33. Matthew 10:36
And a man's foes shall be they of his own household.
34. Micah 7:6
For the son dishonoureth the father, the daughter riseth up against her mother, the daughter in law against her mother in law; a man's enemies are the men of his own house.
35. Matthew 10:21
And the brother shall deliver up the brother to death, and the father the child: and the children shall rise up against their parents, and cause them to be put to death.
36. Galatians 4:29
But as then he that was born after the flesh persecuted him that was born after the Spirit, even so it is now.
37. Psalm 10:2
The wicked in his pride doth persecute the poor: let them be taken in the devices that they have imagined.
38. John 5:16
And therefore did the Jews persecute Jesus, and sought to slay him, because he had done these things on the sabbath day.
39. 2 Timothy 3:12
Yea, and all that will live godly in Christ Jesus shall suffer persecution.
40. John 5:18
Therefore the Jews sought the more to kill him, because he not only had broken the sabbath, but said also that God was his Father, making himself equal with God.
41. Acts 14:22
Confirming the souls of the disciples, and exhorting them to continue in the faith, and that we must through much tribulation enter into the kingdom of God.
42. John 15:18
If the world hate you, ye know that it hated me before it hated you.
43. 2 Corinthians 12:10
Therefore I take pleasure in infirmities, in reproaches, in necessities, in persecutions, in distresses for Christ's sake: for when I am weak, then am I strong.
44. Luke 21:12
But before all these, they shall lay their hands on you, and persecute you, delivering you up to the synagogues, and into prisons, being brought before kings and rulers for my name's sake.
45. Revelation 6:11
And white robes were given unto every one of them; and it was said unto them, that they should rest yet for a little season, until their fellowservants also and their brethren, that should be killed as they were, should be fulfilled.
46. Matthew 10:17
But beware of men: for they will deliver you up to the councils, and they will scourge you in their synagogues;
47. Jeremiah 38:6
Then took they Jeremiah, and cast him into the dungeon of Malchiah the son of Hammelech, that was in the court of the prison: and they let down Jeremiah with cords. And in the dungeon there was no water, but mire: so Jeremiah sunk in the mire.
Online courses recommended for you:
Books recommended for you:
* As an Amazon Associate I earn from qualifying purchases.
ALSO READ: