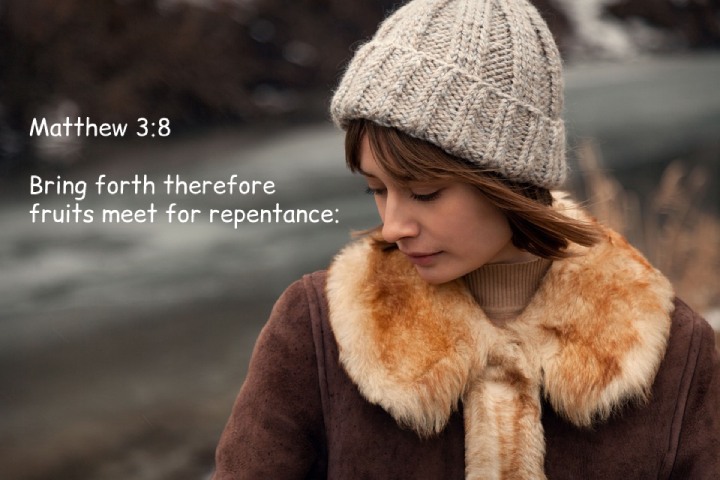 When it comes to repentance, there is a lot of confusion out there. Many people think that repentance simply means being sorry for your sins. But true repentance is much more than that.
True repentance involves a change of heart. It's not just about feeling sorry for what you've done wrong, but about turning away from your sin and making a commitment to live a different kind of life. It's a decision to put God first in everything you do and to obey His commandments
When we sin, we disobey God and go against his will for our lives. Repentance is turning away from our sin and asking for forgiveness. It is a change of heart and mind that leads to a change in behavior.
Repentance is not a one-time event. It is a continuous process of turning away from sin and toward God. We need to repent every day of our lives.
The Bible tells us that repentance is necessary for salvation (Acts 2:38; 3:19; 17:30). When we repent, God forgives our sins and cleanses us from all unrighteousness (1 John 1:9). He also gives us the gift of the Holy Spirit, who helps us to live a life that is pleasing to God (Acts 5:32).
If you have never repented of your sins and asked for forgiveness, now is the time to do so. The Bible says, "Today, if you hear his voice, do not harden your hearts" (Hebrews 3:15). God is waiting to forgive you and give you new life. All you need to do is turn from your sin and ask him for forgiveness.
If you have already repented of your sins, keep on repenting. Repentance is a lifelong process. As we grow in our relationship with God, we will become more aware of the areas of our lives that need to change. We must never stop repenting and turning away from sin.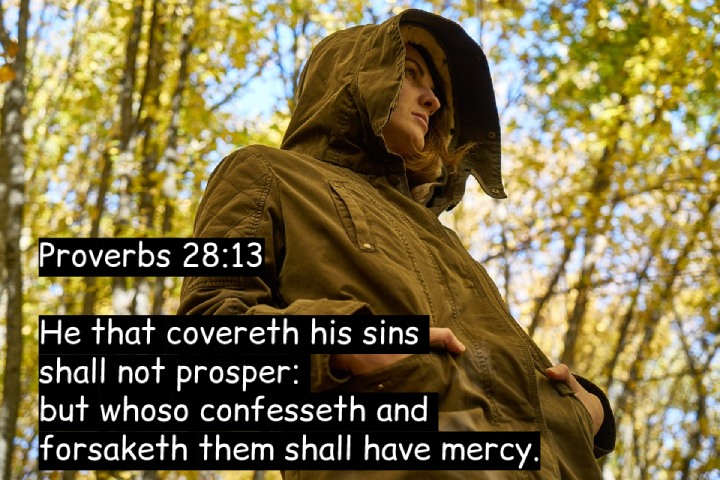 Bible Verses About Repentance
1. Luke 18:13
And the publican, standing afar off, would not lift up so much as his eyes unto heaven, but smote upon his breast, saying, God be merciful to me a sinner.
2. Luke 3:8
Bring forth therefore fruits worthy of repentance, and begin not to say within yourselves, We have Abraham to our father: for I say unto you, That God is able of these stones to raise up children unto Abraham.
3. Isaiah 30:15
For thus saith the Lord GOD, the Holy One of Israel; In returning and rest shall ye be saved; in quietness and in confidence shall be your strength: and ye would not.
4. Luke 19:8
And Zacchaeus stood, and said unto the Lord; Behold, Lord, the half of my goods I give to the poor; and if I have taken any thing from any man by false accusation, I restore him fourfold.
5. 2 Kings 17:13
Yet the LORD testified against Israel, and against Judah, by all the prophets, and by all the seers, saying, Turn ye from your evil ways, and keep my commandments and my statutes, according to all the law which I commanded your fathers, and which I sent to you by my servants the prophets.
6. Psalm 106:45
And he remembered for them his covenant, and repented according to the multitude of his mercies.
7. Luke 22:32
But I have prayed for thee, that thy faith fail not: and when thou art converted, strengthen thy brethren.
8. Jeremiah 24:7
And I will give them an heart to know me, that I am the LORD: and they shall be my people, and I will be their God: for they shall return unto me with their whole heart.
9. Isaiah 66:2
For all those things hath mine hand made, and all those things have been, saith the LORD: but to this man will I look, even to him that is poor and of a contrite spirit, and trembleth at my word.
10. Matthew 3:8
Bring forth therefore fruits meet for repentance:
11. Psalm 34:14
Depart from evil, and do good; seek peace, and pursue it.
12. Acts 11:21
And the hand of the Lord was with them: and a great number believed, and turned unto the Lord.
13. Isaiah 57:15
For thus saith the high and lofty One that inhabiteth eternity, whose name is Holy; I dwell in the high and holy place, with him also that is of a contrite and humble spirit, to revive the spirit of the humble, and to revive the heart of the contrite ones.
14. Acts 26:20
But shewed first unto them of Damascus, and at Jerusalem, and throughout all the coasts of Judaea, and then to the Gentiles, that they should repent and turn to God, and do works meet for repentance.
15. Proverbs 28:13
He that covereth his sins shall not prosper: but whoso confesseth and forsaketh them shall have mercy.
16. Psalm 51:17
The sacrifices of God are a broken spirit: a broken and a contrite heart, O God, thou wilt not despise.
17. Leviticus 5:5
And it shall be, when he shall be guilty in one of these things, that he shall confess that he hath sinned in that thing:
18. Ezekiel 14:6
Therefore say unto the house of Israel, Thus saith the Lord GOD; Repent, and turn yourselves from your idols; and turn away your faces from all your abominations.
19. Exodus 32:14
And the LORD repented of the evil which he thought to do unto his people.
20. Isaiah 55:7
Let the wicked forsake his way, and the unrighteous man his thoughts: and let him return unto the LORD, and he will have mercy upon him; and to our God, for he will abundantly pardon.
21. Acts 14:15
And saying, Sirs, why do ye these things? We also are men of like passions with you, and preach unto you that ye should turn from these vanities unto the living God, which made heaven, and earth, and the sea, and all things that are therein:
22. Joel 2:13
And rend your heart, and not your garments, and turn unto the LORD your God: for he is gracious and merciful, slow to anger, and of great kindness, and repenteth him of the evil.
23. Hosea 11:8
How shall I give thee up, Ephraim? how shall I deliver thee, Israel? how shall I make thee as Admah? how shall I set thee as Zeboim? mine heart is turned within me, my repentings are kindled together.
24. 1 Thessalonians 1:9
For they themselves shew of us what manner of entering in we had unto you, and how ye turned to God from idols to serve the living and true God;
25. Psalm 34:18
The LORD is nigh unto them that are of a broken heart; and saveth such as be of a contrite spirit.
26. Jeremiah 26:3
If so be they will hearken, and turn every man from his evil way, that I may repent me of the evil, which I purpose to do unto them because of the evil of their doings.
27. Acts 26:18
To open their eyes, and to turn them from darkness to light, and from the power of Satan unto God, that they may receive forgiveness of sins, and inheritance among them which are sanctified by faith that is in me.
28. Job 42:6
Wherefore I abhor myself, and repent in dust and ashes.
29. Acts 20:21
Testifying both to the Jews, and also to the Greeks, repentance toward God, and faith toward our Lord Jesus Christ.
30. Daniel 4:27
Wherefore, O king, let my counsel be acceptable unto thee, and break off thy sins by righteousness, and thine iniquities by shewing mercy to the poor; if it may be a lengthening of thy tranquillity.
31. Jeremiah 3:10
And yet for all this her treacherous sister Judah hath not turned unto me with her whole heart, but feignedly, saith the LORD.
32. Acts 19:4
Then said Paul, John verily baptized with the baptism of repentance, saying unto the people, that they should believe on him which should come after him, that is, on Christ Jesus.
33. Jonah 3:10
And God saw their works, that they turned from their evil way; and God repented of the evil, that he had said that he would do unto them; and he did it not.
34. Zechariah 1:6
But my words and my statutes, which I commanded my servants the prophets, did they not take hold of your fathers? and they returned and said, Like as the LORD of hosts thought to do unto us, according to our ways, and according to our doings, so hath he dealt with us.
35. Matthew 3:11
I indeed baptize you with water unto repentance: but he that cometh after me is mightier than I, whose shoes I am not worthy to bear: he shall baptize you with the Holy Ghost, and with fire:
36. 1 Kings 8:35
When heaven is shut up, and there is no rain, because they have sinned against thee; if they pray toward this place, and confess thy name, and turn from their sin, when thou afflictest them:
37. Acts 2:38
Then Peter said unto them, Repent, and be baptized every one of you in the name of Jesus Christ for the remission of sins, and ye shall receive the gift of the Holy Ghost.
38. Matthew 11:21
Woe unto thee, Chorazin! woe unto thee, Bethsaida! for if the mighty works, which were done in you, had been done in Tyre and Sidon, they would have repented long ago in sackcloth and ashes.
39. Acts 13:24
When John had first preached before his coming the baptism of repentance to all the people of Israel.
40. Matthew 12:41
The men of Nineveh shall rise in judgment with this generation, and shall condemn it: because they repented at the preaching of Jonas; and, behold, a greater than Jonas is here.
41. Luke 10:13
Woe unto thee, Chorazin! woe unto thee, Bethsaida! for if the mighty works had been done in Tyre and Sidon, which have been done in you, they had a great while ago repented, sitting in sackcloth and ashes.
42. Luke 3:3
And he came into all the country about Jordan, preaching the baptism of repentance for the remission of sins;
43. 2 Corinthians 7:10
For godly sorrow worketh repentance to salvation not to be repented of: but the sorrow of the world worketh death.
44. Mark 1:4
John did baptize in the wilderness, and preach the baptism of repentance for the remission of sins.
Online courses recommended for you:
Books recommended for you:
* As an Amazon Associate I earn from qualifying purchases.
ALSO READ: