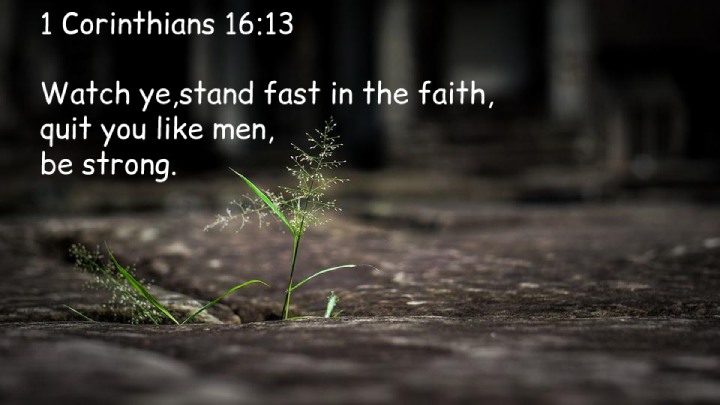 When we face trials and difficulties, it can be difficult to remain firm in our faith. We may feel like giving up or that God has abandoned us. However, the Bible tells us that we need to persevere and stand firm in our faith, no matter what happens.
The book of James says, "Consider it pure joy, my brothers and sisters, whenever you face trials of many kinds, because you know that the testing of your faith produces perseverance. Let perseverance finish its work so that you may be mature and complete, not lacking anything" (James 1:2-4).
The Bible tells us in James 1:12, "Blessed is the one who perseveres under trial because, having stood the test, that person will receive the crown of life that the Lord has promised to those who love him." This verse tells us that if we persevere through trials, we will be rewarded with eternal life.
In John 16:33 Jesus says, "In this world you will have trouble. But take heart! I have overcome the world." Jesus himself faced many trials and difficulties during his life on earth, but he never gave up. He persevered and ultimately overcame them. And he promises us that we can do the same.
In other words, we should not give up when things get tough. Instead, we should see trials as an opportunity to grow in our faith. By standing firm, we can become mature and complete Christians, not lacking anything.
It's not always easy to stand firm in our faith. But it is always worth it. When we do, we receive God's blessings and eternal life. So let us never give up, but let us stand firm in our faith, no matter what comes our way.
So when you face trials and difficulties, remember to stand firm in your faith. Don't give up, but persevere through the tough times. God will be with you every step of the way.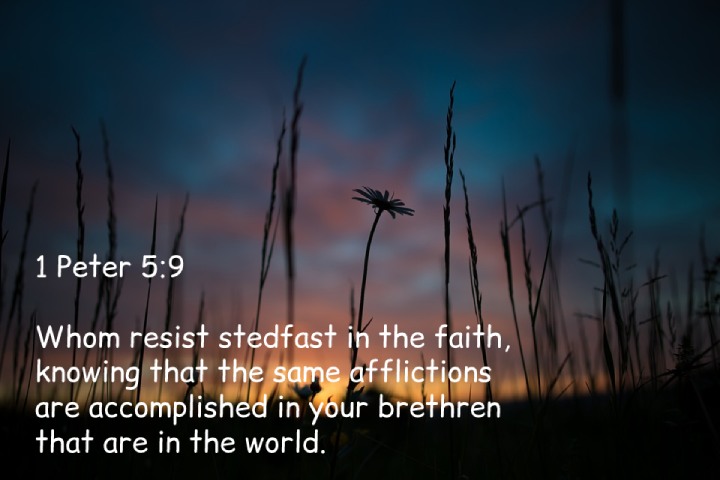 Bible Verses About Standing Firm
1. Ephesians 6:13
Wherefore take unto you the whole armour of God, that ye may be able to withstand in the evil day, and having done all, to stand.
2. Joshua 23:6
Be ye therefore very courageous to keep and to do all that is written in the book of the law of Moses, that ye turn not aside therefrom to the right hand or to the left;
3. 1 Peter 5:9
Whom resist stedfast in the faith, knowing that the same afflictions are accomplished in your brethren that are in the world.
4. Exodus 18:23
If thou shalt do this thing, and God command thee so, then thou shalt be able to endure, and all this people shall also go to their place in peace.
5. Hebrews 4:14
Seeing then that we have a great high priest, that is passed into the heavens, Jesus the Son of God, let us hold fast our profession.
6. 1 Corinthians 16:13
Watch ye, stand fast in the faith, quit you like men, be strong.
7. Philippians 4:1
Therefore, my brethren dearly beloved and longed for, my joy and crown, so stand fast in the Lord, my dearly beloved.
8. Hebrews 3:6
But Christ as a son over his own house; whose house are we, if we hold fast the confidence and the rejoicing of the hope firm unto the end.
9. 2 Corinthians 1:24
Not for that we have dominion over your faith, but are helpers of your joy: for by faith ye stand.
10. Ephesians 6:11
Put on the whole armour of God, that ye may be able to stand against the wiles of the devil.
11. 2 Thessalonians 2:15
Therefore, brethren, stand fast, and hold the traditions which ye have been taught, whether by word, or our epistle.
12. Nahum 1:6
Who can stand before his indignation? and who can abide in the fierceness of his anger? his fury is poured out like fire, and the rocks are thrown down by him.
13. Hebrews 10:23
Let us hold fast the profession of our faith without wavering; (for he is faithful that promised;)
14. Philippians 1:27
Only let your conversation be as it becometh the gospel of Christ: that whether I come and see you, or else be absent, I may hear of your affairs, that ye stand fast in one spirit, with one mind striving together for the faith of the gospel;
15. Colossians 1:23
If ye continue in the faith grounded and settled, and be not moved away from the hope of the gospel, which ye have heard, and which was preached to every creature which is under heaven; whereof I Paul am made a minister;
16. Jeremiah 4:1
If thou wilt return, O Israel, saith the LORD, return unto me: and if thou wilt put away thine abominations out of my sight, then shalt thou not remove.
17. Hebrews 3:14
For we are made partakers of Christ, if we hold the beginning of our confidence stedfast unto the end;
18. Hebrews 6:11
And we desire that every one of you do shew the same diligence to the full assurance of hope unto the end:
Online courses recommended for you:
Books recommended for you:
* As an Amazon Associate I earn from qualifying purchases.
ALSO READ: