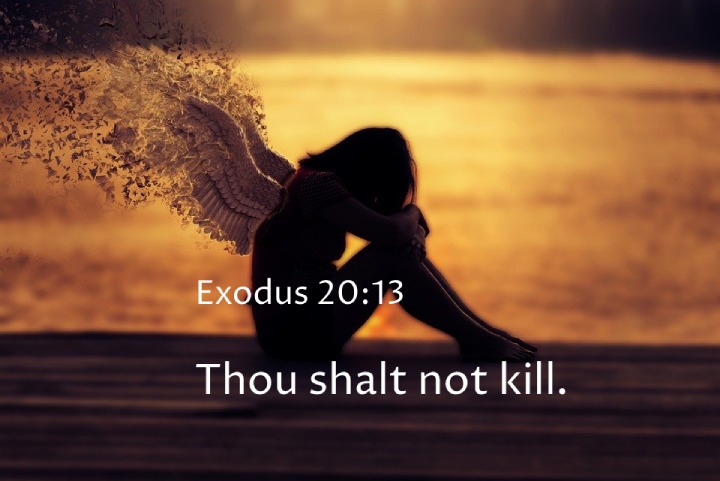 Facts About Suicide.
1. In the United States, suicide is the 10th leading cause of death.
2. Suicide does not discriminate. The myth that suicide is a problem faced only by young people is wrong. Suicide rates are highest for middle-aged adults (45-54 years old) and for those 85 years or older.
3. White men are more likely to commit suicide than any other group, but American Indians and Alaska Natives have the highest suicide rate of all racial and ethnic groups.
4. Suicide is not caused by a single event or experience. There is no single cause for suicide. Rather, it is the result of many factors.
5. Most people who die by suicide have a mental health condition. Depression is the most common condition associated with suicide, but there are many others, including bipolar disorder, schizophrenia, and anxiety disorders.
6. Suicide is preventable. If someone you know is in danger of harming themselves, don't leave them alone. Remove any firearms, pills, or other objects that could be used in a suicide attempt. Call 911 or your local emergency number right away.
7. Warning signs of suicide include talking about wanting to die or hurt oneself; expressing feelings of hopelessness; talking about being a burden to others; increasing alcohol or drug abuse; withdrawing from friends and activities; abnormal mood swings, and giving away prized possessions.
8. There are many ways to get help if someone appears to be suicidal. If you are worried about someone, the best thing to do is to talk to him or her about it. You can also call a suicide hotline in your area.
9. Suicide is a problem that can affect anyone. If you are struggling, know that you are not alone and there is help available.
Suicide is a problem that can affect anyone, regardless of age, race, or gender. If you are struggling, it is important to know that you are not alone and there are people who can help.
Why Do People Commit Suicide?
People commit suicide for many reasons. Some people may be experiencing a mental illness such as depression, bipolar disorder, or schizophrenia. Other people may be suffering from traumatic stress due to exposure to violence, abuse, or a natural disaster. Substance use can also be a factor, as can impulsivity.
People may feel like they are a burden to others and that their death would be less of a tragedy than living with their problems. They may also feel hopeless and believe that there is no way out. Chronic pain and illness can also lead to thoughts of suicide. Social isolation can also contribute to feelings of loneliness and despair.
If you or someone you know is thinking about suicide, it's important to get help. There are many resources available to provide support and assistance. If you are in the United States, you can call the National Suicide Prevention Lifeline at 1-800-273-8255. You can also visit their website at www.suicidepreventionlifeline.org.
If you are in Australia, you can call Lifeline Australia at 13 11 14. You can also visit their website at www.lifeline.org.au/.
In the UK, you can call the Samaritans at 116 123. You can also visit their website at www.samaritans.org/.
There are many other organizations and resources available to help people who are thinking about suicide. If you or someone you know is in need of help, please reach out for assistance.
Is Suicide A Sin?
There is no one answer to this question. Some people believe that suicide is a sin. Each person's beliefs on the matter are their own. However, the Bible verses that mention suicide could be interpreted as saying that suicide is a sin.
So, is suicide a sin? It's a complicated question with no easy answer. What matters most is what you believe. If you think that suicide is a sin, then you should seek help and guidance from a trusted source. But if you don't believe that suicide is a sin, then you should follow your own conscience.
If you are considering suicide, it is important to reach out for help. There are many people who care about you and want to help you through this difficult time. There are also many resources available to help you.
What Does The Bible Say About Suicide?
The Bible speaks against suicide in multiple places. Suicide is an act of desperation and despair, and it only leads to more pain and suffering. The Bible promises that God will never leave us or forsake us, and there is hope and healing available for those who are hurting. If you are considering suicide, please reach out for help. There is someone who wants to listen.
Proverbs 24:16 says, "For the righteous falls seven times and rises again, but the wicked stumble in times of calamity." This verse reminds us that even when we make mistakes, we can get back up again. We are not defined by our mistakes, but by our willingness to keep going.
Ecclesiastes 7:20 says, "Indeed, there is not a righteous man on earth who continually does good and who never sins." This verse shows us that everyone makes mistakes and no one is perfect. It's okay to not be perfect, and it's okay to ask for help when we need it.
Psalm 34:18 says, "The LORD is near to the brokenhearted and saves the crushed in spirit." This verse reminds us that God is always there for us, even when we feel like we are at our lowest. He sees us and He hears us, and He wants to help us.
Bible Verses About Suicide
1. Jeremiah 15:10
Woe is me, my mother, that thou hast borne me a man of strife and a man of contention to the whole earth! I have neither lent on usury, nor men have lent to me on usury; yet every one of them doth curse me.
2. Matthew 22:39
And the second is like unto it, Thou shalt love thy neighbour as thyself.
3. 2 Samuel 17:23
And when Ahithophel saw that his counsel was not followed, he saddled his ass, and arose, and gat him home to his house, to his city, and put his household in order, and hanged himself, and died, and was buried in the sepulchre of his father.
4. Genesis 2:7
And the LORD God formed man of the dust of the ground, and breathed into his nostrils the breath of life; and man became a living soul.
5. 1 Samuel 31:4
Then said Saul unto his armourbearer, Draw thy sword, and thrust me through therewith; lest these uncircumcised come and thrust me through, and abuse me. But his armourbearer would not; for he was sore afraid. Therefore Saul took a sword, and fell upon it.
6. Matthew 27:5
And he cast down the pieces of silver in the temple, and departed, and went and hanged himself.
7. Acts 16:27
And the keeper of the prison awaking out of his sleep, and seeing the prison doors open, he drew out his sword, and would have killed himself, supposing that the prisoners had been fled.
8. 1 Kings 16:18
And it came to pass, when Zimri saw that the city was taken, that he went into the palace of the king's house, and burnt the king's house over him with fire, and died,
9. Exodus 20:13
Thou shalt not kill.
10. Job 10:12
Thou hast granted me life and favour, and thy visitation hath preserved my spirit.
11. Deuteronomy 32:39
See now that I, even I, am he, and there is no god with me: I kill, and I make alive; I wound, and I heal: neither is there any that can deliver out of my hand.
12. Hebrews 9:27
And as it is appointed unto men once to die, but after this the judgment:
13. 2 Samuel 1:9
He said unto me again, Stand, I pray thee, upon me, and slay me: for anguish is come upon me, because my life is yet whole in me.
14. Hosea 10:8
The high places also of Aven, the sin of Israel, shall be destroyed: the thorn and the thistle shall come up on their altars; and they shall say to the mountains, Cover us; and to the hills, Fall on us.
15. Revelation 6:16
And said to the mountains and rocks, Fall on us, and hide us from the face of him that sitteth on the throne, and from the wrath of the Lamb:
16. Job 30:23
For I know that thou wilt bring me to death, and to the house appointed for all living.
17. Job 10:1
My soul is weary of my life; I will leave my complaint upon myself; I will speak in the bitterness of my soul.
18. Ephesians 5:29
For no man ever yet hated his own flesh; but nourisheth and cherisheth it, even as the Lord the church:
19. Job 1:21
And said, Naked came I out of my mother's womb, and naked shall I return thither: the LORD gave, and the LORD hath taken away; blessed be the name of the LORD.
20. Matthew 7:12
Therefore all things whatsoever ye would that men should do to you, do ye even so to them: for this is the law and the prophets.
21. Revelation 9:6
And in those days shall men seek death, and shall not find it; and shall desire to die, and death shall flee from them.
22. Leviticus 19:18
Thou shalt not avenge, nor bear any grudge against the children of thy people, but thou shalt love thy neighbour as thyself: I am the LORD.