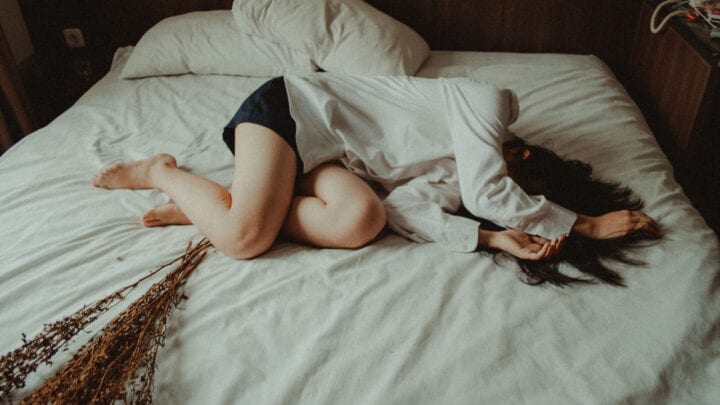 Love is many things – it is joyous, wonderful, and heartwarming, but it can also be envious, sneaky, and sometimes deceiving. Love doesn't always end in fairytales yet we often wish it does, or at least we are given the ability to foresee the outcome of our relationships, but alas, life doesn't work that way. We have to wait for the signs until it hits us on the head.
Sometimes we know outright but most of the time, it takes other people to get us to notice the red flags popping up in our relationships. There's no need to feel bad because we are only human full of love, and sometimes our big hearts make us blind to what's really happening in front of us.
To help you, we have picked out six obvious signs that you are in a bad and toxic relationship:
1. You find yourself stuck in an endless loop.
You have no idea how you got there, but you suddenly find yourself in an endless loop of fights with your partner. Every day seems the same to you, a particular subject or even a petty conversation would trigger a whole bucket full of emotions that would lead to the two of you lashing out against each other. If you find yourself feeling weary, dreading, and even anticipating every fight, then it's time to stop.
Before you pull yourself out from the relationship, at least try to mend it with your partner. If he or she is unwilling to bend or make an effort in making things better, then there's no shame in giving up. One has to know when to fight his or her battles and if you know this is one you're not going to win, then there's no need to go through with it.
2. He is constantly cheating on you.
It didn't hurt that much the first or second time that he did it to you, but now you realize that this is happening more often than you desired. In fact, this shouldn't be happening at all! A serial cheater is not a trait that's to be looked forward to in a partner, because this will only start or even raise the toxicity levels in the relationship.
If you listened to his excuses before then it's a good time to stop it now. Cheating is an intolerable act in every relationship and is the number one leading factor to a bad and toxic relationship. Things will never change so be sure to save yourself before you find yourself stuck in a bad place.
ALSO READ: 11 Types of Bad Relationships You Must Avoid at All Cost
3. She emotionally blackmails you.
A lot of people find it hard to identify what emotional blackmail is because it's usually something you're not aware someone is doing to you. Emotional blackmail is when your partner uses emotions to urge you to do something he or she wants. It's a tactic that is commonly used by manipulators.
Let's say your girlfriend doesn't really like it when you hang out with your friends, so she either cries or questions your commitment in the relationship when you refuse to bend to her will, and then you end up following her wishes – that's emotional blackmail. Many people fall prey to these alligator tears because their own guilt and love for the other person blind them. Try your very best to think logically before you're pulled into the endless pit of a toxic relationship.
4. The relationship is built on lies.
Everyone knows that a long and lasting relationship is built on communication and trust. But what do you do if your love story is built on a ground lies? These can be lies your partner tells you or even lies you tell yourself.
If you're aware of the lies composing the relationship, then you have to ask yourself: why am I staying? Honesty is the best policy and this is especially true when it comes to personal relationships. Transparency is the key to preventing toxicity.
5. Problems are left unspoken and unresolved.
When you're in a relationship, oftentimes this is easier to do. You and your partner may tend to avoid talking about problems or issues you have with each other and prefer waiting for it to die down so that everything's is okay again. You're afraid of confronting because maybe you're afraid of facing the truth.
But the same can't be said for married couples. You can't run away from your problems because you're officially committed in pen and paper and in the eyes of God in this relationship. Absolving communication is not healthy and will lead to more problems along the road.
ALSO READ: Top 10 Relationship Problems and How to Avoid or Fix Them
6. There is no future in the relationship.
The last sign to look out for is when you feel like the relationship has no future anymore. This means you've sought out every way to make it work, to erase the toxicity, and to have a healthier relationship. But you find yourself with an unwilling partner, someone who refuses to talk and work.
In these cases, it's always better to cut the cord and let go. It may not always be easy but you may find that it's less painful letting go than holding on to a toxic relationship.
Love is never easy because when you're in love, it's not only about you but also about the other person at the end of the relationship. Another person who thinks, act, and feel differently from you. Unless you've acquired mind-reading powers, it's impossible to know what they're thinking or possibly hiding from you.
Oftentimes, toxic people aren't even aware that they're toxic and sometimes we don't know that it's actually us who are causing the toxicity and drama in the relationship. If you're feeling that you're going down this road, it's always best to take a step back and reflect on yourself.
Am I bringing negativity into my relationship? Am I enabling my relationship to grow healthily? Is my partner willing to work with me about this?
These are some questions to always keep in mind. Remember, communication and transparency are the keys to a super healthy and long-lasting relationship.
ALSO READ: 17 Signs of a Potentially Toxic Relationship