When you want to form a habit, it's important to write it down in some way so that you stay accountable and on track. Goals on Track is a software that can help you keep track of your goals, tasks, and progress. But, it can also keep track of your habits that you are trying to form. Here's how the habit part of the software works.
Here's How Easy It Is To Create New Habits Using Goals On Track
In the left sidebar of your dashboard, there is a tab for habits. Click on it and you will be taken to your habit section. There you can see all the habits you are working on and how close you are to forming those habits.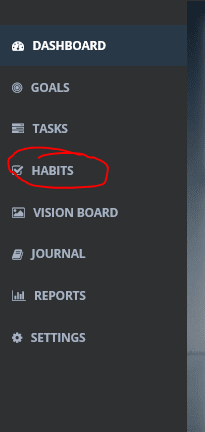 Click on 'Create Habit'. Then you will be taken to a form for creating your new habit.
Give your habit a name.
You can choose whether you want to do this habit every day, every week, or every month.
You can also choose how many repetitions you think will be necessary for you to perform the habit before it becomes formed and permanent. Goals on Track gives you the ability to choose a number between 7-100. While the common belief is that a habit can be formed with 21 days, most people say it really depends on the habit. If it's one that you don't enjoy or fully believe in, for example, then it may take a lot longer to adopt the habit into your life. It seems that 66 days is an average for forming habits, so you may want to aim for around that number.
No matter what number of repetitions you choose, the habit tracker on Goals on Track is great because it gives you a visual representation of how close you are to forming the habit and how much farther you have to go. You check off each day you accomplish the habit, and it keeps track for you.
In short, it keeps you motivated, on track, and it won't let you forget about the habit that you really want to develop in your life.
You can also correlate your habit to a goal that you have created on Goals on Track. For instance, I created a habit to walk 4200 steps in the morning to correlate with my goal of walking 600,000 steps.
And you can choose which category you want to put your new habit in: Home, work, personal, or money.
Then, your new habit gets added to your habit dashboard.
It also gets added to your home dashboard where you can also see all your goals and tasks for the day. And, you can see the progress of your habits in your reports section too. You can also add a picture to your vision board that reminds you why you wanted to develop this habit in the first place for more motivation.
Forming new habits is just one thing this software can do. I've been using Goals on Track for years, and, while it was great when I first started using it, the creator has been very proactive in keeping the software relevant and functional for people who want to create big goals and habits, and a great life in general.