Donna Eden and David Feinstein released their Energies of Love book in 2014. Now, they are releasing a version of their popular book in course format on Mindvalley. This means that no matter where you are in the world, you can now take Energies of Love with your partner as you learn directly from Donna Eden and David Feinstein through video.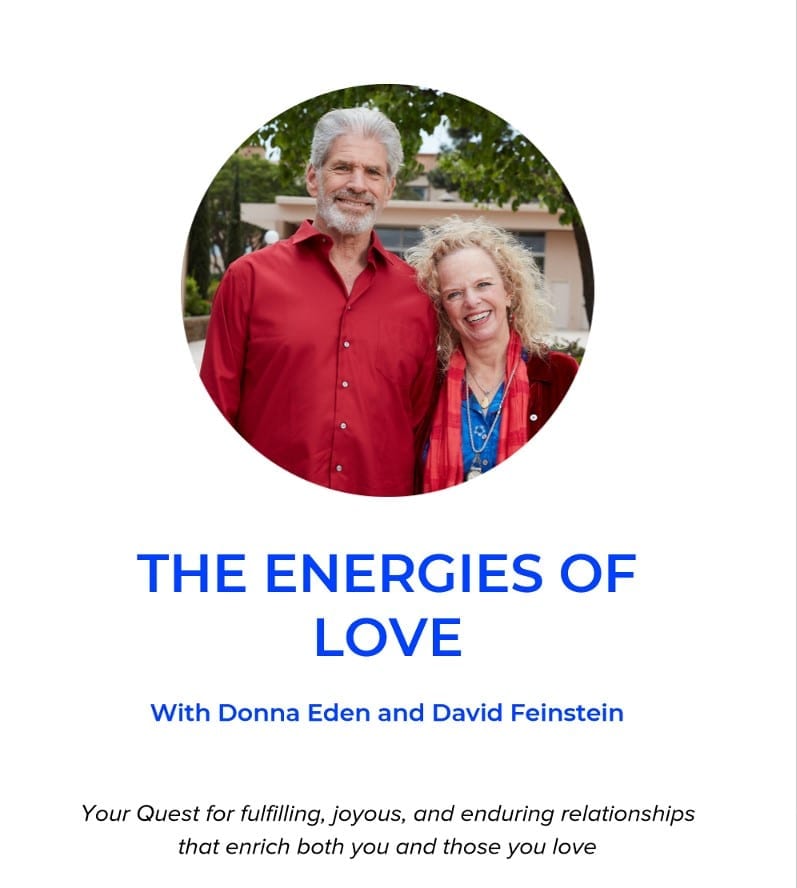 Why Bother Learning From Donna Eden And David Feinstein?
Donna Eden is an energy expert. She healed herself from Multiple Sclerosis and has enjoyed a long career in energy medicine. One of her other books, Energy Medicine, has also been made into a course on Mindvalley.
David Feinstein has been a clinical psychologist since 1972.
As a couple, they have been together for 42 years. They say that nobody thought they would make it because they were very different, but now they are thriving as a couple. They also say that they have had their share of struggles, but they have learned a lot along the way, including critical techniques that have helped them get to the point that they are at.
Why The Energies Of Love Will Be Beneficial In Course Format
Anyone who has watched Donna Eden knows that her energy is vibrant and alive. It's infectious and you can't help but smile and feel engaged in what she is talking about.
The Energies of Love book is great and has a lot of great information and techniques in it, but people who learn better visually and want to see Donna Eden and David Feinstein do real-life examples will likely enjoy the course much more.
What You Can Expect In The Energies Of Love Course
Energies of Love is a 30-day quest. Each day you will spend 20 minutes or less on a lesson.
Donna Eden and David Feinstein say that they want you to do the techniques that they teach along with them and establish a new routine and healthy reactions in your relationship.
In the Energies of Love course you can expect to learn:
7 skills for secure love.
How to make changes for success in your relationship.
How to build a deeper connection in your relationship.
How to find your way through the difficulties that arise.
More about the energies that form the bond between the two of you and how they impact everything, including love, hostility, and feelings of isolation.
How to be aware of the energies that are in you and the space between you and your partner.
How energies direct thoughts and a sense of well being.
Techniques to relieve stressful reactions.
Your sensory styles.
The course comes equipped with an eBook guide that covers each day of the quest and leaves room for notetaking.
And, you will have access to a group of students who are on the same journey as you in the Energies of Love quest.
Who Will Benefit From This Course?
Donna Eden and David Feinstein say that this course will benefit people through all stages of their relationships.
"Our hope is that this quest into Energies of Love will help you find your way through the difficulties that seem to pop up in all relationships." Donna Eden says in an introductory session.
They say that the following people will benefit from the Energies of Love course.
Anyone struggling with their relationship who wants to stop the struggle.
Anyone who is not excited with their partner anymore.
Anyone who wants more out of their relationship.
Anyone who is happy in their relationship but wants to go to a deeper level.
Anyone who is single and wants a roadmap to having relationships where energy works in their favor.
Anyone experiencing resistance instead of flow in their relationship.
If You've Read The Book You May Still Want To Take The Course
I read the book and learned a lot from it. There are plenty of energetic techniques and tips to help you navigate the energies in your relationship in a positive way.
But, as I said before, there's something about Donna Eden's energy that is infectious. And I enjoy seeing her demonstrate what she is talking about. I'm excited to take this course for that reason.
Learn more about the course on Mindvalley here.
If you don't have experience with Donna Eden and David Feinstein, you may want to take the free masterclass here. It will give you an introduction to them and what they can do for you.