We've talked about how important it is to your productivity to keep your home free of clutter. But, it's just as important to keep a clean home. A messy house causes stress, which is bad for your productivity, happiness, relationships, and more. Moreover, without the right daily habits for cleaning, too much of your time can go towards cleaning and not towards stuff that you really want to be doing.  Here are the daily habits that I have for keeping a clean home that feels good to live in and stress-free.
4 Daily Cleaning Habits To Help You Keep A Clean Home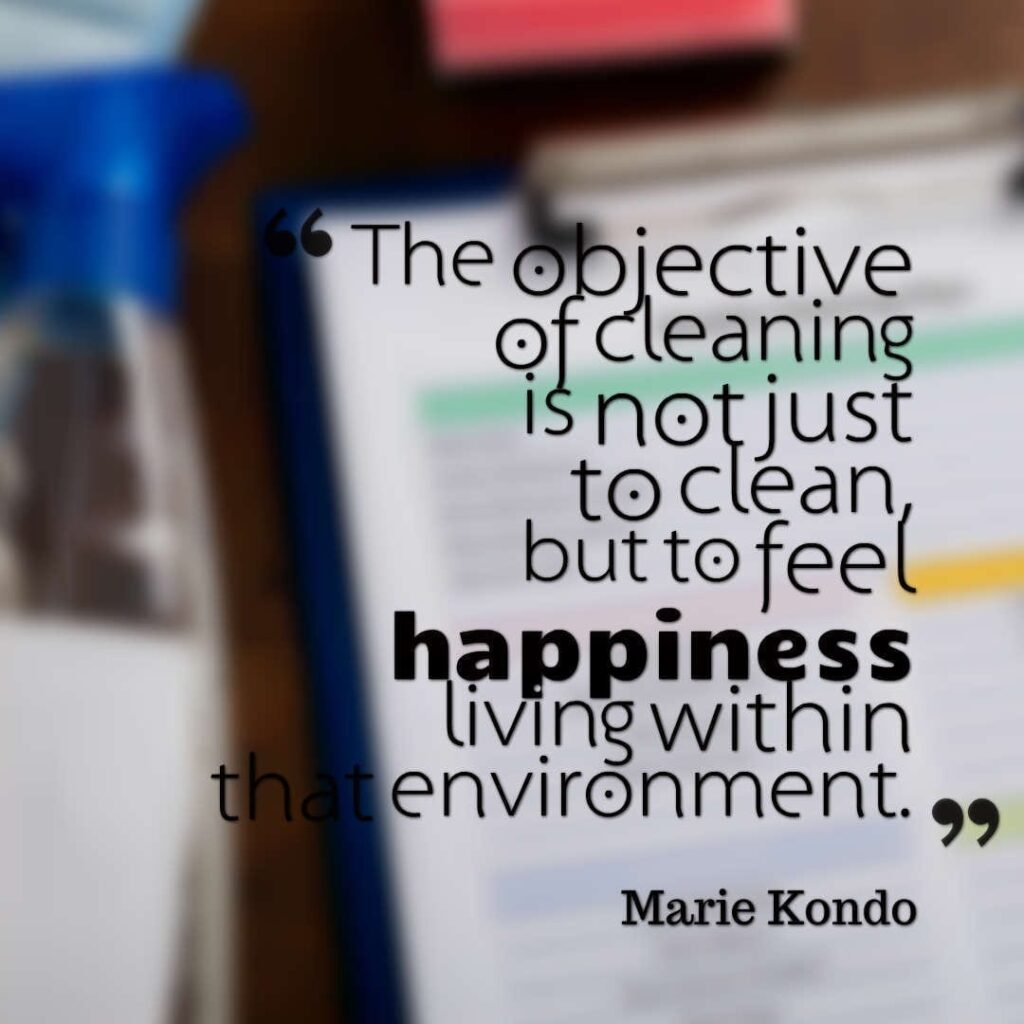 1. A Morning Cleaning Routine
There are certain areas of the home that we use more than others. The bathrooms and kitchen are two of them that can get messy and make you feel out of sorts.
Each morning, I take the time to make the bed, clean the bathrooms, clean the kitchen, and pick up anything from the night before. This may sound like it takes a long time, but it doesn't. I do it every day so it's not that dirty. And, because it's a habit, I have a rhythm that allows me to move quickly and efficiently. It only takes about 20 minutes, and when I'm done, I have cleaned the most important areas of my house that require daily cleaning.
It feels really good to have a clean kitchen and clean bathrooms in the morning. You don't have to worry about them, and since they are your most frequented spots, you enjoy them more. It removes stress from an unclean home, makes you feel more organized, and gets you set up for a day of achieving great things.
2. An Evening Cleaning Routine
Going to bed with a clean home can help you sleep more peacefully. Knowing that you will wake up to a mess tomorrow can be stressful for many different reasons.
In the evening, we make sure that all the dishes are put in the dishwasher and washed each evening. That way I can empty the dishwasher as a part of my morning routine and not have to worry about dishes until the end of the day.
This is the only cleaning thing we do in the evening, so it's really not that hard. If there are a couple of extra dishes that won't fit into the dishwasher, we wash them by hand. It takes a few minutes, but it ensures the counters and sink are clean, which makes going to bed feel good.
From thousands surveyed, 72 percent reported they sleep better in a clean house. – Source
3. Focusing On One Area Of The House Daily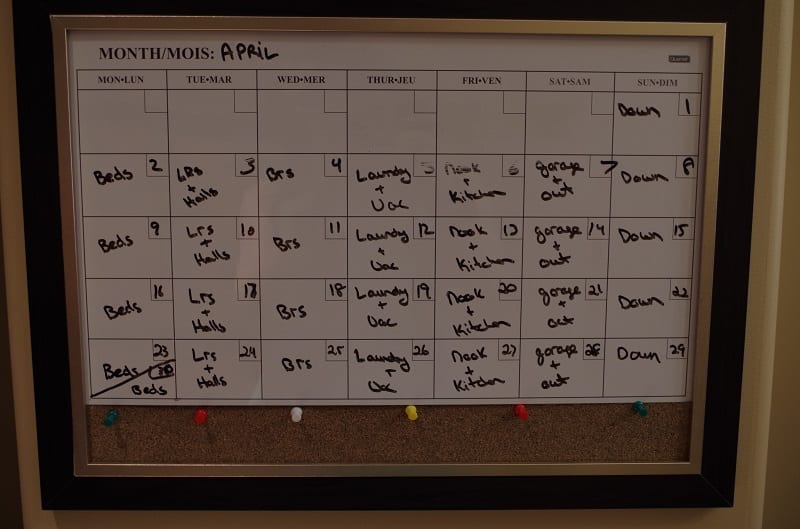 I used to spend up to 8 hours cleaning the whole house in one day. It was exhausting and wasted my whole day 0ff. And while it gave us a clean home for that day, the rest of the week the house got dirty and felt less-than-clean.
Now, I break down the house into pieces and focus on doing some deeper cleaning in one area of the house per day.
To keep track of what I need to do each day, I use an old dry-erase board that I have hung up in my hall. Each day, I focus on cleaning something a little bit deeper than normal.
For instance, on Tuesdays, I have the living rooms and the halls. So, I will wash blankets from the living room, clean the baseboards, dust everything thoroughly, wash the floor, and lint-roll or vacuum the rugs. I may not do all these things, but I will definitely pay attention to the living rooms and halls and do what I think needs to be done.
And on Fridays, I will take the time to clean my kitchen, which usually means emptying out the fridge of old food and wiping down the outside of the counters.
Sometimes I will even declutter the daily area. For instance, if it's Sunday, and downstairs is the focus, I may pack up some things we don't use anymore and donate them.
Doing this keeps my house clean and ensures I don't have to spend my whole day off cleaning the house.
I don't set a specific amount of time to clean each day. I do what I think needs to be done, and it takes as long as it takes. But, I do use music, TV, or something else to pass the time. For instance, I can see my TV from the kitchen, so I'll watch a movie while I clean up the kitchen. Or, if I'm really feeling productive, I'll listen to a podcast or watch a video focusing on something I'm working on.
4. Putting Things Where They Belong
This is probably my favorite daily cleaning habit because it really helps us keep a clean home and it's so easy.
If you take something out, put it back after you use it. Or, if it's a dish, put it in the dishwasher or take two seconds to wash it. Or, if it's recyclable, put it with the recyclables. And, if it's garbage, put it in the garbage. Don't leave it in another room. That's when things start to get messy and cleaning seems to take much longer.
My husband and I used to be really bad at this. We would leave everything everywhere, and our house always looked cluttered and messy. It drove me nuts, but we were just in the habit of being lazy and not quickly putting things back after we use them.
This cleaning habit didn't take long to develop and has made a world of difference.