After all the personal development programs I've taken and books I've read, I've come to realize that productivity in life is about progress, not perfection. I wish I would have known this when I was young and let one failure – in almost any area of my life – take me back to the drawing board and cause me to lose all productivity. I was striving for perfection, and I didn't realize those losses were helping me progress.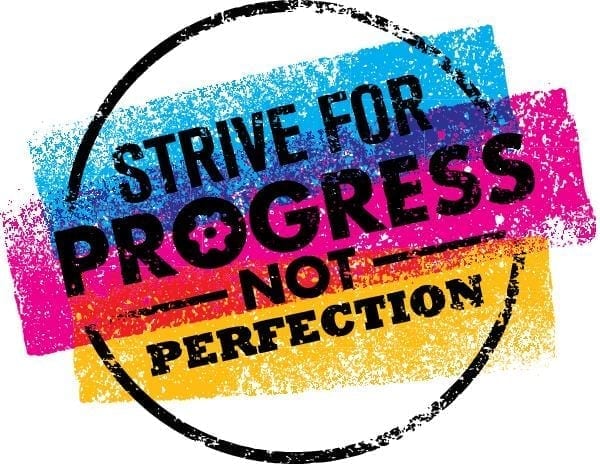 Perfection Doesn't Win
As an online business owner, it's been obvious to me that perfection is not the key to success. For instance, I can't count the number of blogs that are doing very well without perfection.
Sure, some bloggers do well with quality content. But some bloggers make a killing with pure crap! They post things with spelling errors. They post stuff that is outright ridiculous. Yet, they are getting a ton of interaction on their blogs and experiencing a ton of success.
My husband has noticed this is the vlogging world. He is an amazing guitar player. He will post a video of himself playing a song perfectly (and he spends weeks, sometimes months, putting these videos together), while someone else posts a video of themselves playing air guitar that same day. He gets hundreds of views, but they get over a million views – with a ton of likes and positive comments!
These are just a few cases in the online business world where it's obvious that perfection is not the key to success.
In other areas of life, such as in relationships, perfection doesn't win either. I've never seen a couple who strives to be perfect last. Because they can never reach that perfection, they end up giving up on each other and the relationship and go their own ways.
In fact, it seems that if you pursue perfection in anything, you will always end up giving up or feeling really bad about yourself along the way. Perfectionists have unrealistic expectations for themselves and are very self-critical when things go wrong.
In other words, one mistake can signify complete failure when you are striving for perfection, and that failure can be more than most perfectionists can bear, so they would rather do nothing than keep being productive.
Moreover, striving for perfection makes it hard to be flexible and make changes when you need to. Productivity requires you to do what needs to be done, but also requires that you have the awareness for when things need to be changed and the ability to change. That's hard for perfectionists to do.
Effort, Going For It, And Doing What Works Wins
The key seems to be the effort, going for it, and doing what works, not perfection.
The more effort you put in, the more success you have. And this is true for any area of your life.
The bloggers who do well with crappy content, know what their audience wants to read or see, and they put in the effort to produce that content. Then they put in the effort to get people to their blogs and interact with those people.
People like the air guitar players who have only put out a few videos, but get millions of views – well, I think sometimes they just luck out. They put out something that people want to see, even if they don't know it. But, that's just the way life is – some people luck out for a while, but if they don't focus on progression, they don't grow any bigger.
To be honest, in my 11 years working online, I've noticed that people are more inclined to click on and interact with stupid, mindless, or silly things. Cat videos, mukbangs, dramatic storytelling, freakouts, and air guitar are things people love to watch.
I've also noticed that the vloggers who do these sorts of things put a lot of effort into making as many videos like that as they can because they know that it works.
For instance, I strongly believe that Trisha Paytas is successful because she consistently puts in the effort and does what she knows works. Just the other day she put up a vlog of herself trying McDonald's new crispy chicken tenders, and in the video, she stated that she got almost a million views a few days earlier for trying burger king's new spicy crispy chicken… so why not film another food vlog?
The bottom line is that when it comes to her business, Trisha has put in a TON of effort over the years, she's not afraid to do what needs to be done, and she focuses on doing what works the best for her. Her productivity is through the roof, and she's rewarded for it.
What Is Progress?
Progress is moving towards a destination.
Taking the Lifebook program, I came to the conclusion that progress in my life is about examining my life deeply and then working on improving it. It's about developing a vision for who I want to be and what I want to experience, and then making goals to help me get there. And it's about taking action on those goals. Every step I take in accordance with that vision helps me progress in some way.
Along the way, there are failures and losses, but those failures and losses also help me progress. They always teach me something, make me stronger, or give me new determination to make things better. They never go to waste when it comes to progressing in life.
Personalities and businesses that focus on progress can outlast the people who focus on perfection. People and businesses that are willing to do what needs to be done and change and adapt as they grow, have much more success than people who want to do one thing and do it perfectly.
Striving For Progress, Not Perfection Makes It Easier To Be Productive
The bottom line is that when you are striving for progress, not perfection, it's easier to be productive. You are working towards creating something better without the stress and strain of trying to make it perfect.
Perfection causes you to lose productivity as you stress out about mistakes, failures, and things not going your way. Whether your anxiety and stress get you, or you give up completely because the failure is too much to bear, striving for unrealistic perfection will almost always ruin your productivity.