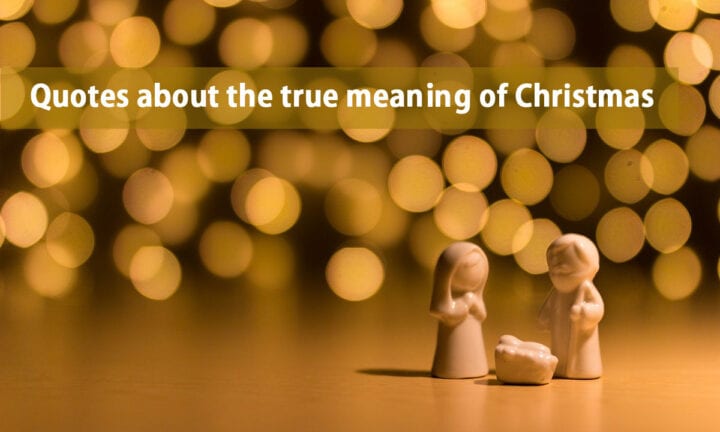 Christmas is the celebration of the birth of God and our new beginnings. It is a magical season that brings joy, love, and togetherness within families and friends. Everyone has their own way of celebrating it. But many of us forget about its true meaning and what true spirit of Christmas really feels like. Christmas is more than just exchanging gifts, decorating, shopping, and eating good food. It is not just a time for festivity and merry making. It is more than that.
Here are 55 inspirational quotes from authors, artists, and famous people to help you feel the true spirit of Christmas.
1. "Best of all, Christmas means a spirit of love, a time when the love of God and the love of our fellow men should prevail over all hatred and bitterness, a time when our thoughts and deeds and the spirit of our lives manifest the presence of God." – George F. McDougall
2. "My idea of Christmas, whether old-fashioned or modern, is very simple: loving others. Come to think of it, why do we have to wait for Christmas to do that?" – Bob Hope
3. "Christmas is not as much about opening our presents as opening our hearts." – Janice Maeditere
4. "And when we give each other Christmas gifts in His name, let us remember that He has given us the sun and the moon and the stars, and the earth with its forests and mountains and oceans–and all that lives and move upon them. He has given us all green things and everything that blossoms and bears fruit and all that we quarrel about and all that we have misused–and to save us from our foolishness, from all our sins, He came down to earth and gave us Himself." – Sigrid Undset
5. "Christmas is not a time or a season but a state of mind. To cherish peace and good will, to be plenteous in mercy, is to have the real spirit of Christmas. If we think on these things, there will be born in us a Savior and over us will shine a star sending its gleam of hope to the world." – Calvin Coolidge, 30th president of the United States
6. "When we recall Christmas past, we usually find that the simplest things – not the great occasions – give off the greatest glow of happiness." – Bob Hope
7. "During Christmas, open your heart with love to appreciate the beauty of life and all the presents that you have received from the earth." – Debasish Mridha
8. "If you desire to find the true spirit of Christmas and partake of the sweetness of it, let me make this suggestion to you. During the hurry of the festive occasion of this Christmas season, find time to turn your heart to God. Perhaps in the quiet hours, and in a quiet place, and on your knees–alone or with loved ones–give thanks for the good things that have come to you, and ask that His Spirit might dwell in you as you earnestly strive to serve Him and keep His commandments. He will take you by the hand and His promises will be kept." – Howard W. Hunter
9. "Gifts of time and love are surely the basic ingredients of a truly merry Christmas." – Peg Bracken
10. "Happy, happy Christmas, that can win us back to the delusions of our childhood days, recall to the old man the pleasures of his youth, and transport the traveler back to his own fireside and quiet home!" – Charles Dickens
11. "Christmas is the spirit of giving without a thought of getting. It is happiness because we see joy in people. It is forgetting self and finding time for others. It is discarding the meaningless and stressing the true values." – Thomas S. Monson
12. "A lovely thing about Christmas is that it's compulsory, like a thunderstorm, and we all go through it together." – Garrison Keillor
13. "Christmas is the perfect time to celebrate the love of God and family and to create memories that will last forever. Jesus is God's perfect, indescribable gift. The amazing thing is that not only are we able to receive this gift, but we are able to share it with others on Christmas and every other day of the year." – Joel Osteen
14. "Let us remember that the Christmas heart is a giving heart, a wide-open heart that thinks of others first." – George Matthew Adams
15. "Christmas waves a magic wand over this world, and behold, everything is softer and more beautiful." – Norman Vincent Peale
16. "Christmas! The very word brings joy to our hearts. No matter how we may dread the rush, the long Christmas lists for gifts and cards to be bought and given–when Christmas Day comes there is still the same warm feeling we had as children, the same warmth that enfolds our hearts and our homes." – Joan Winmill Brown
17. "I don't think Christmas is necessarily about things. It's about being good to one another, it's about Christian ethic, it's about kindness." – Carrie Fisher
18. "Christmas isn't a season. It's a feeling." – Edna Ferber
19. "The joy of brightening other lives, bearing each others' burdens, easing others' loads and supplanting empty hearts and lives with generous gifts becomes for us the magic of the holidays." – W.C. Jones
20. "Christmas is a season for kindling the fire for hospitality in the hall, the genial flame of charity in the heart." – Washington Irving
21. "Christmas – that magic blanket that wraps itself about us, that something so intangible that it is like a fragrance. It may weave a spell of nostalgia. Christmas may be a day of feasting, or of prayer, but always it will be a day of remembrance – a day in which we think of everything we have ever loved." – Augusta E. Rundel
22. "The best of all gifts around any Christmas tree: the presence of a happy family all wrapped up in each other." – Burton Hills
23. "Christmas is the day that holds all time together." – Alexander Smith
24. "I am not alone at all, I thought. I was never alone at all. And that, of course, is the message of Christmas. We are never alone. Not when the night is darkest, the wind coldest, the world seemingly most indifferent. For this is still the time God chooses." – Taylor Caldwell
25. "At Christmas, all roads lead home." – Marjorie Holmes
26. "Christ was born in the first century, yet he belongs to all centuries. He was born a Jew, yet He belongs to all races. He was born in Bethlehem, yet He belongs to all countries." – George W. Truett
27. "Our hearts grow tender with childhood memories and love of kindred, and we are better throughout the year for having, in spirit, become a child again at Christmas time." – Laura Ingalls Wilder
28. "He who has no Christmas in his heart, will never find it under a tree." – Roy Smith
29. "Blessed is the season which engages the whole world in a conspiracy of love." – Hamilton Wright Mabie
30. "Are you willing to believe that love is the strongest thing in the world – stronger than hate, stronger than evil, stronger than death – and that the blessed life which began in Bethlehem nineteen hundred years ago is the image and brightness of the Eternal Love? Then you can keep Christmas." – Henry Van Dyke
31. "Christmas means the birth of a new beginning, a new mind, and a new life." – Debasish Mridha
32. "Christmas now surrounds us, Happiness is everywhere. Our hands busy with many tasks as carols fill the air." – Shirley Sallay
33. "I truly believe that if we keep telling the Christmas story, singing the Christmas songs, and living the Christmas spirit, we can bring joy and happiness and peace to this world." – Norman Vincent Peale
34. "Christmas is most truly Christmas when we celebrate it by giving the light of love to those who need it most." – Ruth Carter Stapleton
35. "Christmas is like candy; it slowly melts in your mouth sweetening every taste bud, making you wish it could last forever." – Richelle Goodrich
36. "The true Christmas spirit is putting others' happiness before our own, and finding you've never known such happiness." – Toni Sorenson
37. "Christmas gift suggestions: to your enemy, forgiveness. To an opponent, tolerance. To a friend, your heart. To a customer, service. To all, charity. To every child, a good example. To yourself, respect." – Oren Arnold
38. "Instead of being a time of unusual behavior, Christmas is perhaps the only time in the year when people can obey their natural impulses and express their true sentiments without feeling self-conscious and, perhaps, foolish. Christmas, in short, is about the only chance a man has to be himself." – Francis C. Farley
39. "It is Christmas in the heart that puts Christmas in the air." – W.T. Ellis
40. "Probably the reason we all go so haywire at Christmas time with the endless unrestrained and often silly buying of gifts is that we don't quite know how to put our love into words." – Harlan Miller
41. "For centuries men have kept an appointment with Christmas. Christmas means fellowship, feasting, giving and receiving, a time of good cheer, home." – W. J. Tucker
42. "Christmas is not just a time for festivity and merry making. It is more than that. It is a time for the contemplation of eternal things. The Christmas spirit is a spirit of giving and forgiving." – J. C. Penney
43. "What is Christmas? It is tenderness for the past, courage for the present, hope for the future. It is a fervent wish that every cup may overflow with blessings rich and eternal, and that every path may lead to peace." – Agnes M. Pharo
44. "Christmas is doing a little something extra for someone." – Charles Schulz
45. "Do not wait until Christmas to spread a little cheer, people appreciate kindness, all through of the year." – Charmaine J. Forde
46. "And the Grinch, with his Grinch-feet ice cold in the snow, stood puzzling and puzzling, how could it be so? It came without ribbons. It came without tags. It came without packages, boxes or bags. And he puzzled and puzzled 'till his puzzler was sore. Then the Grinch thought of something he hadn't before. What if Christmas, he thought, doesn't come from a store. What if Christmas, perhaps, means a little bit more." – Dr. Seuss
47. "Christmas is a season of outdoor lights, but it is also the season of enlightening the heart and mind." – Debasish Mridha
48. "Christmas is forever, not for just one day, for loving, sharing, giving, are not to put away like bells and lights and tinsel, in some box upon a shelf. The good you do for others is good you do yourself." – Norman Wesley Brooks, "Let Every Day Be Christmas"
49. "This time of year means being kind to everyone we meet, to share a smile with strangers we may pass along the street." – Betty Black
50. "If you take Christmas to heart and get past the anxieties in arranging for gifts and parties, you will rediscover yourself every year at this time and experience a birth in yourself, just like the one so beautifully described in the Gospel stories. It will be a celebration of both the birth of Jesus and the birth of your soul." – Thomas Moore
51. "The thing about Christmas is that it tells us that we are never alone. But even more, it tells us that we are always enough." – Craig D. Lounsbrough
52. "Maybe Christmas is more than a day to receive. Maybe Christmas, perhaps, is a day to believe." – Richelle E. Goodrich, Slaying Dragons
53. "Christmas isn't a parade or concert but a piece of home you keep in your heart wherever you go." – Donna Van Liere, The Christmas Town
54. "Christmas teaches us to be loving, kind, giving, forgiving, and appreciating." – Debasish Mridha
55. "Christmas has a deeper significance to followers of Jesus. It's not all about the gifts underneath Christmas trees or the elaborate meals served in extravagantly decorated homes. Christmas is the season of Immanuel. We celebrate the good news that He is near, that He cares for us, and that He transforms lives. His presence was the greatest present God gave mankind. May we be present carriers of that presence!" – Katherine J. Walden
This Christmas, bring joy to others with an act of kindness and appreciate simple things from people around you. Sharing the magical and joyful mood of Christmas time is one the best ways of celebrating it. Spread the love and kindness and you'll definitely spend Christmas the way it should be celebrated. Happy Christmas!
ALSO READ: How to be Kind and Warm to Others