Are you facing a holiday alone this year with lockdowns and gathering restrictions in place thanks to the pandemic? Or, are you just facing a holiday alone for some other reason and don't know how to get through the day without doing your normal holiday routine? Here are some tips on how to make it a day that feels good rather than a lonely day or just like any other day.
8 Tips On How To Spend A Holiday Alone And Enjoy It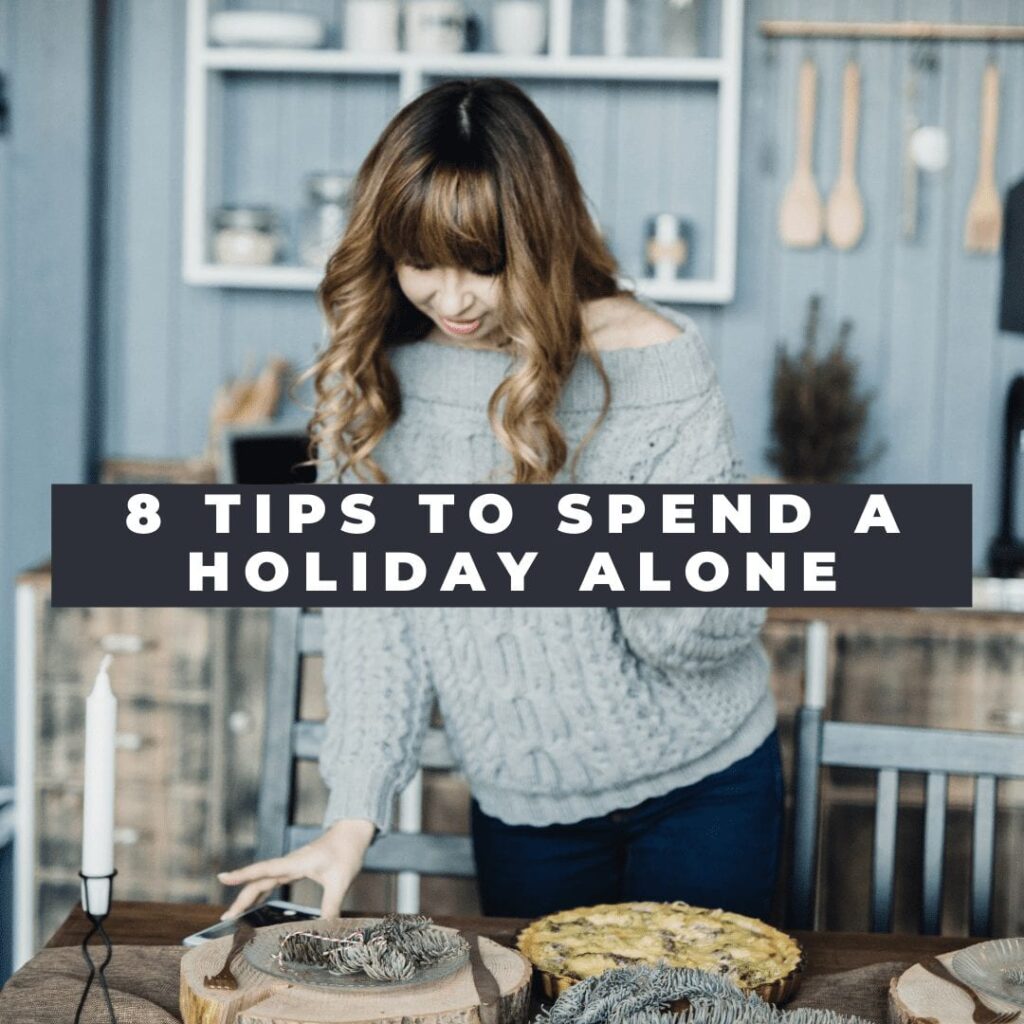 Following is a series of tweets from Mitten D'Amour on Twitter. I love her thread on how to spend this Christmas alone. Of course, she says that she likes to spend Christmas alone, but that's just a mindset. We all have a choice to dread or enjoy something.
If you are dreading spending the holiday alone, you can develop a positive mindset around it too. Try to look forward to it by creating your own little special day using the tips below.
1. Eat Something Special
If you are suddenly facing Christmas alone, I have tips. I LOVE Christmas alone so get on board.

Food: What would you ideally like to eat if no-one could limit you or judge you? Nothing but pigs in blankets? Just cake? Pot Noodle? Get that! I'm having cheese and crackers.

— Mitten d'Amour (@MittenDAmour) December 20, 2020
I love this idea. This past Easter when I had to spend the holiday alone, I still made our traditional holiday meal. I got on the Echo Show with my parents and they had made their traditional holiday meal and we ate together over the Echo, which was a memory I'll never forget.
2. Drink Something Special
Drink: Same goes – what would be a decadent treat? Endless cups of strong tea? Babycham? A robust red? Get it, you're worth it.

If you know booze makes you cry either limit it or buy extra tissues. No judgment.

— Mitten d'Amour (@MittenDAmour) December 20, 2020
Last Easter, I bought myself a bottle of wine. I like to drink wine on the holidays, so why wouldn't I drink it when I'm alone? It helped me feel like it was a normal holiday because it is a tradition to have a few glasses of wine as I cook and eat dinner.
3. Plan Your Day Out
Activities: Make a plan, don't leave it to the day and find yourself lost. Doesn't have to be a rigorous agenda but 'wake up whenever, hot buttery toast and tea for breakfast, bubble bath, watch films, go for walk' will give you a structure to enjoy.

— Mitten d'Amour (@MittenDAmour) December 20, 2020
When we leave our days to chance, we are more likely to fall into a feeling of overwhelm and sadness as we try to figure out what to do. This is especially true when spending a holiday alone where you would normally be with other people and your routine is out of whack. Take Mitten's advice and plan out your day the day before. The structure is going to help you feel like it's a day worth doing.
4. Find Some Company
Company: Many people can feel rotten lonely in a house full of relatives. Remember that. Even people in bustling houses can be miserable. Arrange to make call one or two people, just to say Merry Christmas and hear about how they dropped the turkey or what they're watching on TV.

— Mitten d'Amour (@MittenDAmour) December 20, 2020
I have been in situations where I'm in a house full of people and just want to escape. Sometimes you can have too much company. Some company can be nice, though. So take the time to call someone or message someone or drop into a chat group online and socialize for a few minutes out of your day.
5. Put Up A Decoration Or Two
Decorations: Do it! Get some decorations up – it makes a huge difference and shows that YOU are taking control of this fate, plus twinkly lights and bright things are cheering. I like to put on Christmas music and pour a hot mulled wine while I put mine up.

— Mitten d'Amour (@MittenDAmour) December 20, 2020
A holiday alone is not just another day – it's still a special day with memories and traditions – so let your subconscious and conscious mind know that by putting up a decoration or two. It will help the day feel a little more special as you work through your plan for the day.
6. Give Yourself A Gift
Gifts: If you have gifts to open maybe you'd like to arrange to do that at the same time as a friend over video chat. If you don't have gifts please consider a spot of self-gifting and YES, wrap them up so you can open them on the day. Hard recommend on this one.

— Mitten d'Amour (@MittenDAmour) December 20, 2020
As humans, gifts make us feel valued and appreciated. And it is more than acceptable to give yourself a gift! While a physical gift is nice, you can also give yourself the gift of a spa bath or a nap or anything else that you want most.
7. This Too Shall Pass
And lastly… hold on to the fact it is just 24hrs and doesn't have to *be* anything. Even if you spend it sobbing it's will not last forever, it ends. Be gentle to yourself, make your own rules, turn it into your ideal lazy selfish Sunday. I learnt to lean into it and love it.

— Mitten d'Amour (@MittenDAmour) December 20, 2020
Everything in life is fleeting. It comes and it goes. Appreciate the day of the holiday – even if you are spending the holiday alone – because it will go and you will look back and either wish you had spent it feeling good or be glad that you appreciated it. It's important to appreciate every day, even the ones where things are not working out as we want them to. We only have so many moments to appreciate.
8. Go For A Walk
Oh and by the way, going outside for a stroll on Christmas Day is also a strong recommendation. Cheery cries of "Merry Christmas" exchanged with strangers and their dogs is an absolute tonic.

— Mitten d'Amour (@MittenDAmour) December 20, 2020
Going out and acknowledging the people you walk by will help you feel more connected to the world around you than just staying in your home by yourself. It's an awesome feeling to acknowledge others and be acknowledged, and on holidays everyone just seems to be nicer – so take advantage of that holiday cheer and let it fill you up with gratitude and love.