Ask anyone who has worked in the healthcare setting, and they will tell you that face masks are an essential part of limiting the transmission of disease. Since COVID-19 is here to stay for a while, more and more places are making face masks mandatory, and it's important to find the best face mask for you. If you want to buy your own face mask, then here are some of the best face masks according to user reviews.
Best Face Mask Material To Look For
First, it's important to consider the material of your face mask. There's no point in wearing a mask if it's going to let in any virus that you come across, including COVID-19.
A surgical mask, which many people are wearing, is considered an effective mask to wear during this pandemic. However, if you want more style, then according to the AARP you are looking for a mask that has cotton, polypropylene, or a combination of both in layers.
According to this article, a face mask that has two or more layers of high-thread-count cotton or chiffon is what you are looking for.
So keep those parameters in mind when looking for the best face mask for you.
Let's look at some of the best face mask options on Amazon and on Etsy.
Best Face Mask Shops On Amazon
It's so easy to buy from Amazon, that most people will find their masks there. If you have Amazon Prime, then many of these masks can be delivered without a shipping fee.
1. Fruit Of The Loom Cotton Mask
Who would have ever thought you would wear Fruit of the Loom on your face? The brand has expanded a little. 😉
But, this cotton face mask is built with a 3-ply construction and contains silver. Silver is known to have antiviral properties, which means that it could be an added aspect of protection for you.
Positive reviewers say that these Fruit of the Loom masks are easier to breathe in than some other masks and the fit around the ear is stretchable, which makes it more comfortable than ear straps that don't have any give to them. Plus they seem to be comfortable to wear for most people. And, many people like the price of these masks, as they equal around $1 per mask when you buy a 50-pack.
Criticisms include that they are too big for some faces and the ear straps can be bothersome for some people.
The biggest problem with these is that the instructions say that a mask is good for up to 15 washes only, which means one mask will last 15 days. But, they do come in a 50 pack if you want, so that leaves a lot of time for using these masks even if you are out every single day.
Positives Of These Masks
Do not shrink when washed
Are comfortable to wear.
Cheap enough to use some of these masks as disposable or give them away to people who need them around you.
Who May Not Want These Masks
People with smaller faces.
People who don't want to wear the Fruit of the Loom brand on their face (many people think they are a lot like Fruit of the Loom underwear, just in mask form).
People who don't want a plain white mask.
Read more reviews about this mask on Amazon here. 
2. VVUPIC Face Masks
These are your standard black masks that most people seem to be wearing. They are made with 95% cotton and 5% spandex for some stretch, and they include 3 layers of cotton.
Positive reviewers say that this mask has great breathability. Even a server said that they could wear this mask throughout their shift. They also say that the ear straps are good and do not pull on your ears. They also say that these masks fit well under the chin, which is something a lot of masks don't do.
Criticisms include that this mask can be too big for smaller faces and while you can fit it around your nose, some people think that the nose clip is just a little short and only clips over the nose bridge.
Main Positives Of These Masks
Breathable.
Fits under the chin.
A solid black color mask for people who don't want white or fancy looking masks.
Who May Not Want These Masks
People with smaller faces.
People with glasses may find that their glasses get fogged up. (Although, a few reviewers were adamant it didn't fog up glasses.)
People who want a nose clip that fits snugly as a few people complained that it either didn't fit properly over the nose or the nose piece came out altogether.
Read all the reviews of this mask on Amazon here.
3. 

ililily 

Cotton Masks
If you want a pattern on your face mask then this double-layered cotton mask might interest you. This mask is made from a double layer of cotton. There is a filter inside, but it is not replaceable.
Positive reviewers say that these are very pretty masks and that the adjustable ear loops are perfect for sizing.
Criticism of these masks is that there is no metal part for the nose, but some reviewers say that it is made with an indent for your nose to fit into.
Main Positives Of These Masks
Stylish design.
Adjustable ear straps.
Works well with glasses.
Who May Not Want These Masks
More expensive than many other masks on Amazon.
Not as soft as some other masks on the market.
Read all reviews on Amazon here. 
Best Face Mask Shops On Etsy
If you want a little more style, then Etsy is your place. People are designing all kinds of masks on places such as Etsy, and it's almost guaranteed you will find something you like. While masks can be a little more expensive on Etsy, you can filter through colors, nose wires, filter pockets, size, shop location, and style, so it might be worth the price for you if you want a very specific mask.
Just remember to look for the material that we talked about – cotton and/or polypropylene – and make sure that there are at least two layers. Here are the best face masks that I found according to rating.
1. Janice's Tailoring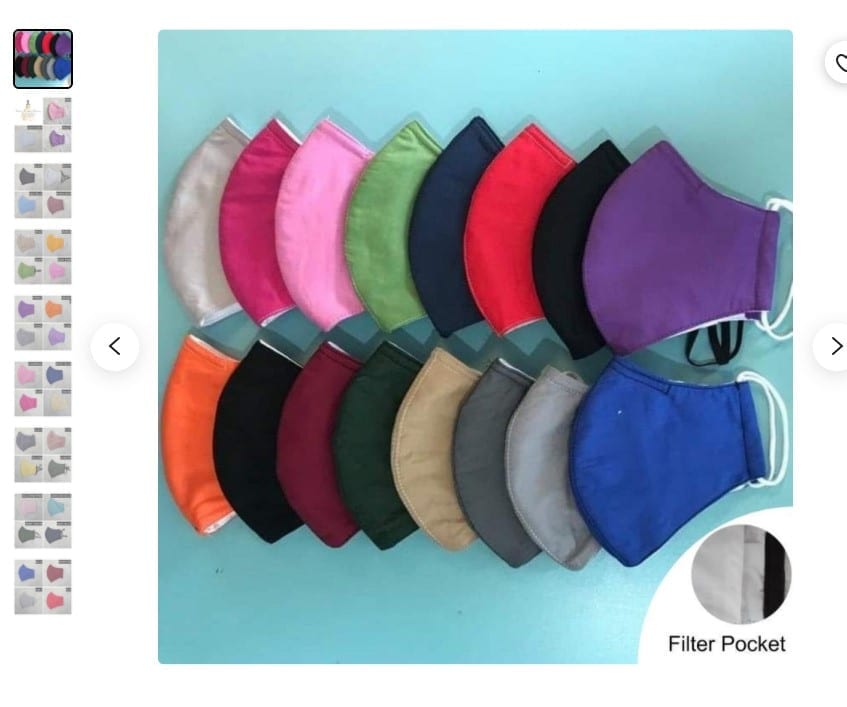 A lot of people think that Janice's masks are the best face mask as far as being well made, comfortable, and design. There is a nose wire included, three layers of cotton, and include a wide range of solid colors. These are made by a professional tailor.
Positive reviews are saying that it doesn't cut into the bottom of your eyes while wearing it and that it is well made.
Main Positives Of These Masks
Lots of designs to look through.
Seller has been shown to communicate well with people who buy her masks.
Well made.
Who May Not Want These Masks
People who want to pick a size of mask as there is one size only.
People who want the option to return, as there is no returns.
Check out the full list of masks here. 
2. The Headgear Shop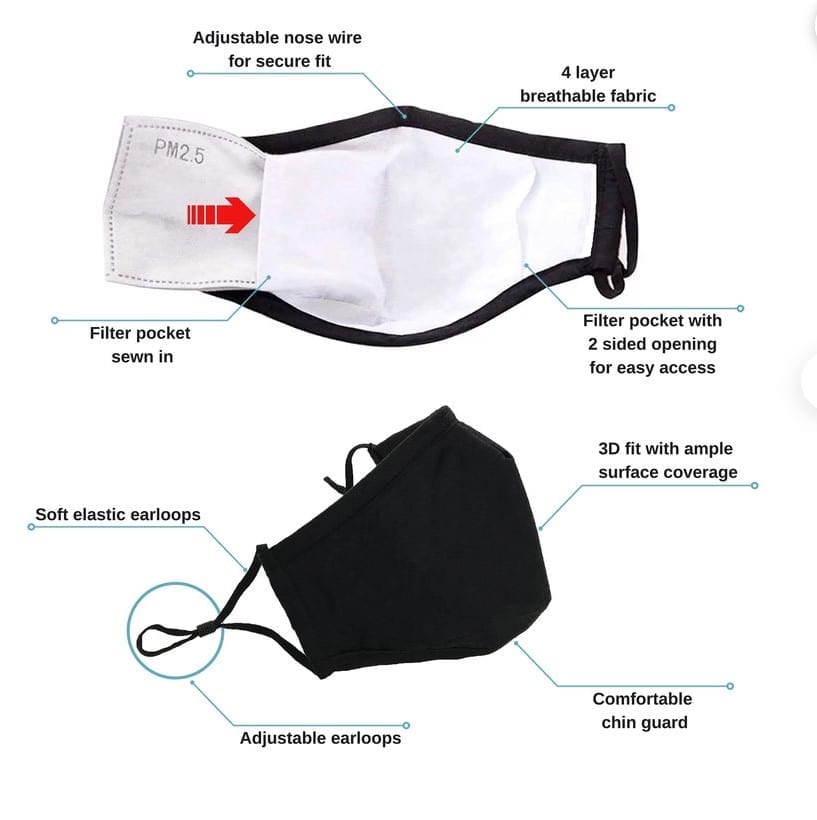 This mask is made with 4 layers of cotton, comes with a filter pocket, nose wire, and adjustable ear loops. There is a decent selection of solid colors to choose from.
Most people had positive reviews of this mask. I did see one person who complained about all aspects of the mask, including that it was more synthetic than cotton, was too hot to wear, and was difficult to talk through. However, most reviewers counteracted her arguments with positive reviews about the material and breathability, so I'm not sure what happened to that reviewer's product.
Main Positives Of These Masks
Includes 1 filter.
Adjustable ear loops.
Light and breathable.
4 layers of fabric.
Good for people with beards as it hugs the underside of your chin.
Who May Not Want These Masks
Anyone who wants the option to return their mask, as all sales are final.
Anyone who doesn't want to pay too much for a mask.
Check out these masks on Etsy here. 
3. FayeSlipp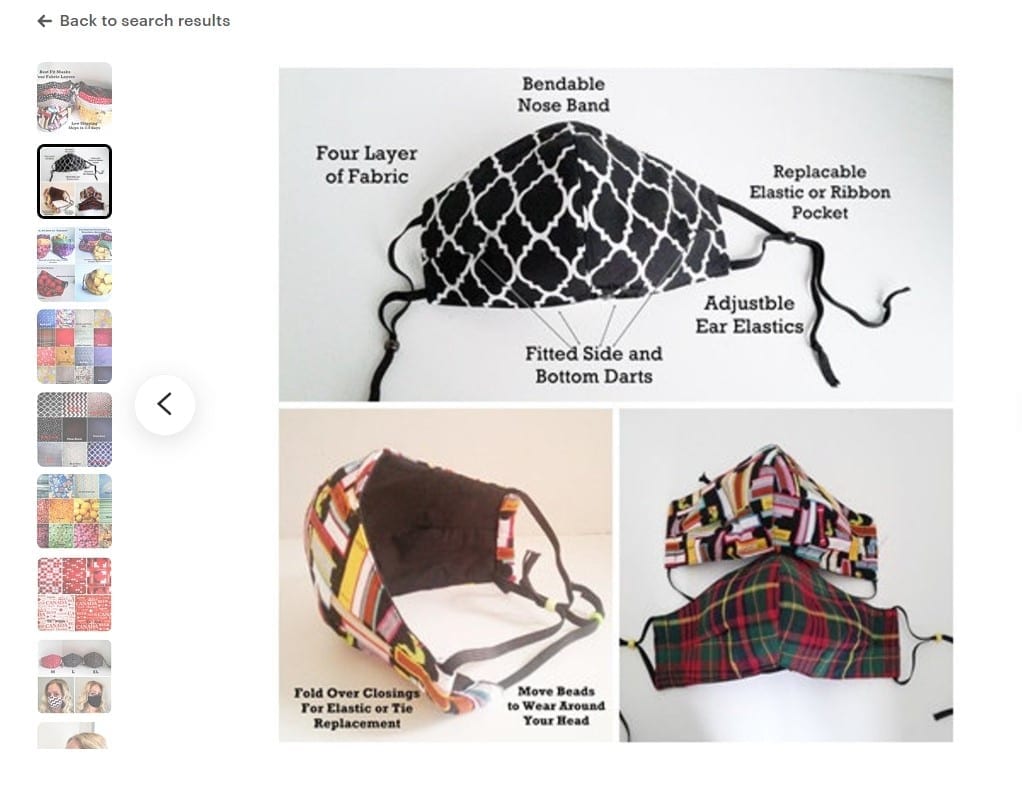 I feel like I may have saved the best mask for last.
These masks are unique because they are darted on the bottom and sides, which is what creates that snugger fit at the sides and the chin. They also include four layers of fabric, a bendable noseband, and adjustable ear elastics. And they come in many different designs.
AND, unlike many other of the best mask patterns out there, this one comes in 4 sizes, including medium for women, large for men, as well as small and extra-large for those of us who don't fit into a standard category of 'woman' and 'man' sizes.
Positive reviews talk about how this mask is well made, soft, easy to adjust, fits all sizes (including big heads), and fits over beards.
Main Positives Of These Masks
The darted sides and chin for a better fit.
Masks of all colors – dark, lighter, and patterned.
Comes in 4 sizes!
Who May Not Want These Masks
Anyone who wants the option to return their mask, as all sales are final.
Anyone who doesn't want to pay too much for a mask.
Check out the Faye's masks here. 
Note: These are the top listings I could find for the best masks on Amazon and Etsy. But, I know that there are many places selling masks out there. If you feel like you know where the best mask is for purchase, please share in the comments below and let us know why they are the best in your opinion!