Are you looking for a challenge that will change the course of your life? The Lifebook Online program created by Jon Butcher and offered through Mindvalley helps you to take a deep look at your life and figure out what you really want out of each area in it. Relationships, health, career, finances, and more are all looked at in this program designed for you to get to know yourself better and get clear on what you want out of life and why. The Lifebook Online program is a challenge that everyone should take on. It spans 6 weeks, and each week you dig a little bit into your life with the help of Jon Butcher.
Note: I wrote a full Lifebook review here if you want to check it out.
5 Benefits Of Taking The Lifebook Online Challenge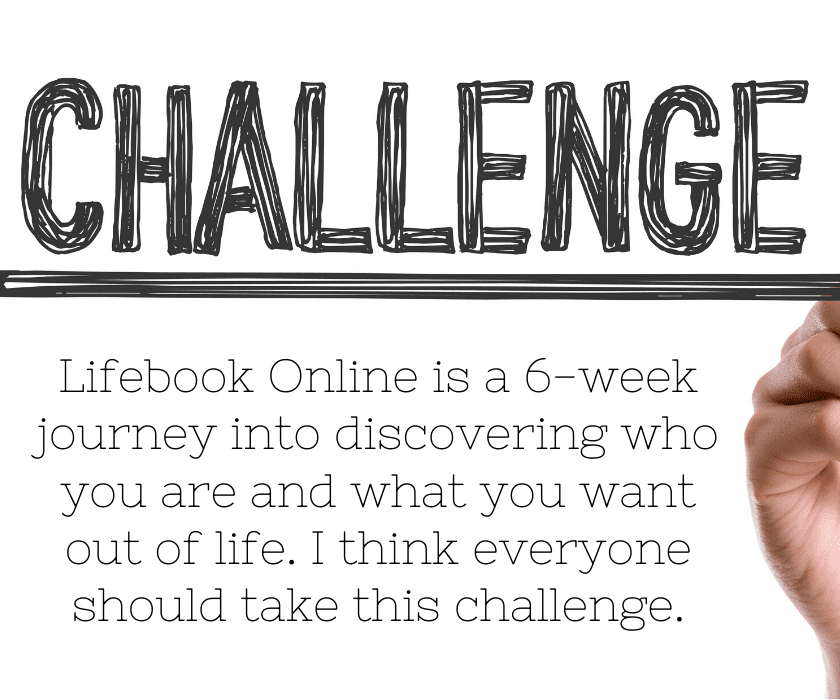 1. Lifebook Will Help You Get Honest With Yourself
In Lifebook, not only do you get honest about what you want in your life. But, because you are closely looking at 12 areas of your life, you must get honest with yourself and admit some truths about how you live and what you are currently not happy with.
In Lifebook, the 12 areas you will find yourself getting honest about are:
Health And Fitness
Intellectual Life
Emotions
Character
Spirituality
Romantic Relationships
Parenting
Social Life
Financial Life
Career
Quality Of Life
Life Vision
I found myself creating other categories too. For instance, contributing/giving is a huge category for me that I needed to get clear on. I noticed that other members in the Lifebook Online Tribe were creating their own categories, such as creativity.
The bottom line is that you are going to look at YOUR life and getting clear on what you really want in it.
2. You Will Interact With Others Who Are Taking Or Have Taken Lifebook And Get Inspired
One of the big draws of this Lifebook challenge is the Facebook group for Lifebook. There you can connect with your very own tribe of people who are taking the program with you.
It's a private group where people taking part in the Lifebook Online program can share their daily insights, ask questions, and comment on other people's insights. It's a place to release fears and realize that we all struggle with our lives and to help other people in whatever way you can.
I also found it to be a very inspiring place where you can get ideas for what you want in all areas of your life and what you don't want.
3. Lifebook Will Help You Improve Your Relationships
Lifebook includes sections on your romantic, parenting, and social life. And that definitely helps you take a closer look at your relationships and how you can improve them. My husband and I especially enjoyed the romantic aspect, but you don't need to be in a relationship to benefit from it.
The challenge is figuring out what you truly want in that aspect of your life, and that can help you stop wasting your time and find a romantic relationship that's perfect for you.
It's important to note that as you go through Lifebook Online and get to know yourself better and become more in line with your passions and purpose, your relationships will improve. I've found this is just a part of self-improvement. The more comfortable you are in your skin, the happier you are, the better you treat people, and the easier it is to get along with people.
4. Lifebook Will Help You Define Your Big Goals
After you dig into each area of your life, you start setting visions of want to achieve in your life. In short, you are going to take your life vision and come up with strategies to help you reach it.
Before my Lifebook journey, I was a little hazy on my goals. I didn't fully know what I wanted to achieve in various areas of my life and that held me back from creating a plan of action that was fulfilling and exciting at the same time. Not any more.
Moreover, you create goals in line with your new beliefs about yourself and your expectations of yourself.
It's really hard to grasp unless you take Lifebook Online and start to realize how each area of your life impacts other areas of your life. But, believe me, it's a huge aha moment when you start to connect the dots.
5. Lifebook Will Inspire You
If you are bored with your life, Lifebook Online will inspire you to do more with it. It will help you discover your purpose and passion and give you the enthusiasm to go after it.
It will be easy to see if the life you are living now is not in line with your life vision.
And, I found, that sometimes you will realize that the things you complain about in your life now are things that you actually want in your life and should be appreciated.
For instance, I was complaining about my business before taking Lifebook Online. I thought my business wasn't what I wanted. But, after taking this program, it's apparent that I'm doing exactly what I want to be doing to help me achieve all the goals I have set out for myself.
Creating A Lifebook Is How You Change The World
Jon and Missy Butcher say that their goal is to get 1 million people to create a Life Book. But, it's not just about getting 1 million people to take a deep dive into their lives. It's about creating a better world because as people become more aware and more in tune with who they are, and take more action on their lives to make it better, they, directly and indirectly, make the world a better place. And that's what Jon and Missy butcher ultimately want.
I love that sentiment from Jon and Missy Butcher. It's part of what makes them great teachers and success stories.
How Much Time Is Required Each Week To Create Your Lifebook?
Lifebook is a 6-week course, and I spent on average 4+ hours per week in this program.
Each week you have two videos, which last about an hour of total content in each video. So that's a guaranteed two hours.
You also have to create your Lifebook, which takes anywhere from a few minutes to a few hours, depending on how you put your Lifebook together and how long you need to contemplate/write in your Lifebook. You are provided with templates to fill in for your Lifebook, and this is probably the quickest way to create it. If you try creating one offline or in Canva, you will spend more time putting your Lifebook together.
You also have one coaching call to watch per week, which lasts about an hour, depending on the week.
Make Sure You Are Committed To This Challenge And The Exercises In It
Lifebook Online requires you to go into the program with the mindset that you want to create your ultimate life. Feel a desire to get to know your life vision and then create a plan to experience it.
For me, the idea of wasting another minute not knowing what I actually wanted out of life was enough to keep me committed to the daily aspect of this challenge. If it could help me spend my time productively and passionately, I wanted to take advantage of every moment of it.
Part of getting the most out of this challenge is committing to doing the exercises. You can listen to the videos all you want, but Jon Butcher doesn't know your life – he can only help guide you toward discovering your vision and purpose in life.
The exercises are what give you the direction to find the answers you need and figure out what you want. So, commit fully to doing them.
Challenge: Take Lifebook Online And Get Ready To Change Your Life
Before you commit, take the free Masterclass for this course. It's a 90-minute masterclass with the creators of Lifebook Online and will give you an idea of who they are and what they can help you do.
If you want to learn more about Lifebook Online, including the next start date, you can check out their enrolment page.