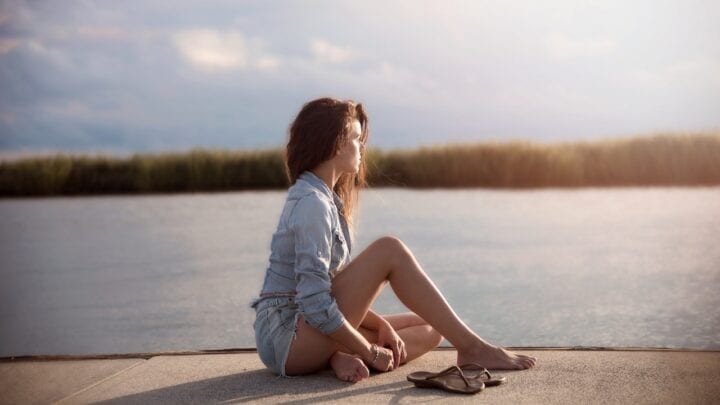 One of the most difficult realities to accept is our own imperfection. Usually, it is easier for humans to pinpoint the flaws of others, but we are always on the defensive mode whenever we hear others talk about ours.
Nevertheless, in order for us to be able to maintain good relationships, we have to be humble enough to admit that we are not always right. We need to willingly apologize for our mistakes and be corrected for them.
If you are having a hard time realizing and accepting your own mistakes, then you can apply these ways:
1. Understand that admitting your faults and apologizing for them are not signs of weakness.
Most of the times, the reason why it is hard for people to own up to their mistakes is that they do not want to be seen negatively. Committing errors is usually associated with stupidity, irresponsibility, or sometimes, being a 'bad' person. They are afraid that they will not be trusted anymore.
However, the truth is that it takes a strong person with integrity to admit a mistake. Those who are quick to realize, admit, and apologize for their slips are more likely to gain the respect of others.
2. Do not point a finger to others.
They say that whenever you point a finger towards someone, your four other fingers are actually pointing to you. This means that you have no right to judge another person for whatever flaw s/he has because you might actually have more flaws than him/her.
Before you complain or gossip against anyone, you need to check yourself first. Could you say that you are better than that person? If you think so, then how sure are you that you have done lesser mistakes than him/her?
3. Be open-minded.
Closed-mindedness can stop you from seeing your faults because it makes you think that all you believe in are right—and anything outside your principles is wrong. The problem is this could lead you to be in conflict with others since not everyone shares the same perspectives with you. Here, your mistake could be insisting that you are the only one right, and others are wrong.
You need to be open to others' opinions and beliefs as well. You do not have to accept them, but at least you can show respect and be willing to listen to their side. You need to acknowledge that others could be right too.
ALSO READ: 12 Tips to Improve Self-Awareness and Develop Your Potential
4. Evaluate how your actions/words would affect you if you were the receiver.
Another way to realize your mistakes is by evaluating your actions, words, or decisions. The best way to do this is by making yourself the receiver of those. For instance, if someone claims to be hurt by you, then you could put yourself in his/her shoes and feel the effect of your actions.
Before you could get a taste of your own medicine, be sensitive of how others would be affected by what you do or say. If you would not want it to be done or said to you, then do not do or say it to others.
5. Ask others to be honest with you in case they feel offended.
If there are people avoiding you and you have no idea why then it could be that you had hurt them unknowingly. We all have blind spots so sometimes we are not aware when we commit mistakes or offend people. Others could be resenting you already without your knowledge, and this will negatively affect your relationships.
Letting others know that you would appreciate it if they tell you whenever you have done something offensive is one effective way of being mindful of your mistakes. This will not only help you be aware of your faults, but this can save your relationships too.
6. Humbly listen when someone points out your error.
Whenever someone tells you your faults, do not be defensive immediately. It may seem embarrassing to be hearing others comment on your failures, but being too proud to listen to them is more shameful.
Whether you agree with what others point out about you or not, you must be courteous enough to hear them out. If you realize that what they have actually said is right, then humbly thank them, and apologize for those mistakes. If they have only misunderstood you, you should still thank them for voicing out what they think. Then, you can gently explain your side afterward.
7. Be thankful for constructive criticisms.
Do not be hurt or mad whenever people give you negative feedback. Instead of shunning them off, consider their comments as constructive criticisms. Evaluate whether these comments are true or not. If yes, then be humble enough to accept that you need to change.
If what you hear are hard to swallow because they are degrading or offensive, be thankful for them still and avoid resenting the people who said them. Use those criticisms as a motivation to improve yourself for the better.
8. Ask God to help you realize your mistakes and be humble to admit them.
On our own, admitting our mistakes could be difficult because of our pride. However, if we really want to be changed, then we need to embrace humility. Being humble starts with the acceptance that we are not always right.
Through prayer, you can ask God to help you evaluate yourself. Ask Him to point out the sins and mistakes in your heart that you are not aware of. In addition, ask Him to help you change yourself to avoid doing the same errors again.
Humility is the Key
If you want to be mindful of your mistakes, then you need to develop humility within yourself first. Without being humble, it would be hard for you to accept that you are capable of making mistakes and bad decisions too. Moreover, humility will save you from more mistakes in the future since with it comes wisdom from listening to the advice of others.
ALSO READ: How to be a Humble Person: 20 Ways to Get Rid of Pride