This Agendio review will take a look at what is customizable with Agendio planners as well as my first impressions.
I am no stranger to planners! I love them. I love keeping myself organized, having a place to refer to, and being able to look back on what I've done years ago in my planners. I used to buy the generic planners, which were great, but for the past few years, I wanted more of a personalized planner.
So I started my search for a new personalized planner that I would enjoy and found Agendio. I played around with it and liked the customization options and bought it that same day.  And I got my Agendio in the mail today so I'm going to do an Agendio Planner review with my first impressions.
A Little Note About The People Behind Agendio
First, I want to say that Agendio's customer service is awesome. Every time I had a question, I got a quick answer. (And I had a few!) And, they went above and beyond to get the planner to me as there was a looming postal strike where I live. Instead of risking the planner not getting to me for who knows how long, they shipped it to me FedEx, which ensured I got it quickly. Talk about customer service!
What's Customizable With The Agendio Planner?
I won't bore you too much with this because you can go to their site and play around with it for yourself. I'm warning you that it's going to be hard to decide on something because there are many different options. I recommend checking out their features page and going through the examples they give to see what labels and layouts would work best for you. There are a few things worth noting.
You can start the planner any month you want.
The monthly and weekly layouts are customizable, but the cover is not.
You can choose to shade the background of a divisible, which is essentially an area where you can create one long or many short lists on whatever topic you choose.
They allow you to customize the look of the divisible sections with lines or no lines and circles or squares, but they don't have numbers.
You can have different sections in the weekly layout to keep yourself organized in the week (chores, tasks, thoughts, etc.) or you can label them according to people in your family (Johnny, Taylor, Mom, Dad, etc.) and keep your family organized.
You can preview the different options before you really get down to customizing your labels.
You can choose to add National Holidays according to where you live.
You can choose to add Religious Holidays according to your religion.
You can add daily, weekly, or monthly activities to your calendar. For instance, if you want to include 'date night' every Saturday, you can do that. If you want to include 'spring cleaning' every April 16th, you can do that. You can also choose to put in something every day of your planner or only for a few months, weeks, or days with their 'from' and 'to' options for the date.
You can include 'events' in the calendars, such as birthdays and anniversaries.
You can choose from different fonts for your planner. But keep in mind that larger fonts may take away room for you to include the permanent writing you put in labels or activities.
Those are just a few of the things that are customizable in this planner. After I ordered, I was looking around and realized that there were some other formats that I would like better than what I ordered. But, once you order, it's too late to change your mind! You need to really take your time and go through it because there is so much to customize.
So, take your time and go through it piece by piece in both the monthly and weekly layout to make sure you have it just the way you want it. There are some options that are very similar, but not the same, so keep your eyes open for that!
If there is something that you need, they recommend that you contact them so that they can look into adding it.
My First Impressions Of The Agendio Planner
I loved the packaging. As you can see it came wrapped up nicely.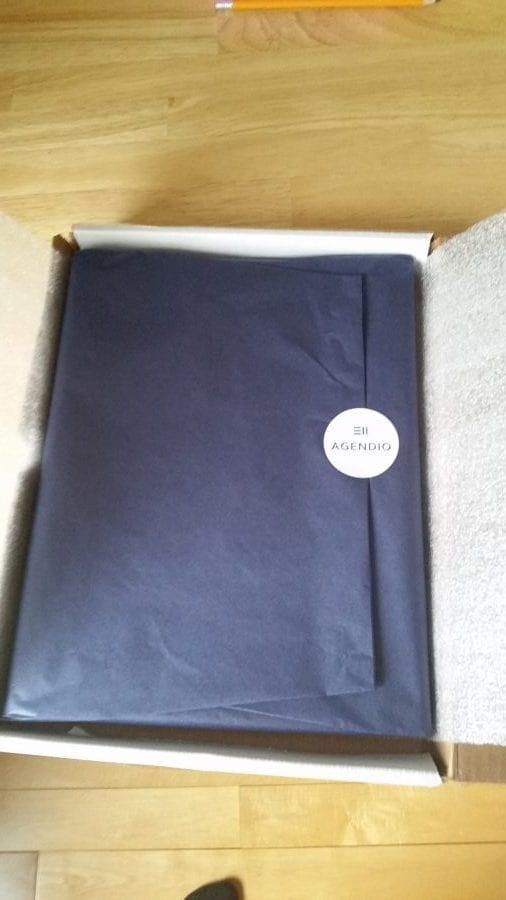 I do wish you could choose your own cover for the planner. You can choose your own color, so I chose red, but I would like to see something different than 'Agendio'. Something that makes me want to open up my planner and get to work, such as 'Kari's Planner' or a motivational quote. Maybe that's a feature they will have in the future.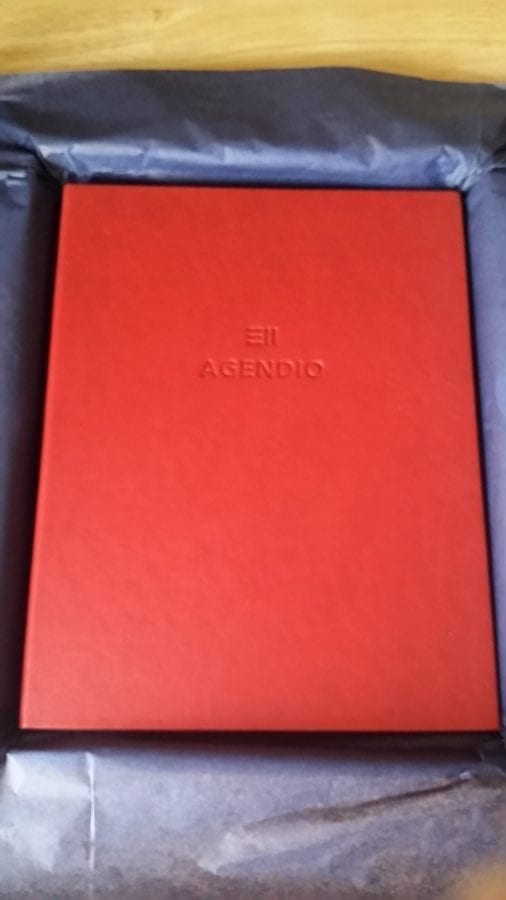 I selected the large planner. They also have a medium planner and a journal. I wanted a lot more space, and I got it! They say the large is 8.5″ x 11.0 " closed, but I measure 8.8″ by 11.3″. Maybe because I'm .3 inches off on both, I'm measuring wrong. But either way, it's huge! Below, you can see the size difference when compared to my other planner.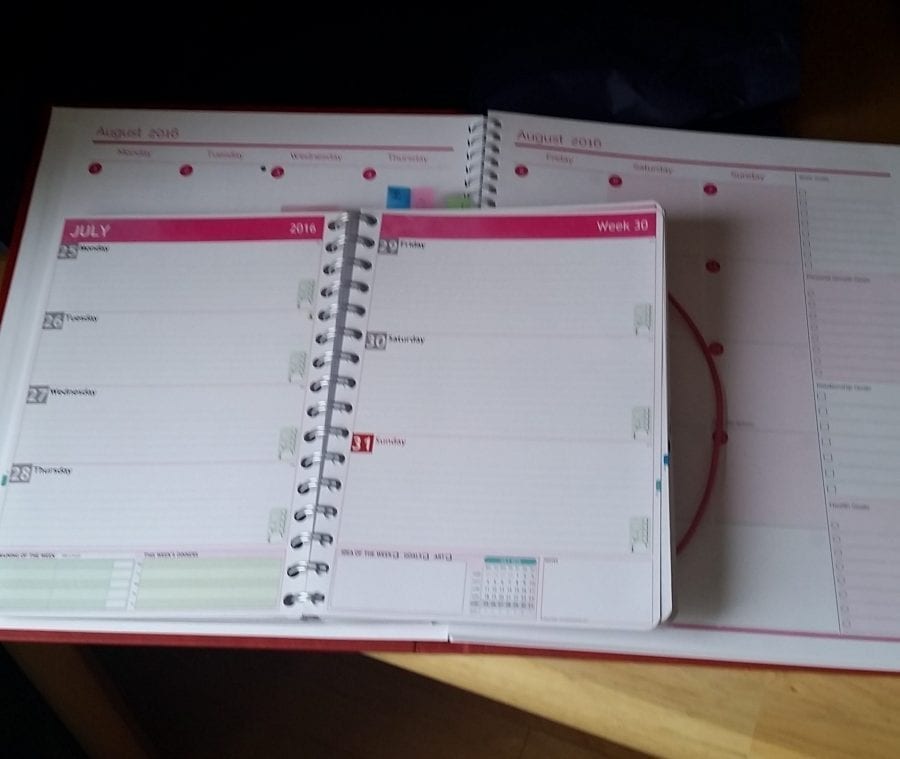 All the calendar months are at the beginning of the planner. Most planners have the calendar months at the beginning of the month, but Agendio has them at the beginning of the planner. That means that after you get through your calendar pages, it is just page after page of planning throughout the entire book with no interruption of a monthly calendar. I kind of like this. It's a little bit different, and it works. I don't that was customizable. I think by choosing the monthly pages, this is how it comes, but make sure to keep your eyes open just in case that has changed since this Agendio review.
Looking over some my label choices for my weeks makes me wish I had chosen some things differently. For instance, you can see in the top right divisible, I have 'Work Goals' as a label. I already have 'Work Goals' for my monthly labels, and I think it would have been better to put 'Work Tasks'. It's funny how you think something is perfect when you order it and then want some minor changes afterward.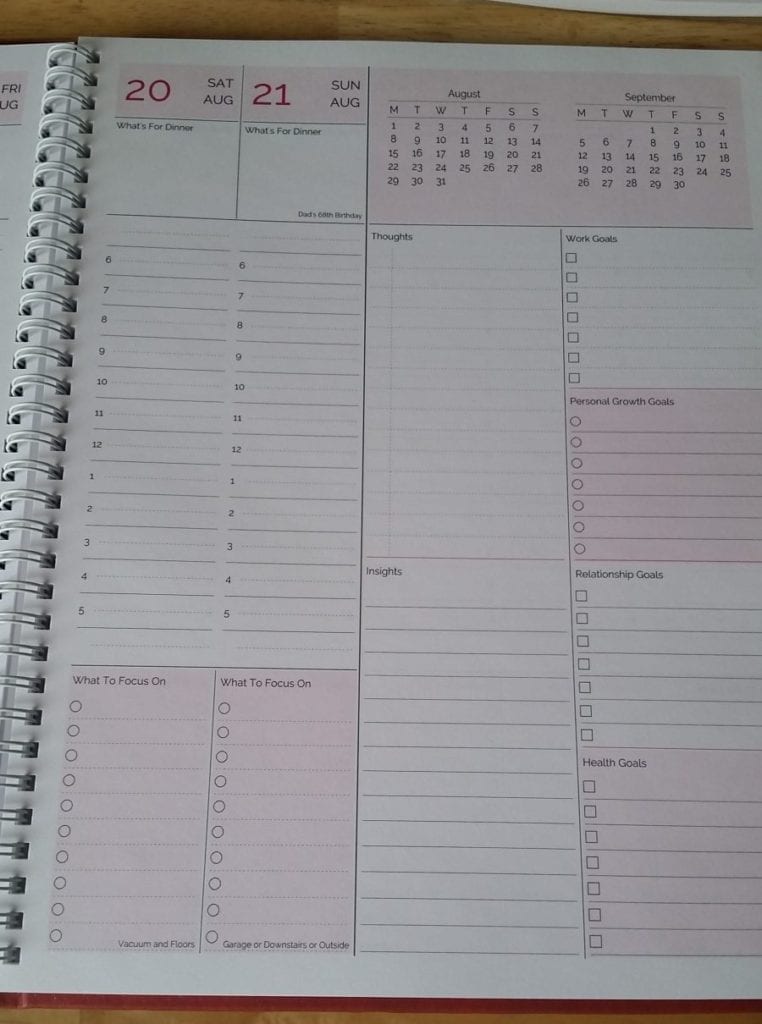 Another thing I did was put daily activities in my week for work, exercise, and cleaning. You can see that in the above picture under 'What To Focus On'. I just have my cleaning tasks for the weekend there. I wish I wouldn't have done that. My thought was that it would keep me committed to my goals, but now those tasks are there for an entire year on every single day. If I change my routine, they will be irrelevant and just take up space that I could write other stuff. I highly suggest leaving those blank unless you have a goal or a challenge to do something for a year and really believe you will achieve it.
The planner lays nice and flat. And the center rings don't stick up too much, so they don't get in your way.
If You Need A Planner For Anything, I Recommend Checking This One Out!
In the end, I think that my Agendio planner is awesome! I ordered it to start in August, and it's July 11, so I have to wait almost half a month to start using it. But, now that I see it in person, I can tell it's going to be much more functional than my other planner.
They have so many different ways to customize your planner or notebook now.