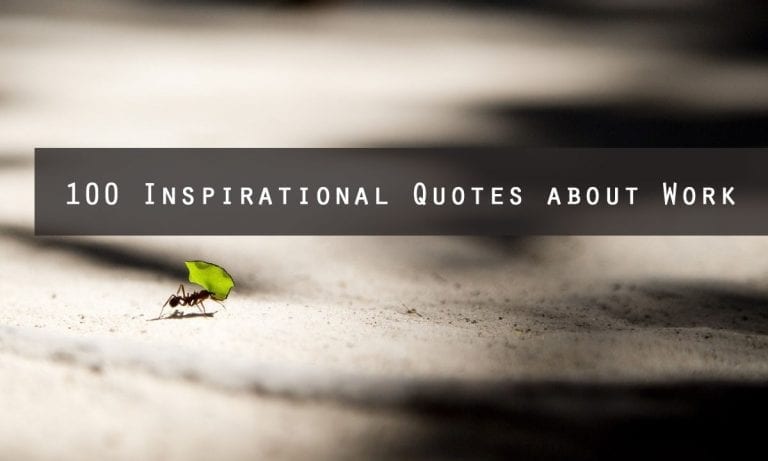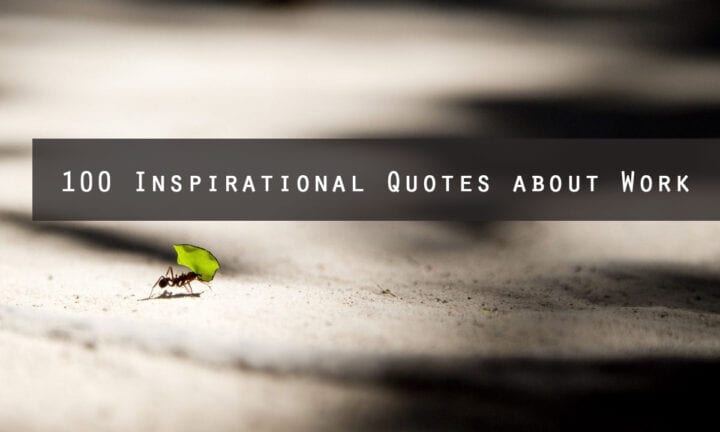 Without work, we cannot move forward, we cannot achieve our dreams, and we cannot accomplish our goals. We have to take the necessary steps to start our journey, actions to keep us on the right track, and hard work to reach our destination. But working hard is easier said than done. We need inspirations to remind us every day, and a lot of motivations to push ourselves to do our job and break any barrier that will hinder us in reaching our goals or dreams.
Laziness, procrastination, hopelessness, lack of focus, and loss of interest are only some of the many things that could destroy our passion for work. But for people who are committed to their work, they will find ways to accomplish anything.
One of the most effective ways to inspire and motivate yourself to work hard and be more productive is to read inspirational and motivational quotes. Whether you are feeling lazy on Mondays or already feeling burned out on Fridays, here are 100 best inspirational quotes for work to help you get more things done.
1. "Paths are made by walking." – Franz Kafka
2. "Those at the top of the mountain didn't fall there." – Unknown
3. "It wasn't raining when Noah built the ark." – Howard Ruff
4. "The secret of getting ahead is getting started." – Mark Twain
5. "Do or do not. There is no try." – Yoda, The Empire Strikes Back
6. "The difference between try and triumph is just a little umph!" – Marvin Phillips
7. "Nobody who ever gave his best regretted it." –George Halas
8. "If I had nine hours to chop down a tree, I'd spend the first six sharpening my axe." – Abraham Lincoln
9. "A goal should scare you a little and excite you a lot." – Joe Vitale
10. "If the plan doesn't work, change the plan, but never the goal." – Author Unknown
11. "Genius is 1% inspiration, 99% perspiration." – Thomas Edison
12. "The difference between ordinary and extraordinary is that little extra." – Jimmy Johnson
13. "The grass is greener where you water it." – Neil Barringham
14. "Without hard work, nothing grows but weeds." – Gordon B. Hinckley
15. "Do the difficult things while they are easy and do the great things while they are small. A journey of a thousand miles must begin with a single step." – Lao Tzu
16. "Motivation is what gets you started. Habit is what keeps you going." – Jim Ryun
17. "The most difficult thing is the decision to act, the rest is merely tenacity." – Amelia Earhart
18. "We have to do the best we are capable of. This is our sacred human responsibility." – Albert Einstein
19. "We are what we repeatedly do. Excellence, then, is not an act, but a habit." – Aristotle
20. "Day by day, what you choose, what you think and what you do is who you become." – Heraclitus
21. "Instead of wondering when your next vacation is, you ought to set up a life you don't need to escape from." – Seth Godin
22. "If opportunity doesn't knock, build a door." – Milton Berle
23. "Do not wait to strike till the iron is hot; but make it hot by striking." – W. B. Yeats
24. "Nothing is impossible, the word itself says 'I'm possible'!" – Audrey Hepburn
25. "Start by doing what's necessary; then do what's possible; and suddenly you are doing the impossible." – Francis of Assisi
26. "You have to have a dream so you can get up in the morning." – Billy Wilder
27. "If you always put limit on everything you do, physical or anything else. It will spread into your work and into your life. There are no limits. There are only plateaus, and you must not stay there, you must go beyond them." – Bruce Lee
28. "Success is dependent upon the glands – sweat glands." – Zig Ziglar
29. "I've missed more than 9000 shots in my career. I've lost almost 300 games. 26 times I've been trusted to take the game winning shot and missed. I've failed over and over and over again in my life. And that is why I succeed." – Michael Jordan
30. "Nobody is gonna hit as hard as life, but it ain't how hard you can hit. It's how hard you can get hit and keep moving forward. It's how much you can take, and keep moving forward. That's how winning is done." – Rocky, Rocky Balboa
31. "Every champion was once a contender that refused to give up." – Rocky, Rocky Balboa
32. "If you want something you never had, you have to do something you've never done." – Thomas Jefferson
33. "Always go with the choice that scares you the most, because that's the one that is going to help you grow." – Unknown
34. "Don't wish it were easier. Wish you were better." – Jim Rohn
35. "A ship is always safe a shore but that is not what it's built for." – Albert Einstein
36. "Whatever the mind of man can conceive and believe, it can achieve." – Napoleon Hill
37. "If you hear a voice within you say "you cannot paint," then by all means paint and that voice will be silenced." – Vincent Van Gogh
38. "Don't ever let somebody tell you you can't do something, not even me. Alright? You dream, you gotta protect it. People can't do something themselves, they wanna tell you you can't do it. If you want something, go get it. Period." – Chris Gardner, The Pursuit of Happyness
39. "Motivation is a fire from within. If someone else tries to light that fire under you, chances are it will burn very briefly." – Stephen R. Covey
40. "Don't tell people your dreams. Show them." – Unknown
41. "An ounce of action is worth a ton of theory." – Friedrich Engels
42. "When everything seems to be going against you, remember that the airplane takes off against the wind, not with it." – Henry Ford
43. "Build your own dreams, or someone else will hire you to build theirs." – Farrah Gray
44. "Nobody ever drowned in his own sweat." – Ann Landers
45. "He who has a slack hand becomes poor, but the hand of the diligent makes rich." – Proverbs 10:4
46. "All hard work brings a profit, but mere talk leads only to poverty." – Proverbs 14:23
47. "Work in silence. Let your success be your noise." – Unknown
48. "The dictionary is the only place that success comes before work. work is the key to success, and hard work can help you accomplish anything." – Vince Lombardi Jr.
49. "Nothing will work unless you do." – Maya Angelou
50. "Shoot for the moon and if you miss you will still be among the stars." – Les Brown
51. "Perfection is not attainable, but if we chase perfection we can catch excellence." – Vince Lombardi
52. "The measure of who we are is what we do with what we have." – Vince Lombardi
53. "The best preparation for tomorrow is doing your best today." – H. Jackson Brown, Jr.
54. "To be prepared is half the victory." – Miguel de Cervantes
55. "Reduce your plan to writing. The moment you complete this, you will have definitely given concrete form to the intangible desire." – Napoleon Hill
56. "The most successful people are those who are good at plan B." – James Yorke
57. "Someone is sitting in the shade today because someone planted a tree a long time ago." – Warren Buffett
58. "You must do the things you think you cannot do." – Eleanor Roosevelt
59. "I can't change the direction of the wind, but I can adjust my sails to always reach my destination." – Jimmy Dean
60. "If you do not conquer self, you will be conquered by self." – Napoleon Hill
61. "It is amazing what you can accomplish if you do not care who gets the credit." – Harry S. Truman
62. "Don't judge each day by the harvest you reap but by the seeds that you plant." – Robert Louis Stevenson
63. "Always do your best. What you plant now, you will harvest later." – Og Mandino
64. "Don't let what you cannot do interfere with what you can do." – John Wooden
65. "Good, better, best. Never let it rest. 'Til your good is better and your better is best." St. Jerome
66. "The harder you work, the harder it is to surrender." – Vince Lombardi
67. "Happiness is not in the mere possession of money; it lies in the joy of achievement, in the thrill of creative effort." – Franklin D. Roosevelt
68. "If a man is called to be a street sweeper, he should sweep streets even as a Michaelangelo painted, or Beethoven composed music or Shakespeare wrote poetry. He should sweep streets so well that all the hosts of heaven and earth will pause to say, 'Here lived a great street sweeper who did his job well." – Martin Luther King Jr.
69. "I'm a greater believer in luck, and I find the harder I work the more I have of it."– Thomas Jefferson
70. "Quality is much better than quantity. One home run is much better than two doubles." – Steve Jobs
71. "Someday is not a day of the week." – Janet Daily
72. "Quality is much better than quantity. One home run is much better than two doubles." – Steve Jobs
73. "My grandfather once told me that there were two kinds of people: those who do the work and those who take the credit. He told me to try to be in the first group; there was much less competition." – Indira Gandhi
74. "A dream does not become reality through magic; it takes sweat, determination and hard work." – Colin Powell
75. "Dreams don't work unless you do." – John C. Maxwell
76. "Hard work doesn't guarantee success, but improves its chances." – B. J. Gupta
77. "Some people dream of success while others wake up and work hard at it." – Unknown
78. "If you work hard enough and assert yourself, and use your mind and imagination, you can shape the world to your desires." – Malcolm Gladwell
79. "If you can't outplay them, outwork them." – Ben Hogan
80. "Every time you stay out late; every time you sleep in; every time you miss a workout; every time you don't give 100% – You make it that much easier for me to beat you." – Unknown
81. "Set your goals high, and don't stop till you get there." – Bo Jackson
82. "The only thing that overcomes hard luck is hard work." – Harry Golden
83. "Things may come to those who wait, but only the things left by those who hustle." – Abraham Lincoln
84. "Go as far as you can see; when you get there, you'll be able to see further." – Thomas Carlyle
85. "If you hit the target every time, it's too near or too big. "– Tom Hirshfield
86. "When we strive to become better than we are, everything around us becomes better too." –Paulo Coelho
87. "Don't judge each day by the harvest you reap but by the seeds that you plant." –Robert Louis Stevenson
88. "Embrace the pain to inherit the gain." – Habeeb Akande
89. "If something is wrong, fix it now. But train yourself not to worry, worry fixes nothing." – Ernest Hemingway
90. "Talent wins games, but teamwork and intelligence wins championships." – Michael Jordan
91. "In matters of style, swim with the current; in matters of principle, stand like a rock." – Thomas Jefferson
92. "My mother said to me, "If you are a soldier, you will become a general." If you are a monk, you will become the Pope." Instead, I was a painter, and became Picasso." – Pablo Picasso
93. "Do what you do so well that they will want to see it again and again and bring their friend." – Walt Disney
94. "It does not matter how `slowly you go, so long as you do not stop." – Confucius
95. "Don't give up. The beginning is always the hardest. Life rewards those who work hard at it." – Unknown
96. "It's hard to beat a person who never gives up." – Babe Ruth
97. "You're never a loser until you quit trying." – Mike Ditka
98. "Nature does not hurry, yet everything is accomplished." – Lao Tzu
99. "Don't count the days, make the days count." – Muhammad Ali
100. "If you don't burn out at the end of each day, you're a bum." – George Lois
I hope those hundred sayings and quotations above will help you get more inspired and motivated to do your job. Finally, I want to share the following words of mine about work. When you put love and passion in your work, pressure cannot stop you, because pressure becomes you.
Online courses recommended for you: