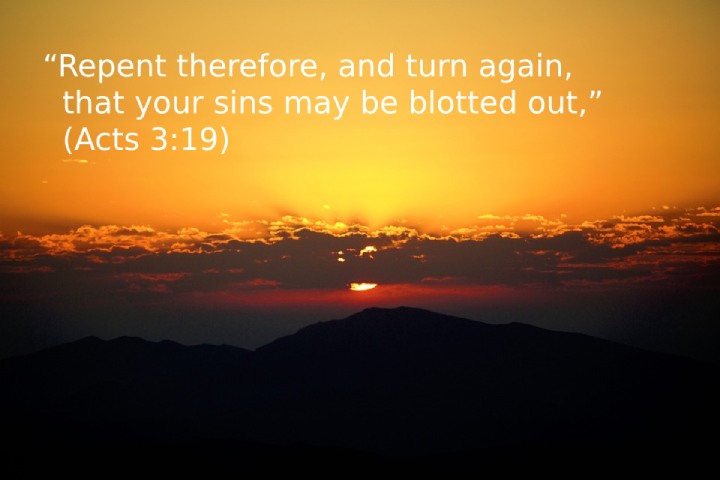 Why is forgiveness important? If you are a Christian, you understand that sin is heavy. It is the reason why humanity is doomed to eternal damnation. Moreover, it is because of sin that Christ died on the cross. He sacrificed His life to pay for the sins of those who believe in Him. So, if you want to know how to confess sins according to the Bible, keep reading.
God hates sin because He is holy—and it is the opposite of holiness. That is why you need to leave your sins behind if you want to have a strong relationship with Him. While it does not mean you can never sin again, at least you are doing your best to avoid it and regret sinning.
That is why we must confess our sins and repent from them. That is the only way we can have peace of mind before the Lord and receive His favor.
"Blessed is the man against whom the Lord counts no iniquity, and in whose spirit there is no deceit. For when I kept silent, my bones wasted away through my groaning all day long. For day and night your hand was heavy upon me; my strength was dried up as by the heat of summer. I acknowledged my sin to you, and I did not cover my iniquity; I said, 'I will confess my transgressions to the Lord,' and you forgave the iniquity of my sin." (Psalm 32:2-5)
Here are the ways how to confess sins according to the Bible:
With Sincerity
1. Acknowledge Your Sins.
The first step to confessing your sins is acknowledging them. Evaluate yourself and come to terms with the iniquities you have committed. Then, admit to yourself that you are guilty of sinning and rebelled against God through them.
"Only acknowledge your guilt, that you rebelled against the Lord your God and scattered your favors among foreigners under every green tree, and that you have not obeyed my voice, declares the Lord." (Jeremiah 3:13)
2. Decide to Confess Them.
If you really want to turn your back on sins, you need to make a decision to confess them. It shows your eagerness to break free from the bondage of sins.
"I acknowledged my sin to you, and I did not cover my iniquity; I said, "I will confess my transgressions to the Lord," and you forgave the iniquity of my sin." (Psalm 32:5)
3. Repent from Them.
After acknowledging your sins, you need to repent wholeheartedly. Repentance means sincerely regretting what you have done and choosing to stop doing them again. And with true repentance comes transformation of character. You will know that you have truly repented from your sins if you can see gradual changes in yourself.
"Repent therefore, and turn again, that your sins may be blotted out," (Acts 3:19)
4. Grieve Over Your Transgressions.
You can say that you truly repent your sins if you grieve them. It means that you truly understand the weight of sin. However, sincere grieving is not always characterized by tears and wailing. It is still a matter of your heart—and God sees it.
"As it is, I rejoice, not because you were grieved, but because you were grieved into repenting. For you felt a godly grief, so that you suffered no loss through us. For godly grief produces a repentance that leads to salvation without regret, whereas worldly grief produces death." (2 Corinthians 9-10)
5. Be Confident to Approach God's Grace.
In humility, draw near to God through prayer. Find comfort in the hope that Jesus died for your sins already, and through His death, you now have access to God's grace. Believe that in Christ, you can receive God's mercy.
"Let us then with confidence draw near to the throne of grace, that we may receive mercy and find grace to help in time of need." (Hebrews 4:16)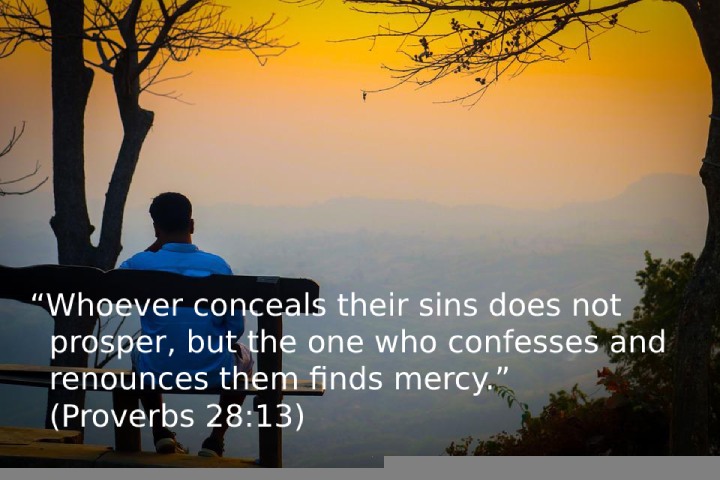 6. Believe that God Will Forgive You.
In addition, have faith that God will forgive your sins if you sincerely confess and repent them. This is one of the important steps in how to confess sins according to the Bible. Faith in God's grace through Christ is essential for forgiveness.
"If we confess our sins, he is faithful and just and will forgive us our sins and purify us from all unrighteousness." (1 John 1:9)
7. Surrender Yourself to the Lord Completely.
Confessing your sins should not only be done through words. It must come with proper action—and that is submitting yourself to the Lord. Decide to leave your sins, resist temptations, and strive for holiness.
"Submit yourselves therefore to God. Resist the devil, and he will flee from you. Draw near to God, and he will draw near to you. Cleanse your hands, you sinners, and purify your hearts, you double-minded. Be wretched and mourn and weep. Let your laughter be turned to mourning and your joy to gloom. Humble yourselves before the Lord, and he will exalt you." (James 4:7-10)
8. Do Not Hide Any Sin.
Always remember that nothing is hidden from the Lord. Even before you confess them, God knows all your sins. That is why there is no point in hiding them. If you ask for forgiveness from the Lord, be genuine enough to confess everything.
"Whoever conceals their sins does not prosper, but the one who confesses and renounces them finds mercy." (Proverbs 28:13)
Accountability to Others
9. Confess to Your Fellow Believers.
One of the purposes of the church is accountability among the members as one body of Christ. This is among the commons on how to confess sins according to the Bible. Confess your sins to other believers, especially mature ones, and ask them to pray for you. It is best if you do this with your spiritual mentor so that they can also follow up on you later on.
"Therefore confess your sins to each other and pray for each other so that you may be healed. The prayer of a righteous person is powerful and effective." (James 5:16)
10. Release Forgiveness to Those Who Have Done Wrong Against You.
Jesus instructed His followers to forgive others if they wanted to be forgiven by God. Before you confess your sins to the Lord and ask forgiveness for them, forgive those who have hurt you first. It is also encouraged that you settle the issue with them first, especially if they are fellow believers.
"And whenever you stand praying, forgive, if you have anything against anyone, so that your Father also who is in heaven may forgive you your trespasses." (Mark 11:25)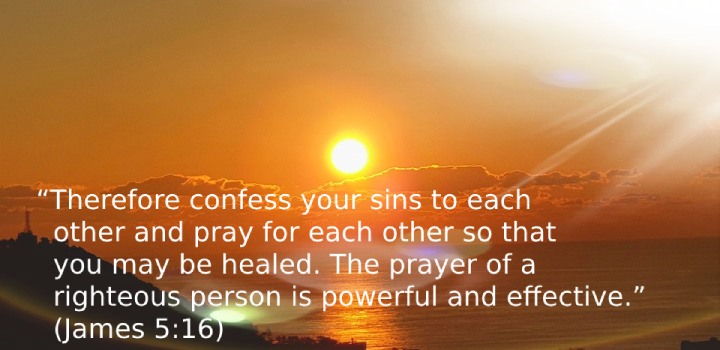 11. Confess and Turn Away from Generational Sins.
While we are not responsible for our ancestors' sins, we are still affected by them through the curse that comes with them. Some common generational sins are idolatry (worshiping other gods) and witchcraft. Once you have surrendered your life to Christ, you must also confess these sins.
"But if they confess their iniquity and the iniquity of their fathers in their treachery that they committed against me, and also in walking contrary to me," (Leviticus 26:40)
God Will Hear You
If you follow all these steps on how to confess sins according to the Bible, there is no reason why God will not forgive you. God is gracious and merciful and desires that His children will return to Him. For this reason, do not delay turning your back on sins and running back to the Lord's presence.
Online courses recommended for you:
Books recommended for you:
* As an Amazon Associate I earn from qualifying purchases.
ALSO READ:
Bible Verses About God's Protection (KJV)