The concept of purpose is something that has fascinated human beings for centuries. Many people seek to understand the reason for their existence and the direction they should take in life. The Bible, which is considered a holy book by Christians, contains numerous verses that speak about the topic of purpose. These verses offer guidance and inspiration to those seeking to understand their purpose in life and to live a meaningful and fulfilling existence.From the Old Testament to the New Testament, the Bible presents a message of hope and purpose that can help individuals navigate the complexities of life and find their way.
Many of the Bible verses about purpose speak to the idea that each individual has a unique calling and a specific purpose that they are meant to fulfill. For example, in Jeremiah 29:11, it is written, "For I know the plans I have for you, declares the Lord, plans for welfare and not for evil, to give you a future and a hope." This verse suggests that God has a specific plan for each person and that it is a plan for good, not harm.
Other Bible verses about purpose emphasize the importance of seeking God's guidance and direction in one's life. Proverbs 3:5-6 states, "Trust in the Lord with all your heart, and do not lean on your own understanding. In all your ways acknowledge him, and he will make straight your paths." This verse suggests that by placing one's trust in God and seeking his guidance, one can find the path that is meant for them.
Overall, the Bible offers a message of hope and purpose to those who seek to understand their place in the world. By exploring the many verses on this topic, individuals can find inspiration and guidance on their journey towards a meaningful and fulfilling life.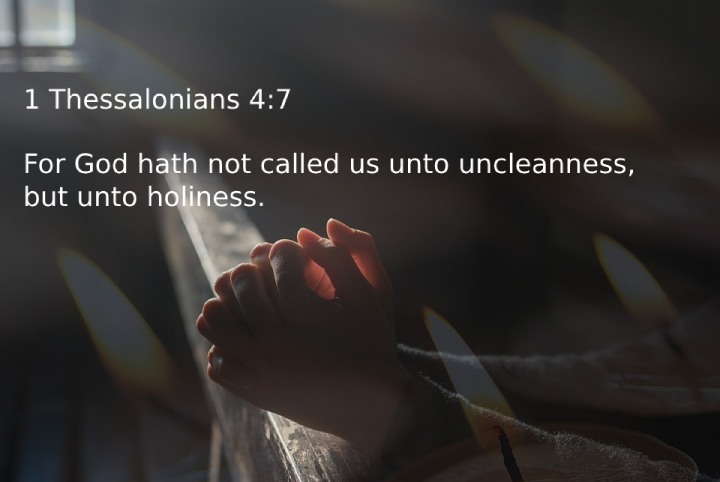 Bible Verses About Purpose
1. Romans 9:21
Hath not the potter power over the clay, of the same lump to make one vessel unto honour, and another unto dishonour?
2. Romans 8:28
And we know that all things work together for good to them that love God, to them who are the called according to his purpose.
3. Proverbs 19:21
There are many devices in a man's heart; nevertheless the counsel of the LORD, that shall stand.
4. Philippians 2:13
For it is God which worketh in you both to will and to do of his good pleasure.
5. 1 Timothy 4:7
But refuse profane and old wives' fables, and exercise thyself rather unto godliness.
6. 2 Timothy 2:20
But in a great house there are not only vessels of gold and of silver, but also of wood and of earth; and some to honour, and some to dishonour.
7. 1 Peter 2:21
For even hereunto were ye called: because Christ also suffered for us, leaving us an example, that ye should follow his steps:
8. Ephesians 1:11
In whom also we have obtained an inheritance, being predestinated according to the purpose of him who worketh all things after the counsel of his own will:
9. Isaiah 46:10
Declaring the end from the beginning, and from ancient times the things that are not yet done, saying, My counsel shall stand, and I will do all my pleasure:
10. 1 Thessalonians 4:7
For God hath not called us unto uncleanness, but unto holiness.
11. Philippians 2:2
Fulfil ye my joy, that ye be likeminded, having the same love, being of one accord, of one mind.
12. Isaiah 55:11
So shall my word be that goeth forth out of my mouth: it shall not return unto me void, but it shall accomplish that which I please, and it shall prosper in the thing whereto I sent it.
13. Ephesians 3:11
According to the eternal purpose which he purposed in Christ Jesus our Lord:
14. Exodus 9:16
And in very deed for this cause have I raised thee up, for to shew in thee my power; and that my name may be declared throughout all the earth.
15. Proverbs 16:4
The LORD hath made all things for himself: yea, even the wicked for the day of evil.
16. Acts 13:36
For David, after he had served his own generation by the will of God, fell on sleep, and was laid unto his fathers, and saw corruption:
17. Ecclesiastes 3:1
To every thing there is a season, and a time to every purpose under the heaven:
18. Ephesians 2:10
For we are his workmanship, created in Christ Jesus unto good works, which God hath before ordained that we should walk in them.
19. 2 Timothy 1:9
Who hath saved us, and called us with an holy calling, not according to our works, but according to his own purpose and grace, which was given us in Christ Jesus before the world began,
20. Ecclesiastes 8:6
Because to every purpose there is time and judgment, therefore the misery of man is great upon him.
21. 2 Corinthians 9:7
Every man according as he purposeth in his heart, so let him give; not grudgingly, or of necessity: for God loveth a cheerful giver.
22. Job 42:2
I know that thou canst do every thing, and that no thought can be withholden from thee.
23. Romans 9:17
For the scripture saith unto Pharaoh, Even for this same purpose have I raised thee up, that I might shew my power in thee, and that my name might be declared throughout all the earth.
24. Acts 26:16
But rise, and stand upon thy feet: for I have appeared unto thee for this purpose, to make thee a minister and a witness both of these things which thou hast seen, and of those things in the which I will appear unto thee;
Online courses recommended for you:
Books recommended for you:
* As an Amazon Associate I earn from qualifying purchases.
ALSO READ: