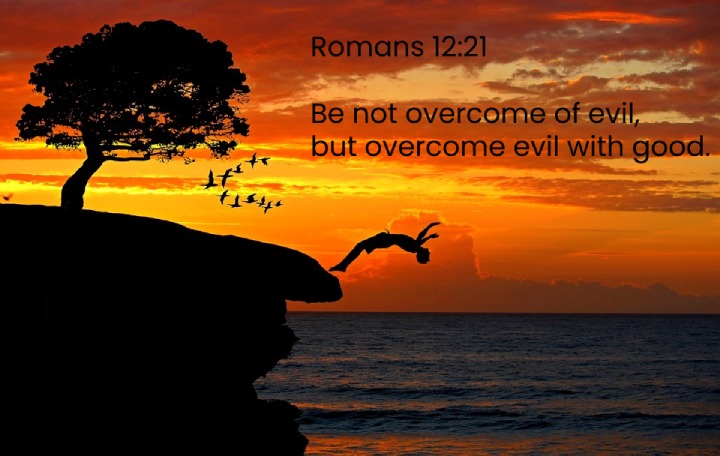 What Does Bible Say About Overcoming?
Overcoming means to defeat or succeed in spite of difficulties. It is a term often used in reference to struggles and hardships. For many, overcoming seems like an impossible task. However, with God's help, all things are possible.
The definition of overcoming according to Webster's Dictionary is "to prevail against (an adversary, opponent, or obstacle); to get the better off." So, in biblical terms, overcoming usually means defeating sin, temptation and the devil or prevailing over difficult circumstances.
There are many verses in the Bible that talk about overcoming. In fact, it's a central theme in the Scriptures. Overcoming is at the heart of the gospel message—that we can be freed from sin and death through Jesus Christ and can live victorious lives in Him.
For example, in 1 Corinthians 10:13, Paul writes, "No temptation has overtaken you except what is common to man. And God is faithful; he will not let you be tempted beyond what you can bear. But when you are tempted, he will also provide a way out so that you can endure it." Here, Paul is saying that God will always provide a way for us to overcome temptation.
In James 4:7, we read, "Submit yourselves therefore to God. Resist the devil, and he will flee from you." Here, James tells us that we can overcome the devil by submitting ourselves to God.
And in Hebrews 12:1-2, we read: "Therefore, since we are surrounded by such a great cloud of witnesses, let us throw off everything that hinders and the sin that so easily entangles. And let us run with perseverance the race marked out for us, fixing our eyes on Jesus, the pioneer and perfecter of faith." Here, the author is urging us to persevere in our faith, so that we can overcome whatever obstacles come our way.
These are just a few of the many verses in the Bible that tell us how we can overcome various challenges in our lives. Whether we're facing temptation, difficult circumstances, or anything else, we can find comfort and strength in God's Word.
Why Overcoming Is Important?
There are many reasons why overcoming is important. One of the most important is that it teaches us how to become stronger and more resilient. When we face difficult challenges in life and overcome them, we grow stronger and learn that we are capable of more than we thought possible. This builds our self-confidence and helps us to become more successful in everything we do.
Another reason why overcoming is important is that it can help us to avoid making the same mistakes again. If we learn from our mistakes and overcome them, we are less likely to repeat them in the future. This helps us to live a more successful and fulfilling life.
Finally, overcoming is important because it can help us to inspire others and help those who are facing similar challenges. When we overcome our own challenges, we show others that it is possible to do the same. This can motivate them to face their own challenges and become stronger to overcome them as well.
These are just some of the reasons why overcoming is so important. If you are facing a difficult challenge in your life, remember that you can overcome it if you believe in yourself and use the resources available to you. There is no challenge too great for you to overcome if you set your mind to it.
What Does God Want Us To Overcome?
God wants us to overcome our own personal obstacles, sin, and the devil. He also wants us to be able to help others who are struggling by being an example of hope and redemption. We are to overcome by faith in Jesus Christ.
The following are a few Bible verses about overcoming:
"I can do all things through Christ who strengthens me."- Philippians 4:13
"No, in all these things we are more than conquerors through him who loved us."- Romans 8:37
"I have told you these things, so that in me you may have peace. In this world you will have trouble. But take heart! I have overcome the world."- John 16:33
"Be of good courage, and He shall strengthen your heart, all you who hope in the LORD."- Psalm 31:24
Bible Verses About Overcoming
1. Psalm 12:4
Who have said, With our tongue will we prevail; our lips are our own: who is lord over us?
2. Judges 6:16
And the LORD said unto him, Surely I will be with thee, and thou shalt smite the Midianites as one man.
3. Genesis 49:19
Gad, a troop shall overcome him: but he shall overcome at the last.
4. Psalm 89:22
The enemy shall not exact upon him; nor the son of wickedness afflict him.
5. 1 Corinthians 15:57
But thanks be to God, which giveth us the victory through our Lord Jesus Christ.
6. 1 John 5:4
For whatsoever is born of God overcometh the world: and this is the victory that overcometh the world, even our faith.
7. 1 John 5:7
For there are three that bear record in heaven, the Father, the Word, and the Holy Ghost: and these three are one.
8. Revelation 12:11
And they overcame him by the blood of the Lamb, and by the word of their testimony; and they loved not their lives unto the death.
9. 1 Corinthians 15:26
The last enemy that shall be destroyed is death.
10. Nehemiah 6:13
Therefore was he hired, that I should be afraid, and do so, and sin, and that they might have matter for an evil report, that they might reproach me.
11. Revelation 17:14
These shall make war with the Lamb, and the Lamb shall overcome them: for he is Lord of lords, and King of kings: and they that are with him are called, and chosen, and faithful.
12. Proverbs 23:35
They have stricken me, shalt thou say, and I was not sick; they have beaten me, and I felt it not: when shall I awake? I will seek it yet again.
13. 1 John 2:13
I write unto you, fathers, because ye have known him that is from the beginning. I write unto you, young men, because ye have overcome the wicked one. I write unto you, little children, because ye have known the Father.
14. Mark 9:24
And straightway the father of the child cried out, and said with tears, Lord, I believe; help thou mine unbelief.
15. Revelation 2:17
He that hath an ear, let him hear what the Spirit saith unto the churches; To him that overcometh will I give to eat of the hidden manna, and will give him a white stone, and in the stone a new name written, which no man knoweth saving he that receiveth it.
16. Acts 19:16
And the man in whom the evil spirit was leaped on them, and overcame them, and prevailed against them, so that they fled out of that house naked and wounded.
17. 1 John 2:14
I have written unto you, fathers, because ye have known him that is from the beginning. I have written unto you, young men, because ye are strong, and the word of God abideth in you, and ye have overcome the wicked one.
18. Revelation 2:7
He that hath an ear, let him hear what the Spirit saith unto the churches; To him that overcometh will I give to eat of the tree of life, which is in the midst of the paradise of God.
19. Luke 11:22
But when a stronger than he shall come upon him, and overcome him, he taketh from him all his armour wherein he trusted, and divideth his spoils.
20. Psalm 44:5
Through thee will we push down our enemies: through thy name will we tread them under that rise up against us.
21. Jeremiah 1:19
And they shall fight against thee; but they shall not prevail against thee; for I am with thee, saith the LORD, to deliver thee.
22. Revelation 3:12
Him that overcometh will I make a pillar in the temple of my God, and he shall go no more out: and I will write upon him the name of my God, and the name of the city of my God, which is new Jerusalem, which cometh down out of heaven from my God: and I will write upon him my new name.
23. Psalm 39:10
Remove thy stroke away from me: I am consumed by the blow of thine hand.
24. Revelation 2:26
And he that overcometh, and keepeth my works unto the end, to him will I give power over the nations:
25. Psalm 18:29
For by thee I have run through a troop; and by my God have I leaped over a wall.
26. Romans 3:4
God forbid: yea, let God be true, but every man a liar; as it is written, That thou mightest be justified in thy sayings, and mightest overcome when thou art judged.
27. Revelation 13:7
And it was given unto him to make war with the saints, and to overcome them: and power was given him over all kindreds, and tongues, and nations.
28. 1 John 5:5
Who is he that overcometh the world, but he that believeth that Jesus is the Son of God?
29. Luke 10:19
Behold, I give unto you power to tread on serpents and scorpions, and over all the power of the enemy: and nothing shall by any means hurt you.
30. Exodus 32:18
And he said, It is not the voice of them that shout for mastery, neither is it the voice of them that cry for being overcome: but the noise of them that sing do I hear.
31. Revelation 21:7
He that overcometh shall inherit all things; and I will be his God, and he shall be my son.
32. Psalm 51:4
Against thee, thee only, have I sinned, and done this evil in thy sight: that thou mightest be justified when thou speakest, and be clear when thou judgest.
33. John 16:33
These things I have spoken unto you, that in me ye might have peace. In the world ye shall have tribulation: but be of good cheer; I have overcome the world.
34. Matthew 16:18
And I say also unto thee, That thou art Peter, and upon this rock I will build my church; and the gates of hell shall not prevail against it.
35. John 1:5
And the light shineth in darkness; and the darkness comprehended it not.
36. Numbers 13:30
And Caleb stilled the people before Moses, and said, Let us go up at once, and possess it; for we are well able to overcome it.
37. 2 Peter 2:19
While they promise them liberty, they themselves are the servants of corruption: for of whom a man is overcome, of the same is he brought in bondage.
38. Psalm 69:15
Let not the waterflood overflow me, neither let the deep swallow me up, and let not the pit shut her mouth upon me.
39. Revelation 3:5
He that overcometh, the same shall be clothed in white raiment; and I will not blot out his name out of the book of life, but I will confess his name before my Father, and before his angels.
40. 2 Peter 2:20
For if after they have escaped the pollutions of the world through the knowledge of the Lord and Saviour Jesus Christ, they are again entangled therein, and overcome, the latter end is worse with them than the beginning.
41. Revelation 3:21
To him that overcometh will I grant to sit with me in my throne, even as I also overcame, and am set down with my Father in his throne.
42. Romans 8:37
Nay, in all these things we are more than conquerors through him that loved us.
43. Romans 12:21
Be not overcome of evil, but overcome evil with good.
44. 1 John 4:4
Ye are of God, little children, and have overcome them: because greater is he that is in you, than he that is in the world.
45. Psalm 41:11
By this I know that thou favourest me, because mine enemy doth not triumph over me.