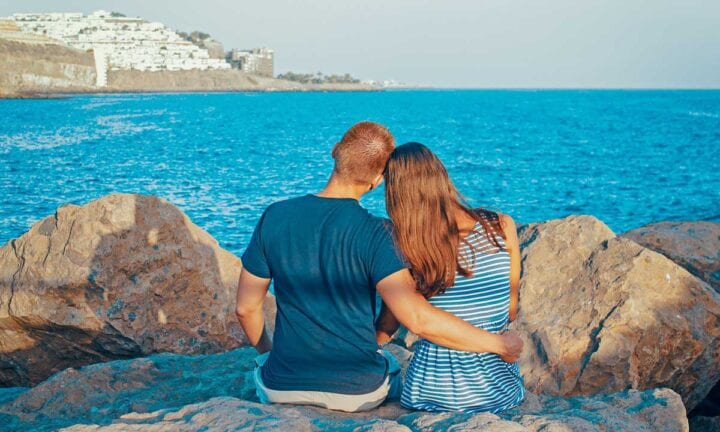 Love is an amazing feeling to feel. And when you're in love, you want to express it to your special someone. Mostly, girls want someone who exerts an effort to show how much he loves us. We want someone who would do things that make our hearts flutter.
However, guys should not be the only ones who should do these kinds of effort in a relationship. Their other half should make them feel loved and appreciated too. One way to do it is sending them sweet messages to cheer them up or just appreciating all the efforts he's done in your relationship.
So, here are 50 cute and romantic love quotes for the special man in your life.
1. "A flower cannot blossom without sunshine, and man cannot live without love." – Max Muller
2. "I seem to have loved you in numberless forms, numberless times, in life after life, in age after age forever." – Rabindranath Tagore
3. "Before you came into my life, I never knew what true love felt like." – Unknown
4. "To be your friend was all I ever wanted; to be your lover was all I ever dreamed." – Valerie Lombardo
5. "To the world you may be one person, but to one person you are the world." – Unknown
6. "My love for you has no depth, its boundaries are ever-expanding." – Christina White
7. "I love you not only for what you are, but for what I am when I am with you." – Unknown
8. "I love you as one loves certain dark things, secretly, between the shadow and the soul." – Pablo Neruda
9. "When I wake up in the morning, I am thinking of you. When I go to sleep at night, I am thinking of you. And all those hours in between, I think of us." – Unknown
10. "You're always the first and the last thing on this heart of mine. No matter where I go, or what I do, I'm thinking of you." – Dierks Bentley
11. "I love you every step of the way." – Unknown
12. "My love for you is past the mind, beyond my heart, and into my soul." – Boris Kodjoe
13. "My angel, my life, my entire world, you're the one that I want, the one that I need, let me be with you always, my love, my everything." – Unknown
14. "Each day I love you more, today more than yesterday and less than tomorrow." – Rosemonde Gerard
15. "God is keeping me alive but you are keeping me in love." – Unknown
16. "In short I will part with anything for you, but you." – Mary Wortley Montagu
17. "When I look into your eyes I see the mirror of my soul." – Unknown
18. "My heart is and always will be yours." – Jane Austen
19. "You are my paradise and I would happily get stranded on you for a lifetime." – Unknown
20. "Your love shines in my heart as sun that shines upon the earth." – Eleanor Di Guillo
21. "I may not be your first date, kiss or love…but I want to be your last everything." – Unknown
22. "Everywhere I look I am reminded of your love. You are my world." – Unknown
23. "Love stretches your heart and makes you big inside." – Margaret Walker
24. "You are the last thought in my mind before I drift off to sleep and the first thought when I wake up each morning." – Unknown
25. "You are my heart, my life, my entire existence." – Julie Kagawa
26. "Love is not about how many days, weeks or months you've been together, it's all about how much you love each other every day." – Unknown
27. "I saw that you were perfect, and so I loved you. Then I saw that you were not perfect and I loved you even more" – Angelita Lim
28. "I don't need paradise because I found you. I don't need dreams because I already have you." – Unknown
29. "Whatever our souls are made of, his and mine are the same" – Emily Brontë
30. "Thank you for always being my rainbow after the storm." – Unknown
31. "Love is friendship that has caught fire." – Ann Landers
32. "You are the source of my joy, the center of my world and the whole of my heart." – Unknown
33. "A kiss is a lovely trick designed by nature to stop speech when words become superfluous." – Ingrid Bergman
34. "Thank God someone threw me away so you could pick me up and love me." – Unknown
35. "All love shifts and changes. I don't know if you can be wholeheartedly in love all the time." – Julie Andrews
36. "The best feeling is when you look at him…and he is already staring." – Unknown
37. "A woman knows the face of the man she loves as a sailor knows the open sea." – Honore de Balzac
38. "Thank you, my love, for always making me feel like the most beautiful woman in the world." – Unknown
39. "In this crazy world, full of change and chaos, there is one thing of which I am certain, one thing which does not change: my love for you." – Unknown
40. "We can only learn to love by loving." – Iris Murdoch
41. "I still fall in love with you every day!" – Unknown
42. "Love is a force more formidable than any other." – Barbara de Angelis
43. "Together with you is my favorite place to be." – Unknown
44. "Love can be unselfish, in the sense of being benevolent and generous, without being selfless." – Mortimer Adler
45. "And then my soul saw you and it kind of went, 'Oh, there you are. I've been looking all over for you.'" – Unknown
46. "If it is your time, love will track you down like a cruise missile." – Lynda Barry
47. "I am very indecisive and always have trouble picking my favorite anything. But, without a doubt, you are my favorite everything." – Unknown
48. "He's more myself than I am." – Emily Bronte
49. "Your words are my food, your breath my wine. You are everything to me." – Sarah Bernhardt
50. "Wherever you are is my home, my only home." – Unknown
Guys may not be as expressive compared to girls but they also appreciate the efforts that you do to show how much you love and appreciate them. We should give them the importance and love that they deserve. After all, "give and take" is something that is very important when you are in a relationship. It's a two-way process, it does not work when only one is making an effort.
Lastly, expressing your love through words is one of the best ways to strengthen your special bond with your husband/boyfriend. Share this with him to brighten up his day.
ALSO READ:
50 Sweet and Romantic Love Quotes for Her
100 Best Inspirational Love Quotes and Sayings
100 Love Quotes to Inspire You to Keep Loving