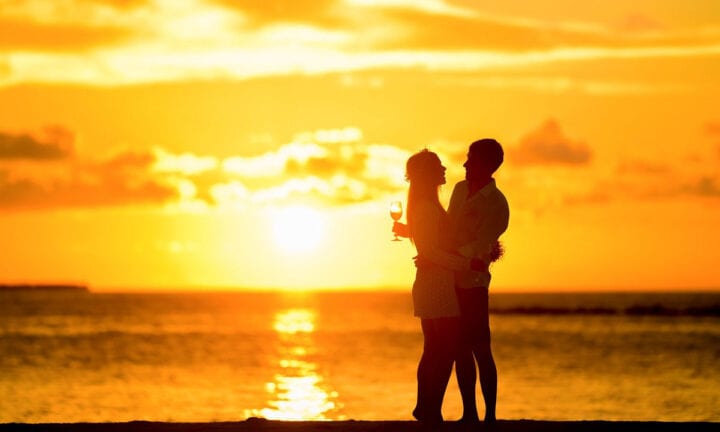 Being in a relationship makes us do things that we never thought we could do and say words we never thought we could say. Guys may be shy in expressing their feelings through words for their partner, but these things really matter to girls. These things can help in keeping your relationship healthy, happy, and long-lasting.
It can be a bit hard expressing how much you love someone through romantic words but if you do it from the heart, the sweetest version of you would naturally come out. Good thing that you can always get some inspiration from anyone, anywhere and anytime to express your love for someone. Be it from the words inspired by your favorite novelist, poet, actor, or even from God above, their messages of love will give you a boost to express your heart, mind, and soul to the one you love.
So, if you're out of words to describe how much you love her, here are 50 sweet and romantic yet powerful love quotes for her to help you.
1. "I have found the one whom my soul loves." – Song of Solomon 3:4
2. "Just for you I give my heart; for years to come, 'til death do us part." – Unknown
3. "You're nothing short of my everything." – Ralph Block
4. "My love I do give to you, more than words can explain. That's why I thank the Lord for you, each and every day!" – Unknown
5. "I never had a moment's doubt. I love you. I believe in you completely. You are my dearest one. My reason for living." – Ian McEwan, Atonement
6. "I love you not only for what you are but for what I am when I am with you." – Unknown
7. "For on this day and every day after, I plan to fill your heart with love and laughter." – Unknown
8. "Love brings to life whatever is dead around us." – Franz Rosenzweig
9. "All, everything that I understand, I understand only because I love." – Leo Tolstoy, War and Peace
10. "You are my best friend and soul mate. May the Love that we have for each other last forever in our hearts and soul." – Unknown
11. "It was a million tiny little things that, when you added them all up, they meant we were supposed to be together… and I knew it." – Tom Hanks, Sleepless In Seattle
12. "I do not know what it is about you that closes and opens; only something in me understands the voice of your eyes is deeper than all roses." – E.E. Cummings
13. "My gift to you is my love; Given from deep within my heart; It is the best I have to offer; And it's yours until this earth we depart." – Unknown
14. "The best love is the kind that awakens the soul; that makes us reach for more, that plants the fire in our hearts and brings peace to our minds." – Nicholas Sparks
15. "In all my life I have never known someone like you who makes me feel so complete in every way." – Unknown
16. "I hold you in my heart, for we have shared together God's blessings." – Philippians 1:7
17. "To love is nothing. To be loved is something. But to love and be loved, that's everything" – T. Tolis
18. "No one else in the world can even compare. You are perfect and so is this love that we share." – Unknown
19. "If I had a flower for every time I thought of you, I could walk in my garden forever." – Unknown
20. "I swear I couldn't love you more than I do right now, and yet I know I will tomorrow" – Leo Christopher
21. "You are my heart, my life, my one and only thought." – Sir Arthur Conan Doyle, The White Company
22. "The first thing I imagined when I saw the word 'love' is you." – Unknown
23. "I would rather spend one lifetime with you, than face all the ages of this world alone." – J.K.K. Tolken (Lord of The Rings)
24. "For once in my life, I don't have to try to be happy. When I'm with you, it just happens." – Unknown
25. "When I saw you I fell in love, and you smiled because you knew." – Arrigo Boito
26. "We loved with a love that was more than love" – Edgar Allan Poe
27. "Just when I think that it is impossible to love you any more, you prove me wrong." – Unknown
28. "In a sea of people, my eyes will always be searching for you." – Unknown
29. "My night has become a sunny dawn because of you." – Unknown
30. "There is always some madness in love. But there is also always some reason in madness." – Friedrich Nietzsche
31. "I fell in love the way you fall asleep, slowly and then all at once." – John Green, The Fault in Our Stars"
32. "Loving you never was an option. It was a necessity." – Unknown
33. "Sometimes the heart sees what is invisible to the eye." – H. Jackson Brown, Jr.
34. "Let us flip the coin and see. Head, I am yours. Tail, you are mine. So, we won't lose." – Unknown
35. "You are my song. You are my song of love." – Unknown
36. "Being deeply loved by someone gives you strength, while loving someone deeply gives you courage." – Lao Tzu
37. "When I look into your eyes, I know I have found the mirror of my soul." – Joey W. Hill
38. "I have loved you all my life; it has just taken me this long to find you." – Unknown
39. "To love and be loved is to feel the sun from both sides." – David Viscott
40. "I'm much more me when I'm with you." – Unknown
41. "Being in love with you makes every morning worth getting up for." – Unknown
42. "Where there is love there is life." – Mahatma Gandhi
43. "I love you without knowing how, or when, or from where. I love you simply, without problems or pride: I love you in this way because I do not know any other way of loving but this, in which there is no I or you, so intimate that your hand upon my chest is my hand, so intimate than when I fall asleep your eyes close." – Pablo Neruda, 100 Love Sonnets
44. "Love is an irresistible desire to be irresistibly desired." – Robert Frost
45. "As soon go kindle fire with snow, as seek to quench the fire of love with words." – Shakespeare
46. "The most powerful weapon on earth is the human soul on fire." – Ferdinand Foch
47. "If you wish to be loved, show more of your faults than your virtues." – Edward G. Bulwer-Lytton
48. "Love is when he gives you a piece of your soul, that you never knew was missing." – Torquato Tasso
49. "Love doesn't make the world go 'round. Love is what makes the ride worthwhile." – Franklin P. Jones
50. "Love is the wisdom of the fool and the folly of the wise." – Samuel Johnson
Whether it's just a typical day or there's a special occasion, letter or messages never goes out of style. it may be simple but it's one of the best things to show how much you profoundly love a person. It would absolutely make your partner's heart happy.
I hope these quotes helped you out in making your wife/girlfriend smile. These quotes may be sweet to hear but what's more important are the words that came from you personally. It doesn't need to be long and complicated, what matters most is that it is true and it comes from the heart.
ALSO READ:
50 Cute and Romantic Love Quotes for Him
100 Best Inspirational Love Quotes and Sayings
100 Love Quotes to Inspire You to Keep Loving