Looking for more romance in your relationship? I have a great challenge idea for you. Get ready to write 52 love letters to your partner for the next year. It's going to require some thought and honesty on your part, but you will find yourself enjoying the process and the reaction you get from your partner as they feel loved each week when they receive their love letter.
5 Reasons To Challenge Yourself  To Write 52 Love Letters To Your Partner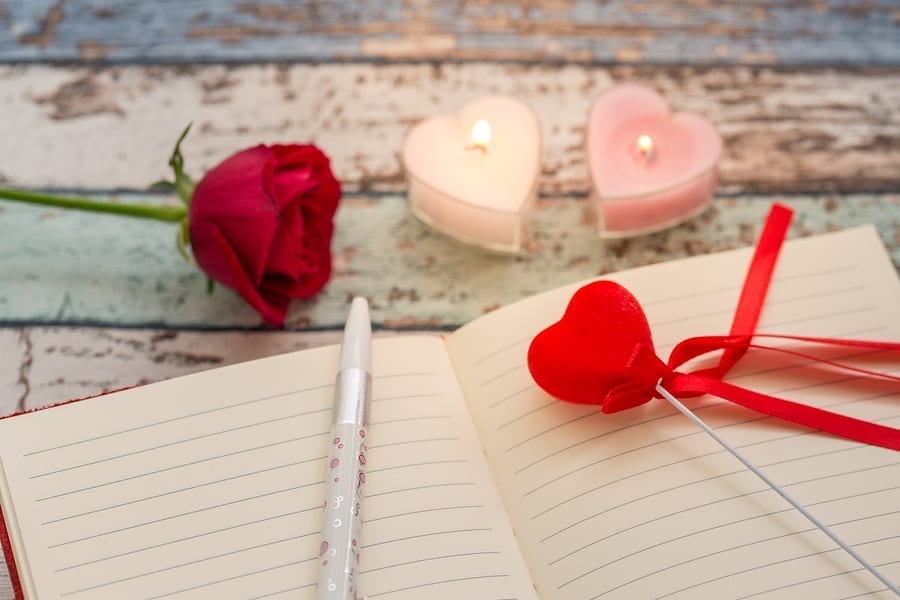 1. Love Letters Are Deep And Meaningful
In a love letter, you can express those thoughts and feelings that are hard to convey through other means, such as text, email, or even in person.
You get to express all your thoughts and feelings with abandon.
You get to take your time and create the perfect love letter that gives off the exact message you want to give off.
Because you can think it over as you write, and your intention is to convey your love for your partner, you tend to include only the most meaningful thoughts in your letter and leave out the stuff that's not important, which makes it one of the most intimate methods of confessing your love.
2. Love Letters Are Something To Look Back On
Just like keeping a record of your life in a journal, your partner can keep all of their love letters in a binder and look back on them whenever they want.
This will be really beneficial when they are:
Mad at you (it happens from time to time)
Trying to remember what's so great about you (it happens from time to time)
Need a reminder of how much you love them (it happens more than you think)
Are away from you and want to feel close to you
3. Love Letters Are Romantic
Romance is all about expressing love, and what says love more than receiving a meaningful letter that expresses emotions that aren't often said.
And, the letter doesn't always have to be focused on an intense topic. For instance, this woman wrote a love letter to her husband thanking him for eating his vegetables and influencing their kids in a positive way. It made it clear what she loved about him in that regard.
It doesn't matter what the topic is about, if you think they will appreciate it and find it an expression of your love, then it will be romantic to them.
4. It Will Be An Important Reminder Of Love Each Week
This love letter challenge requires you to give your partner a love letter once a week for 52 weeks.
It gives your partner something to look forward to and reminds them that they are loved each week.
It gives you something to do for your relationship each week, and it reminds you of why you love your partner so much.
You will both benefit from the constant reminder of love.
And the chances are good that your relationship and the connection you feel will intensify.
That can only be a good thing for your relationship.
5. It's a Unique Way To Be Romantic
How many people do you know who can say their partner gives them a love letter each week?
I'm willing to bet the number is very, very small.
It's a lost art and most people don't do it.
But you can.
And, because the chances are good that your partner is going to tell someone else of your unique romantic love letters, other boyfriends, girlfriends, wives, and husbands are going to find your efforts endearing and inspiring.
The 52 Love Letter Challenge
Once a week, you are going to give your partner a love letter. It will be on the same day each week. Whatever day works best for you.
Consistency is key with this love letter challenge. While you may surprise your partner with another romantic gesture here and there, a love letter given on the same day each week is going to provide comfort to your partner.
It will also help build trust when you never fail to give them that love note when they expect it.
And, it will give them something concrete to look forward to. They won't need to guess or wonder when they will get their letter. They will wake up Monday morning, for example, and know that they will find their love letter downstairs by the coffee maker (or whatever day and place you decide to put it.)
Following are some tips to make this love letter challenge work for you.
1. Commit To It
This is a challenge that you MUST commit to. You want to be consistent, doing this each week on the same day. You want your partner to start to look forward to these love letters and appreciate the fact that you continually give them to him or her.
You can build a strategy that works for you.
Maybe you will write a little bit each night.
Maybe you will sum up your feelings for your partner the night before you give it to them.
As long as it works for you, that's what you should do to make it habitual and stay committed to it.
2. Make Your Love Letters Personal
No generic love letters are allowed.
You can't copy someone else's love letter.
You can't just say 'I love you' and call it a day.
You need to get personal and let your partner know exactly why you love them, what is special about them, and how they rock your world. Just like the woman did when expressing her love for her husband eating his vegetables.
What can you put in your letter?
Your thoughts on something special they did or are doing
A reason or reasons you are grateful for having them in your life
Fondness over past memories together
Excitement over future experiences together
Thoughts about what it means to have them in your life
Anything that reflects their value to you, your love for them, or your gratitude for your relationship with them is a good thing to include.
Just keep it personal and unique.
Your relationship with your partner is unlike anyone else's relationship. Furthermore, they are unique and will appreciate it when they recognize themselves in your love letter.
3. Hand-Written Love Letters Only
Do not type your love letter on your computer and print it off. That doesn't have a personal tone that will be meaningful to your partner.
There is something about reading your lover's handwriting. It feels more sincere and impactful.
Don't worry if your handwriting sucks. You have 52 weeks to improve and perfect it!
4. Write On Unique Paper
This is optional, but it will give an extra special meaning to your love letters.
When you write on lined paper, it's fine.
But when you consistently write on paper that has a special look to it, it's memorable, unique, and romantic!
And, if your love letters are consistently on the same type of paper – devoted specifically to expressing your love to them and not the grocery list or reminders or to-do lists, then that's going to make the letters extra special and meaningful to them.
5. Don't Ask For Anything In Return
Don't end your letter with, "Do you love me as much as I love you?" or something along that line.
You are writing these love letters as a way to express your love for them, not as a way to request they love you more or validate you.
Expect nothing from your partner when it comes to your love letters.
That will save you from any disappointment when they don't react how you think they should or do what you think they should as a result of getting the love letter.
And it will allow them to enjoy your expression of love without feeling any duty to do something in return.
6. Keep It Positive
Lastly, keep your love letters as positive as possible. Don't drag arguments into the letter. Don't harp on issues. Don't try to make it seem like you are a better person than them by 'forgiving' them in your letters.
Your focus should be on why you love them. That's it.
Should You Do This For Only One Year?
When the year is up and you suddenly stop writing love letters, won't that suck for your partner?
Maybe. If you just stop doing romantic things altogether.
You can continue after the year if you want.
Or you can take up a new romantic gesture for the next year after that.
But, once you take on this challenge, you can't just stop doing something romantic once per week. If you do, then your partner is going to feel like you've 'lost that loving feeling' and that will make them feel less loved and possibly affect your relationship in a negative way.
So, if you commit to this romantic challenge, then you are committing to romance for the rest of your relationship.
That's not a bad thing! You should be continually working on your relationship and making your partner feel loved and valued. It's not about duty, it's about doing things that make your partner happy because that's what someone does for someone they love.