When I saw 10x was being released, I checked it out and it sounded intense, but also promising. They promise that you will get a personal fitness and nutrition plan that fits your lifestyle, which I can now say is absolutely true.
They cover fitness, nutrition, and sleep in-depth, to a point that I was surprised. I'll mention this a few times throughout my 10x review, but I'm vegan and was able to come away from 10x understanding how to feed my body to produce the best results possible.
It doesn't matter what your diet is, you will be able to create a nutritional plan for yourself with the information taught in 10x. That said, you will also understand fitness on a greater level and come out with a workout plan that works for your strength and toning goals.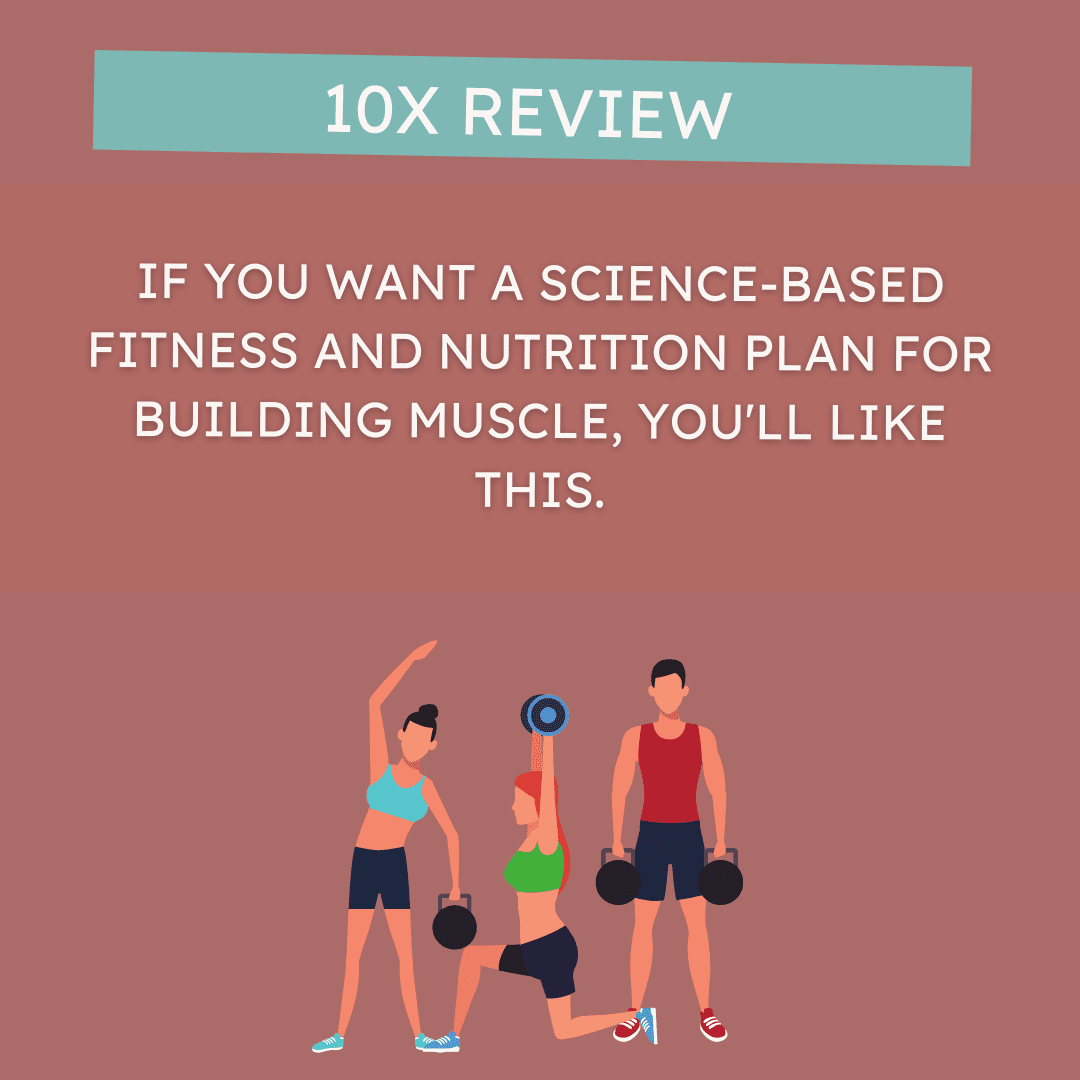 How 10X Is Structured
I wasn't sure I wanted to take 10x, so I listened to the masterclass and then went through all 83 days' worth of material in a couple of days to help me decide. I've taken other quests that turned out to be a waste of my time by day 14, so I've learned my lesson. Now, with something that requires this much dedication, I want to make sure I'm going to enjoy it all the way through and not waste any time.
Every week you get four videos with instructions and demonstrations to help you make the most out of your workouts, exercises, nutrition, and sleep.
Tuesdays contain a conversation about fitness, nutrition, or sleep – and these are quite extensive. I learned a lot from them. Between understanding why strength is so important (super motivating reason to build up strength by the way) and how to choose the best protein sources as a vegan, I was pretty impressed with the theory of the program.
You also have rest days in 10x. While they suggest that you can just rest from the 10x program for a day, they also say that you can use this day to go over any lessons that you want to go over again or take other actions on 10x, such as filling up your tracking sheets if need be. Or you can research topics discussed that week and decide how to implement things into your life, especially when it comes to nutrition and sleep – both important to building muscle. I found that the fitness part is laid out for you and there really were not questions that I had.
For 12 weeks, you are going to dedicate some time each day to 10x in one way or the other – hence me not committing to the physical part of the course before going through it entirely. Three months is a long time, but from what I've been reading from people who have gone through 10x it can produce some awesome results.
I would suggest making time each day for this quest because you don't want to skip a day or play catch up like you can do with some other quests on Mindvalley. You want to go day by day as 10x builds upon itself both in lessons and in implementation.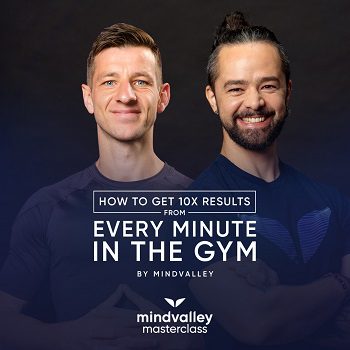 Is 10x For Women Who Don't Want To Get Bulky?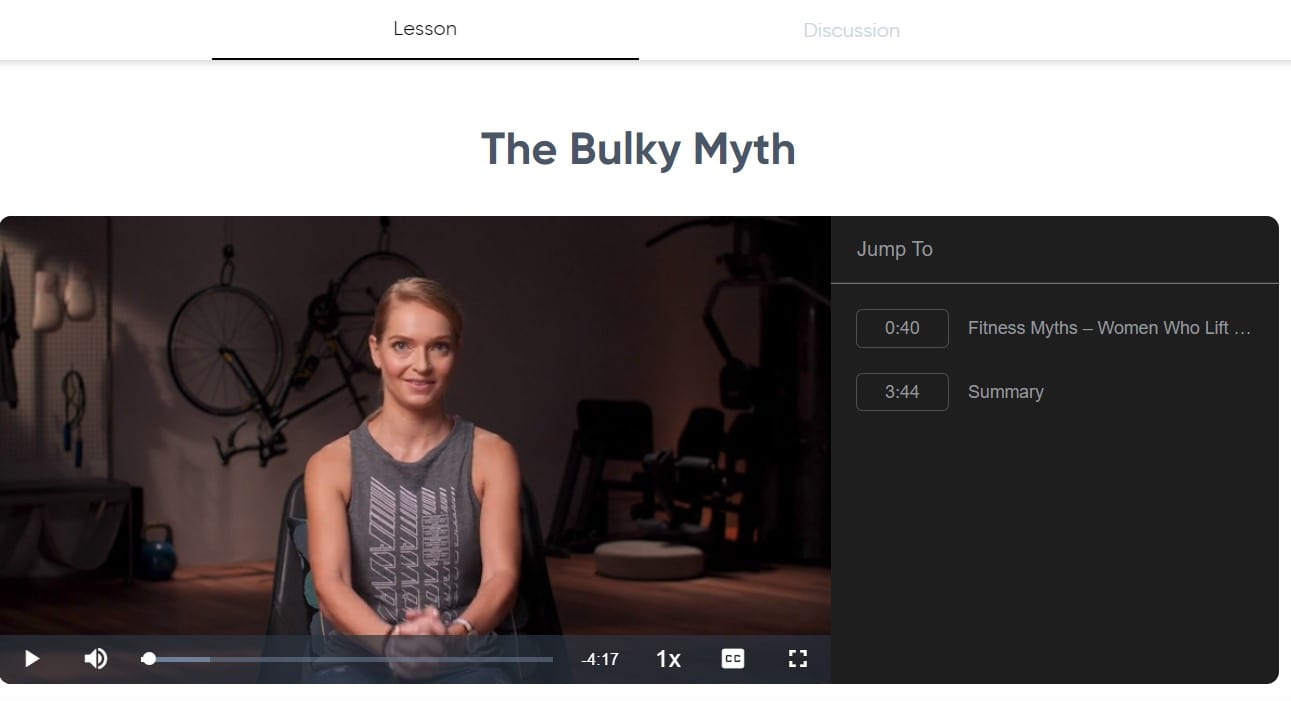 One of the hosts, Monique Schuldt, says that she discovered that building muscle, which is what 10x helps you do, is for women too. It's not going to make you bulky. That's a fitness myth. Lifting heavy weights doesn't make you bulky. Instead, it strengthens and shapes, as well as helps you burn off calories.
If you want to bulk up your physique, she says, you would need to eat more calories than you burn and you would have to do it for years. Moreover, she says that a lot of women who are bulky rely on supplements to get that way.
So, if you are a woman and you are interested in 10x, then go for it! It's meant to help you tone up and shape your body in the way that you want to shape it.
The Guided Exercises Are Awesome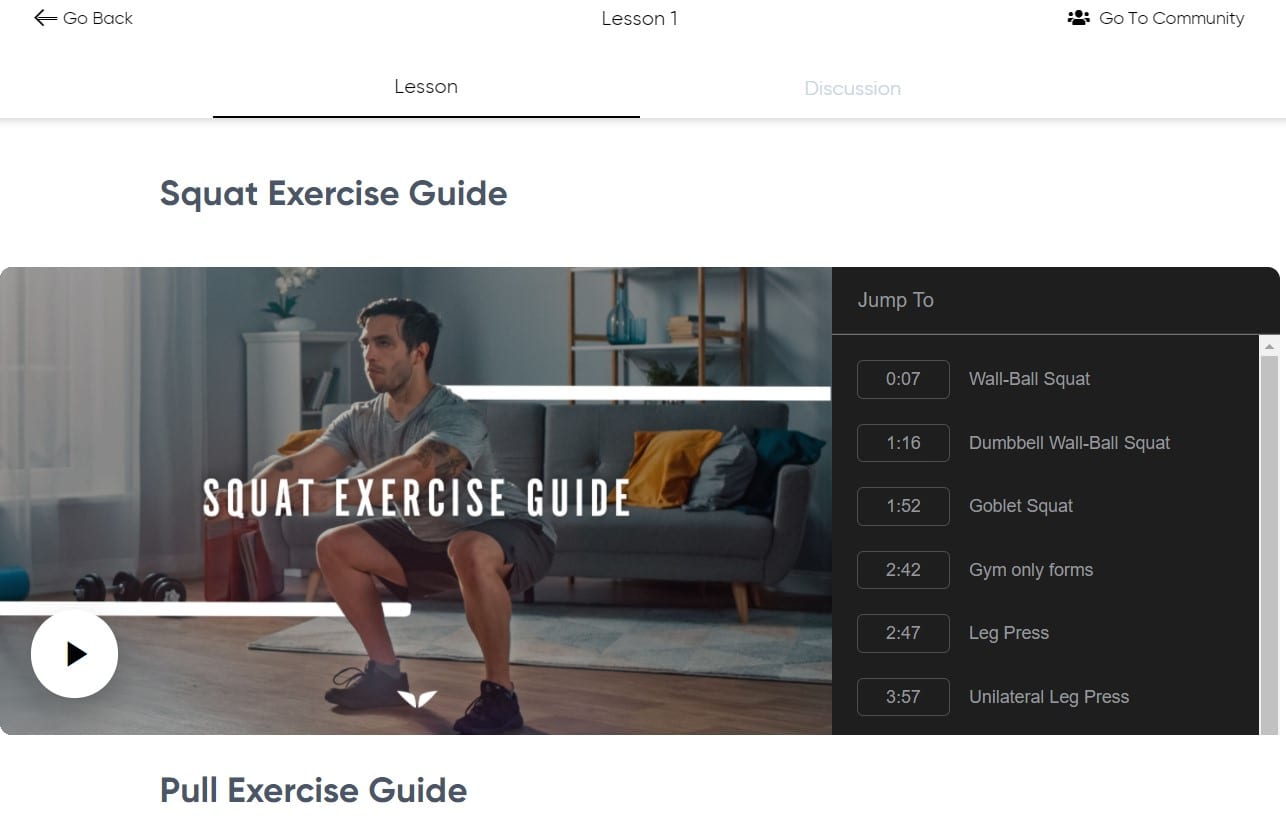 Screenshot of squat exercise video in 10x
You get clear videos on how to do the exercises found in 10x. They even do the exercises in slow motion. Instructions and demonstrations are meant to help you understand what you should be doing and how you should be doing it. However, it's recommended to watch these videos a few times so that you can assess your technique as you do them.
In fact, 10x recommends that you film yourself as you do the techniques because it's the best way to help you improve your technique, next to having a trainer at a gym guide you through your exercises.
One bonus that I liked is that Ronan and Monique talk about the exercises as they are being demonstrated in particular videos throughout the week to help you understand what is happening and why it's important for muscle growth.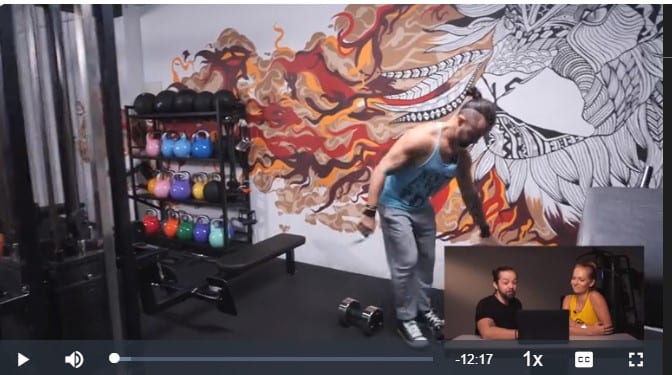 Progressive Overload And Training To Failure Are A Big Part Of 10x
If you are thinking about 10x, be prepared to push yourself. The concepts of progressive overload and training to failure are very important, so you need to be willing to put in that effort.
If you feel exhausted just thinking about that, it's important to note that in the 10x quest you will be given all the theory on why it is so important, which will motivate you to do it.
There's A Lot of Content In 10x
10X is not just about exercise videos. There is a ton of content in the program to help you understand the science behind building muscle through fitness, nutrition, and sleep.
Each week you get a workbook. The first workbook has the most information at 50 pages because it focuses on the what and how of 10x. After that, the workbooks are about 10-25 pages long and cover information pertaining to everything you learn in video format throughout the week.  I usually take notes when doing programs, but I found that all the notes are in these workbooks – even the cool diagrams he shares while talking during the videos.

Some Of The Things You Learn About In 10x
10x is all about growing muscle through fitness, nutrition, and sleep.
Here are some of the things they covered:
What muscle soreness really means, what you can do about it, and whether or not you need to feel it after every workout.
Why the aging process we know and accept (think of the 60-year-old who can't get out of a chair) is not a natural process.
Why muscle mass matters so much.
Why you should train to failure.
What to do to ensures that your muscles keep getting stronger.
What biomarkers are important for your health, including what blood tests you need to get done because they have a strong correlation to the state of your health.
Whether or women should train during their period.
Whether or not men and women train the same.
Protein deficiency and what protein is best to eat – both animal and vegan sources. You will also learn how much protein you need. Note: The explanation of how to get complete protein on a vegan diet was the best explanation I've seen, so if you are vegan and you are wondering if you are getting all the protein you need, then this explanation is going to help you figure that out.
A strategy to eat based on what your goals are and where you are in your weight loss and muscle-building journey.
Why daily rituals are important (or not) for your goals.
The no-BS guide to supplements.
Why sleep is important to your fitness and how to regulate it.
Whether or not your muscle will turn into fat at some point.
How to track your progress for isolation and integrated routines.
Not only will you be building your strength in 10x, but you will also be building your mindset. Super important. I speak from experience when it comes to personal growth.
Your mindset is what makes or breaks your ability to get through any workout program – or anything in general. You likely already know that. Most of us have not made it through one program or another. I found that Ronan Diego de Oliveira teaches, and 10x is structured, in a way that builds commitment and perseverance.
You Need Either Equipment At Home Or A Gym Membership (A Membership Would Be Better)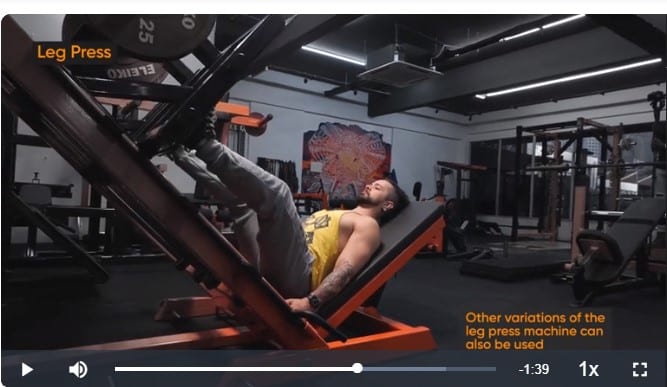 Ronan says you can do this program at home or at the gym. If you are going to do it at home, there is some basic equipment that you will need to do the movements in 10x. This includes:
Dumbbells
A bench that is flat and adjustable
Exercise ball
Pull up bar
Gymnastic rings
Resistance bands
If you take the quest, you will see that they use a lot of weight machines in the demonstration videos and realize that it's cheaper to get a gym membership than it is to go out and buy these machines. From what I've seen, you can do it at home, but with a gym, you have access to machines that allow you to get a better workout. You can use a variety of different machines for the same exercise, depending on your preference.
In short, I think if you are going to jump into the 10x quest, you will probably want to go all in. The gym gives you more options when it comes to how you want to work out. This is what I plan to do.
I Was Surprised That The Nutrition Aspect Was So Detailed Yet Varied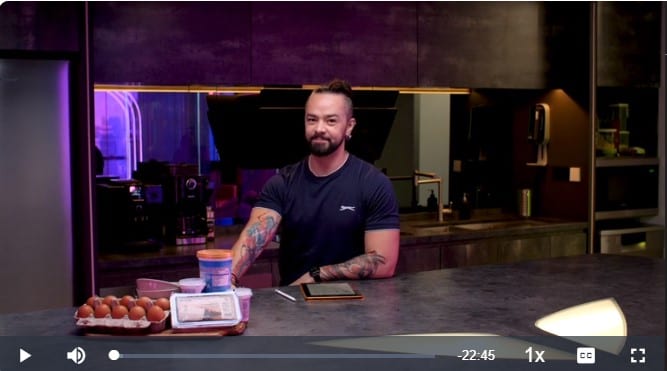 Some workout programs focus on a specific way of eating. I was surprised that 10x helped me understand how to eat for me as a vegan who needs to lose some weight. I thought 10x was a muscle-building quest, so the nutrition aspect was an awesome bonus for me. Maybe they mention nutrition in the free masterclass, but I have the Mindvalley Membership which gave me instant access to 10x, so I didn't take the masterclass. I just went through all of the material first to see if I would even want to take the quest.
I've been vegan for years and never come across something like this.
If you don't need to lose weight, you may eat a little differently. If you eat animals, then you will eat a little differently. Everything is broken down and explained and they've made it really easy to see what kind of nutrition program I (or you) need to put in place for my (or your) fitness and health goals.
You may find you need to do a little extra research just to confirm things in your plan – depending on your diet, but for most people 10x is going to help you create a nutrition plan with what they teach inside.
Bottom line – 10x helps you optimize your diet to help you achieve the fitness goals you are working towards.
10X Will Help You Understand Fitness And Nutrition For Better Health

That's what the program does. It's more than just a workout program. Theory and practice combine to help you develop a fitness and nutrition plan (along with a sleep plan) that benefits your muscle and toning goals.
When I was younger, I was dating a guy who lived with a guy who was just like Ronan. He trained a lot, and he knew everything about nutrition and how to optimize it to optimize his results. Food was fuel, and I never saw him eat anything other than fuel. No nachos. No beer. No cookies. Just a perfect balance of nutrients to keep his muscles growing and him feeling good. Ronan reminds me of him. But back then I wasn't interested in what my boyfriend's roommate's health strategy was – at all. Now, being more concerned about my health, what Ronan and 10x teaches is very interesting.
I'm planning on starting this program sometime soon. I do have access to the whole program, but as I said, I'm going to go day by day because there's no other way to take this program.
If you are interested in 10x, you can take the free masterclass here to learn more or you can find the next start date on this page. I plan to start with a new cohort so that I can partake in the community for 10x. I'll write a review of my experience doing the program after I'm done.