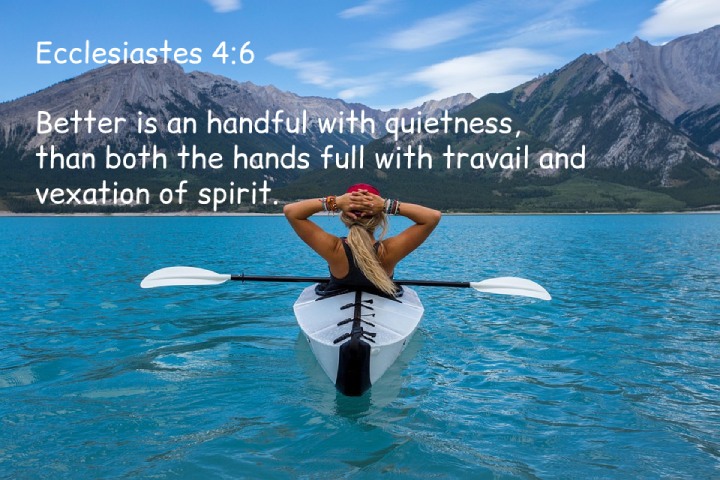 Why Rest Is Important?
God created us to need rest. In fact, He designed the entire universe to operate in patterns of work and rest. Six days of work followed by one day of rest is a pattern we see throughout Scripture, from Genesis to Revelation. God even rested on the seventh day after creating the world!
So why is rest so important?
First, rest is a physical necessity. Our bodies were not designed to go non-stop 24/7. We need time to relax and recharge our batteries.
Second, rest is a mental necessity. Our minds need time to process all that we take in every day. If we don't allow ourselves regular periods of down-time, we'll quickly become overwhelmed and stressed out.
Third, and most importantly, rest is a spiritual necessity. When we take time to rest, we are acknowledging that God is the source of all strength and power. We are saying that we need Him in order to function properly.
Rest is essential for our physical, mental, and spiritual wellbeing. So make sure to take some time for yourself each day to relax and recharge. Your body, mind, and soul will thank you!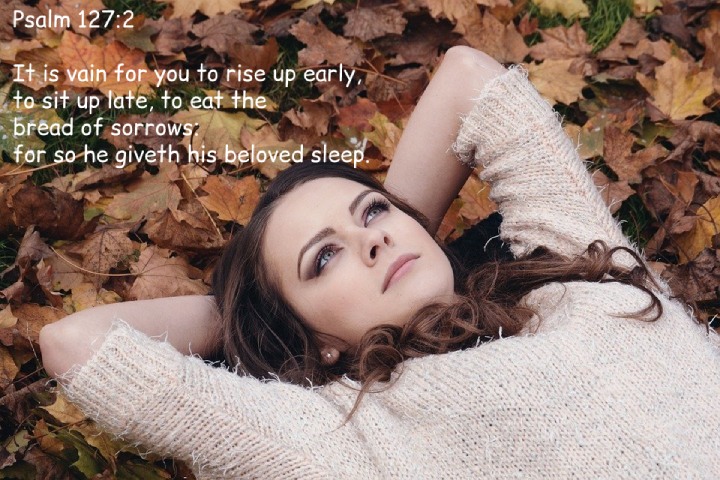 What Does The Bible Say About Rest?
The idea of rest is central to the Bible. In fact, the very first thing God does in the Bible is create a day of rest. On the seventh day, God rests from all His work (Genesis 2:2). This act not only sets the tone for the rest of Scripture but also establishes an important principle for us: We were created to need rest.
Rest is a spiritual principle that goes beyond simply taking a break from our physical activity. It is a time to cease from our own striving and rely on God's strength. It is a time to be still and know that He is God (Psalm 46:10).
When we come to Christ, we enter into His rest (Hebrews 4:3). This doesn't mean that we never have to work again. But it does mean that our labor is no longer in vain (1 Corinthians 15:58). We can rest in the finished work of Christ, knowing that He has given us His righteousness and made us whole.
The principle of rest also applies to our thought life. We are not to be anxious about anything but instead are to pray about everything with thanksgiving (Philippians 4:6-7). When we do this, the peace of God will guard our hearts and minds.
So take some time today to rest in the Lord. Cease from your own striving and trust in Him. Allow His peace to fill your heart and mind. And know that He is always with you, giving you the strength you need for whatever lies ahead.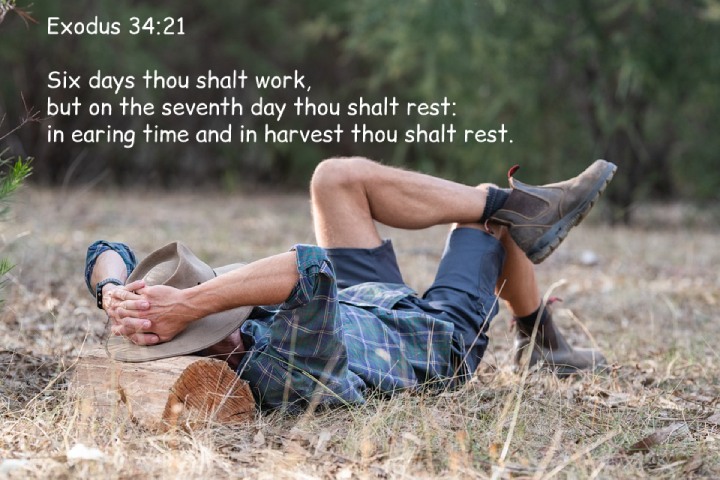 Bible Verses About Rest
1. Exodus 23:12
Six days thou shalt do thy work, and on the seventh day thou shalt rest: that thine ox and thine ass may rest, and the son of thy handmaid, and the stranger, may be refreshed.
2. 1 Kings 5:4
But now the LORD my God hath given me rest on every side, so that there is neither adversary nor evil occurrent.
3. Matthew 10:13
And if the house be worthy, let your peace come upon it: but if it be not worthy, let your peace return to you.
4. Exodus 34:21
Six days thou shalt work, but on the seventh day thou shalt rest: in earing time and in harvest thou shalt rest.
5. Luke 11:24
When the unclean spirit is gone out of a man, he walketh through dry places, seeking rest; and finding none, he saith, I will return unto my house whence I came out.
6. Joshua 1:15
Until the LORD have given your brethren rest, as he hath given you, and they also have possessed the land which the LORD your God giveth them: then ye shall return unto the land of your possession, and enjoy it, which Moses the LORD'S servant gave you on this side Jordan toward the sunrising.
7. Job 3:26
I was not in safety, neither had I rest, neither was I quiet; yet trouble came.
8. Mark 6:31
And he said unto them, Come ye yourselves apart into a desert place, and rest a while: for there were many coming and going, and they had no leisure so much as to eat.
9. Isaiah 62:7
And give him no rest, till he establish, and till he make Jerusalem a praise in the earth.
10. Proverbs 24:33
Yet a little sleep, a little slumber, a little folding of the hands to sleep:
11. Exodus 16:23
And he said unto them, This is that which the LORD hath said, To morrow is the rest of the holy sabbath unto the LORD: bake that which ye will bake to day, and seethe that ye will seethe; and that which remaineth over lay up for you to be kept until the morning.
12. Leviticus 23:3
Six days shall work be done: but the seventh day is the sabbath of rest, an holy convocation; ye shall do no work therein: it is the sabbath of the LORD in all your dwellings.
13. Leviticus 23:32
It shall be unto you a sabbath of rest, and ye shall afflict your souls: in the ninth day of the month at even, from even unto even, shall ye celebrate your sabbath.
14. Psalm 127:2
It is vain for you to rise up early, to sit up late, to eat the bread of sorrows: for so he giveth his beloved sleep.
15. Exodus 31:15
Six days may work be done; but in the seventh is the sabbath of rest, holy to the LORD: whosoever doeth any work in the sabbath day, he shall surely be put to death.
16. Isaiah 32:18
And my people shall dwell in a peaceable habitation, and in sure dwellings, and in quiet resting places;
17. Matthew 11:28
Come unto me, all ye that labour and are heavy laden, and I will give you rest.
18. Ruth 3:18
Then said she, Sit still, my daughter, until thou know how the matter will fall: for the man will not be in rest, until he have finished the thing this day.
19. Isaiah 30:15
For thus saith the Lord GOD, the Holy One of Israel; In returning and rest shall ye be saved; in quietness and in confidence shall be your strength: and ye would not.
20. Exodus 35:2
Six days shall work be done, but on the seventh day there shall be to you an holy day, a sabbath of rest to the LORD: whosoever doeth work therein shall be put to death.
21. Deuteronomy 12:9
For ye are not as yet come to the rest and to the inheritance, which the LORD your God giveth you.
22. Joshua 21:44
And the LORD gave them rest round about, according to all that he sware unto their fathers: and there stood not a man of all their enemies before them; the LORD delivered all their enemies into their hand.
23. 1 Corinthians 2:5
That your faith should not stand in the wisdom of men, but in the power of God.
24. Isaiah 28:12
To whom he said, This is the rest wherewith ye may cause the weary to rest; and this is the refreshing: yet they would not hear.
25. Jeremiah 31:2
Thus saith the LORD, The people which were left of the sword found grace in the wilderness; even Israel, when I went to cause him to rest.
26. Leviticus 25:4
But in the seventh year shall be a sabbath of rest unto the land, a sabbath for the LORD: thou shalt neither sow thy field, nor prune thy vineyard.
27. Hebrews 4:9
There remaineth therefore a rest to the people of God.
28. Isaiah 48:22
There is no peace, saith the LORD, unto the wicked.
29. Genesis 2:2
And on the seventh day God ended his work which he had made; and he rested on the seventh day from all his work which he had made.
30. Job 3:17
There the wicked cease from troubling; and there the weary be at rest.
31. Isaiah 14:7
The whole earth is at rest, and is quiet: they break forth into singing.
32. Psalm 116:7
Return unto thy rest, O my soul; for the LORD hath dealt bountifully with thee.
33. Psalm 55:6
And I said, Oh that I had wings like a dove! for then would I fly away, and be at rest.
34. Psalm 132:4
I will not give sleep to mine eyes, or slumber to mine eyelids,
35. Zechariah 1:11
And they answered the angel of the LORD that stood among the myrtle trees, and said, We have walked to and fro through the earth, and, behold, all the earth sitteth still, and is at rest.
36. Job 11:18
And thou shalt be secure, because there is hope; yea, thou shalt dig about thee, and thou shalt take thy rest in safety.
37. Psalm 125:3
For the rod of the wicked shall not rest upon the lot of the righteous; lest the righteous put forth their hands unto iniquity.
38. Proverbs 4:16
For they sleep not, except they have done mischief; and their sleep is taken away, unless they cause some to fall.
39. 1 Chronicles 22:9
Behold, a son shall be born to thee, who shall be a man of rest; and I will give him rest from all his enemies round about: for his name shall be Solomon, and I will give peace and quietness unto Israel in his days.
40. Hebrews 4:10
For he that is entered into his rest, he also hath ceased from his own works, as God did from his.
41. Ecclesiastes 4:6
Better is an handful with quietness, than both the hands full with travail and vexation of spirit.
42. Exodus 23:11
But the seventh year thou shalt let it rest and lie still; that the poor of thy people may eat: and what they leave the beasts of the field shall eat. In like manner thou shalt deal with thy vineyard, and with thy oliveyard.
43. Micah 2:10
Arise ye, and depart; for this is not your rest: because it is polluted, it shall destroy you, even with a sore destruction.
44. Hebrews 4:8
For if Jesus had given them rest, then would he not afterward have spoken of another day.
45. Psalm 132:14
This is my rest for ever: here will I dwell; for I have desired it.
46. Isaiah 66:1
Thus saith the LORD, The heaven is my throne, and the earth is my footstool: where is the house that ye build unto me? and where is the place of my rest?
47. Psalm 4:8
I will both lay me down in peace, and sleep: for thou, LORD, only makest me dwell in safety.
48. Hebrews 4:3
For we which have believed do enter into rest, as he said, As I have sworn in my wrath, if they shall enter into my rest: although the works were finished from the foundation of the world.
49. Psalm 62:5
My soul, wait thou only upon God; for my expectation is from him.
50. Exodus 33:14
And he said, My presence shall go with thee, and I will give thee rest.
Online courses recommended for you:
Books recommended for you:
* As an Amazon Associate I earn from qualifying purchases.
ALSO READ:
3 Big Tips To Feel Well-Rested and Refreshed After the Weekend