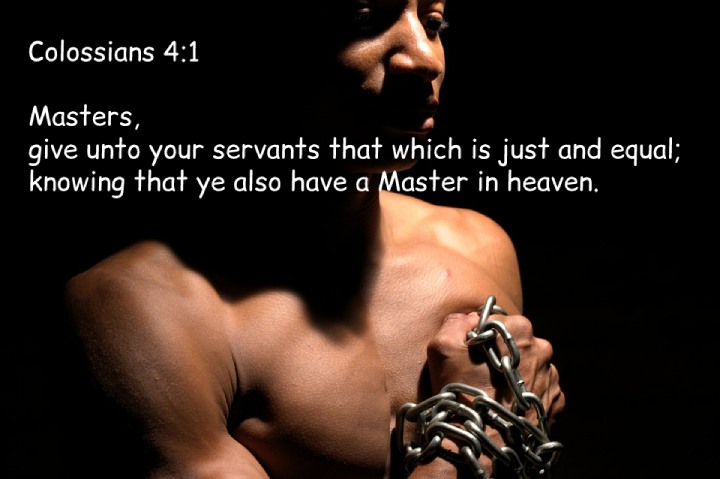 Slavery is mentioned numerous times in the Bible, both in the Old Testament and the New Testament. The Hebrew word for slavery, "ebed," can refer to either voluntary or involuntary servitude. In the Old Testament, there are laws regulating slavery, and some people were slaves by choice. However, there were also many cases of people being enslaved against their will, often as a result of war.
In the New Testament, Jesus speaks out against slavery and injustice, and Paul urges Christians to treat slaves with respect and compassion. Although slavery is no longer legal in most parts of the world, it still exists in some places. There are an estimated 21 million people who are currently enslaved worldwide. Slavery is a form of human trafficking, and it is a violation of human rights. If you or someone you know is a victim of slavery, some organizations can help.
If you would like to learn more about slavery in the Bible, here are some resources: Old Testament verses about slavery: Exodus 21:1-11, Leviticus 25:39-46, Deuteronomy 15:12-18, Proverbs 22:7, Proverbs 29:19. New Testament verses about slavery: Ephesians 6:5-9, Colossians 4:1, Philemon 1:8-25.
There are many different ways that people can become slaves. In some cases, people are born into slavery, while in others they may be sold into it or taken captive. Some people choose to become slaves to pay off a debt, while others may be forced into it as punishment for a crime. No matter how someone becomes a slave, it is always a violation of their human rights.
If you or someone you know is a victim of slavery, some organizations can help. The National Human Trafficking Hotline provides crisis counseling, information about resources, and referrals to victims of trafficking in the United States. You can also call the hotline at 1-888-373-7888 or text "HELP" to 233733.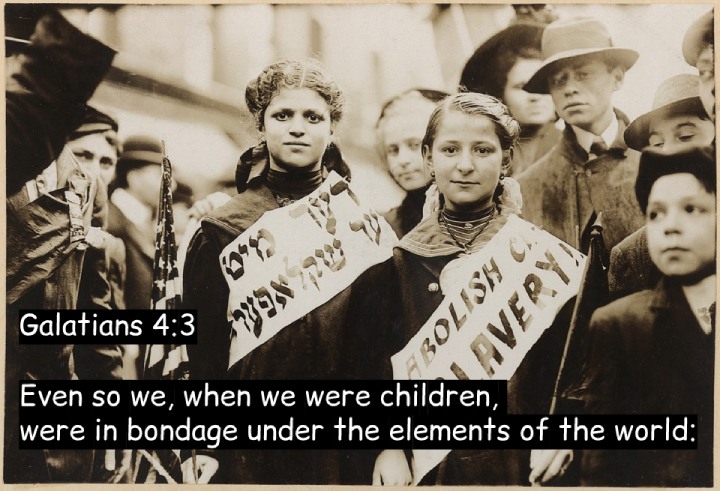 Bible Verses About Slavery
1. Leviticus 26:13
I am the LORD your God, which brought you forth out of the land of Egypt, that ye should not be their bondmen; and I have broken the bands of your yoke, and made you go upright.
2. John 8:35
And the servant abideth not in the house for ever: but the Son abideth ever.
3. Proverbs 30:22
For a servant when he reigneth; and a fool when he is filled with meat;
4. Ezra 9:9
For we were bondmen; yet our God hath not forsaken us in our bondage, but hath extended mercy unto us in the sight of the kings of Persia, to give us a reviving, to set up the house of our God, and to repair the desolations thereof, and to give us a wall in Judah and in Jerusalem.
5. Exodus 21:5
And if the servant shall plainly say, I love my master, my wife, and my children; I will not go out free:
6. Galatians 3:28
There is neither Jew nor Greek, there is neither bond nor free, there is neither male nor female: for ye are all one in Christ Jesus.
7. Romans 6:20
For when ye were the servants of sin, ye were free from righteousness.
8. Exodus 14:12
Is not this the word that we did tell thee in Egypt, saying, Let us alone, that we may serve the Egyptians? For it had been better for us to serve the Egyptians, than that we should die in the wilderness.
9. Jeremiah 2:14
Is Israel a servant? is he a homeborn slave? why is he spoiled?
10. Hebrews 2:15
And deliver them who through fear of death were all their lifetime subject to bondage.
11. Ephesians 6:8
Knowing that whatsoever good thing any man doeth, the same shall he receive of the Lord, whether he be bond or free.
12. 1 Corinthians 7:21
Art thou called being a servant? care not for it: but if thou mayest be made free, use it rather.
13. Romans 6:18
Being then made free from sin, ye became the servants of righteousness.
14. Galatians 4:3
Even so we, when we were children, were in bondage under the elements of the world:
15. Deuteronomy 23:15
Thou shalt not deliver unto his master the servant which is escaped from his master unto thee:
16. 1 Corinthians 7:22
For he that is called in the Lord, being a servant, is the Lord's freeman: likewise also he that is called, being free, is Christ's servant.
17. Galatians 4:1
Now I say, That the heir, as long as he is a child, differeth nothing from a servant, though he be lord of all;
18. Genesis 15:13
And he said unto Abram, Know of a surety that thy seed shall be a stranger in a land that is not theirs, and shall serve them; and they shall afflict them four hundred years;
19. Proverbs 29:21
He that delicately bringeth up his servant from a child shall have him become his son at the length.
20. Romans 8:15
For ye have not received the spirit of bondage again to fear; but ye have received the Spirit of adoption, whereby we cry, Abba, Father.
21. Galatians 4:25
For this Agar is mount Sinai in Arabia, and answereth to Jerusalem which now is, and is in bondage with her children.
22. Colossians 4:1
Masters, give unto your servants that which is just and equal; knowing that ye also have a Master in heaven.
23. Deuteronomy 28:68
And the LORD shall bring thee into Egypt again with ships, by the way whereof I spake unto thee, Thou shalt see it no more again: and there ye shall be sold unto your enemies for bondmen and bondwomen, and no man shall buy you.
24. 2 Peter 2:19
While they promise them liberty, they themselves are the servants of corruption: for of whom a man is overcome, of the same is he brought in bondage.
25. Exodus 21:2
If thou buy an Hebrew servant, six years he shall serve: and in the seventh he shall go out free for nothing.
26. Romans 6:16
Know ye not, that to whom ye yield yourselves servants to obey, his servants ye are to whom ye obey; whether of sin unto death, or of obedience unto righteousness?
27. Exodus 21:6
Then his master shall bring him unto the judges; he shall also bring him to the door, or unto the door post; and his master shall bore his ear through with an aul; and he shall serve him for ever.
28. Deuteronomy 15:15
And thou shalt remember that thou wast a bondman in the land of Egypt, and the LORD thy God redeemed thee: therefore I command thee this thing to day.
29. Ecclesiastes 10:7
I have seen servants upon horses, and princes walking as servants upon the earth.
30. Acts 7:6
And God spake on this wise, That his seed should sojourn in a strange land; and that they should bring them into bondage, and entreat them evil four hundred years.
31. 1 Peter 2:16
As free, and not using your liberty for a cloke of maliciousness, but as the servants of God.
32. Galatians 4:23
But he who was of the bondwoman was born after the flesh; but he of the freewoman was by promise.
33. Exodus 13:3
And Moses said unto the people, Remember this day, in which ye came out from Egypt, out of the house of bondage; for by strength of hand the LORD brought you out from this place: there shall no leavened bread be eaten.
34. Deuteronomy 6:12
Then beware lest thou forget the LORD, which brought thee forth out of the land of Egypt, from the house of bondage.
35. Exodus 21:21
Notwithstanding, if he continue a day or two, he shall not be punished: for he is his money.
36. Proverbs 22:7
The rich ruleth over the poor, and the borrower is servant to the lender.
37. 1 Corinthians 9:27
But I keep under my body, and bring it into subjection: lest that by any means, when I have preached to others, I myself should be a castaway.
38. Galatians 5:1
Stand fast therefore in the liberty wherewith Christ hath made us free, and be not entangled again with the yoke of bondage.
39. Genesis 9:25
And he said, Cursed be Canaan; a servant of servants shall he be unto his brethren.
40. John 8:34
Jesus answered them, Verily, verily, I say unto you, Whosoever committeth sin is the servant of sin.
41. Galatians 4:7
Wherefore thou art no more a servant, but a son; and if a son, then an heir of God through Christ.
42. Exodus 21:20
And if a man smite his servant, or his maid, with a rod, and he die under his hand; he shall be surely punished.
43. Micah 6:4
For I brought thee up out of the land of Egypt, and redeemed thee out of the house of servants; and I sent before thee Moses, Aaron, and Miriam.
44. Luke 17:9
Doth he thank that servant because he did the things that were commanded him? I trow not.
45. Leviticus 25:44
Both thy bondmen, and thy bondmaids, which thou shalt have, shall be of the heathen that are round about you; of them shall ye buy bondmen and bondmaids.
46. Ephesians 6:5
Servants, be obedient to them that are your masters according to the flesh, with fear and trembling, in singleness of your heart, as unto Christ;
47. 2 Kings 4:1
Now there cried a certain woman of the wives of the sons of the prophets unto Elisha, saying, Thy servant my husband is dead; and thou knowest that thy servant did fear the LORD: and the creditor is come to take unto him my two sons to be bondmen.
48. Leviticus 25:46
And ye shall take them as an inheritance for your children after you, to inherit them for a possession; they shall be your bondmen for ever: but over your brethren the children of Israel, ye shall not rule one over another with rigour.
49. Ephesians 6:9
And, ye masters, do the same things unto them, forbearing threatening: knowing that your Master also is in heaven; neither is there respect of persons with him.
50. 1 Peter 2:18
Servants, be subject to your masters with all fear; not only to the good and gentle, but also to the froward.
Online courses recommended for you:
Books recommended for you:
* As an Amazon Associate I earn from qualifying purchases.
ALSO READ: