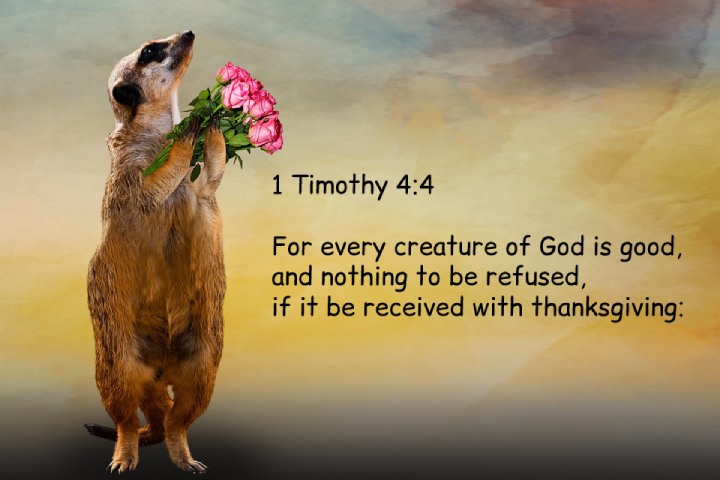 Thankfulness and blessings are concepts that have been around since the dawn of humanity. In many cultures, it is believed that being thankful for what we have and showing gratitude for our blessings brings about more abundance into our lives. It's also a way to recognize how fortunate we are in whatever circumstances we find ourselves in. Being thankful can come from both small things like a sunrise or a pleasant conversation as well as larger moments such as a job promotion or completing an important project.
No matter the size, recognizing your blessings and expressing thankfulness plays an important role in living a fulfilled life. By taking time to pause and appreciate all the good in our lives, we can create space for more positivity to enter our world. We can also encourage others to recognize what they are thankful for and help them to find ways to express their gratitude.
Thankfulness is a powerful tool that we can use on our journey towards personal growth and development, as it allows us to focus on the present moment without getting caught up in potential worries of the future. In addition, it helps us to connect with friends, family, and strangers alike – allowing us all to share in each other's joys and blessings.
Ultimately, showing thankfulness and counting your blessings is an important part of living a meaningful life. It can bring more abundance into our world, create connections between individuals, promote positive thinking, and foster personal growth. By taking time out of our day to appreciate the good in our lives, we can create a ripple effect that will touch those around us and bring more light into our world.
Thankful and Blessings are concepts that are based on bible verses. One of the most well-known bible verses is Psalm 118:24, which states "This is the day that the LORD hath made; we will rejoice and be glad in it." This verse emphasizes the importance of being thankful for each day and recognizing all of God's blessings. It reminds us to take time to thank Him for every good thing He has given us.
Other bible passages remind us to give thanks in all circumstances and cast our cares upon Him (1 Thessalonians 5:18). Gratitude helps us recognize how blessed we truly are no matter what life brings our way. We can choose to be thankful for even the smallest things and know that God will use them for good (Romans 8:28).
We can also practice thankfulness by being kind, generous and humble. Philippians 4:6 says "In everything by prayer and supplication with thanksgiving let your requests be made known to God." We are called to offer our requests to God, while thanking Him in all things — both the big and small. This helps us focus on His goodness rather than our own shortcomings or difficulties.
When we express gratefulness for even the smallest of gifts, it reaffirms that good can come from any situation if we choose to be thankful. Thankful and Blessings are concepts to remember during times of distress or difficulty, reminding us that God is always with us and that no matter what, we can find something to be thankful for.
So, no matter how small or large your blessings may be, take a few moments out of each day to express your thankfulness and count your blessings. This simple act of appreciation can have a lasting impact on yourself and the people around you. So what are you thankful for today?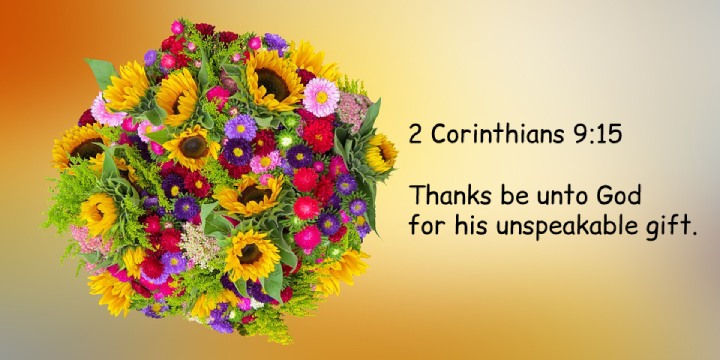 Bible Verses About Thankful Blessings
1. 2 Corinthians 1:11
Ye also helping together by prayer for us, that for the gift bestowed upon us by the means of many persons thanks may be given by many on our behalf.
2. 1 Timothy 4:4
For every creature of God is good, and nothing to be refused, if it be received with thanksgiving:
3. 1 Corinthians 15:57
But thanks be to God, which giveth us the victory through our Lord Jesus Christ.
4. Ephesians 1:3
Blessed be the God and Father of our Lord Jesus Christ, who hath blessed us with all spiritual blessings in heavenly places in Christ:
5. 2 Corinthians 1:3
Blessed be God, even the Father of our Lord Jesus Christ, the Father of mercies, and the God of all comfort;
6. 1 Corinthians 10:16
The cup of blessing which we bless, is it not the communion of the blood of Christ? The bread which we break, is it not the communion of the body of Christ?
7. 2 Corinthians 9:12
For the administration of this service not only supplieth the want of the saints, but is abundant also by many thanksgivings unto God;
8. Psalm 116:17
I will offer to thee the sacrifice of thanksgiving, and will call upon the name of the LORD.
9. Revelation 7:12
Saying, Amen: Blessing, and glory, and wisdom, and thanksgiving, and honour, and power, and might, be unto our God for ever and ever. Amen.
10. Psalm 103:2
Bless the LORD, O my soul, and forget not all his benefits:
11. 1 Timothy 4:5
For it is sanctified by the word of God and prayer.
12. Ephesians 1:16
Cease not to give thanks for you, making mention of you in my prayers;
13. 2 Corinthians 9:11
Being enriched in every thing to all bountifulness, which causeth through us thanksgiving to God.
14. Colossians 3:15
And let the peace of God rule in your hearts, to the which also ye are called in one body; and be ye thankful.
15. Psalm 50:14
Offer unto God thanksgiving; and pay thy vows unto the most High:
16. Daniel 2:23
I thank thee, and praise thee, O thou God of my fathers, who hast given me wisdom and might, and hast made known unto me now what we desired of thee: for thou hast now made known unto us the king's matter.
17. Jeremiah 30:19
And out of them shall proceed thanksgiving and the voice of them that make merry: and I will multiply them, and they shall not be few; I will also glorify them, and they shall not be small.
18. Jonah 2:9
But I will sacrifice unto thee with the voice of thanksgiving; I will pay that that I have vowed. Salvation is of the LORD.
19. Deuteronomy 8:10
When thou hast eaten and art full, then thou shalt bless the LORD thy God for the good land which he hath given thee.
20. Philippians 1:3
I thank my God upon every remembrance of you,
21. Psalm 100:4
Enter into his gates with thanksgiving, and into his courts with praise: be thankful unto him, and bless his name.
22. Daniel 2:20
Daniel answered and said, Blessed be the name of God for ever and ever: for wisdom and might are his:
23. Psalm 135:21
Blessed be the LORD out of Zion, which dwelleth at Jerusalem. Praise ye the LORD.
24. Psalm 95:2
Let us come before his presence with thanksgiving, and make a joyful noise unto him with psalms.
25. Colossians 3:16
Let the word of Christ dwell in you richly in all wisdom; teaching and admonishing one another in psalms and hymns and spiritual songs, singing with grace in your hearts to the Lord.
26. Ephesians 5:20
Giving thanks always for all things unto God and the Father in the name of our Lord Jesus Christ;
27. 2 Corinthians 9:15
Thanks be unto God for his unspeakable gift.
28. Psalm 26:7
That I may publish with the voice of thanksgiving, and tell of all thy wondrous works.
29. 1 Thessalonians 5:18
In every thing give thanks: for this is the will of God in Christ Jesus concerning you.
30. Psalm 144:15
Happy is that people, that is in such a case: yea, happy is that people, whose God is the LORD.
Online courses recommended for you:
Books recommended for you:
* As an Amazon Associate I earn from qualifying purchases.
ALSO READ: