I think that the 12 categories in Lifebook matter more than ever today. I'm so happy to be part of the Lifebook group and it all started with the Lifebook Online quest. It is a quest on Mindvalley where you write your own Lifebook based on 12 categories.
That's a simplified explanation of the quest, but it really is what it boils down to. It helps you get clear on who you are and what you want out of life in 12 categories. I took it over two years ago, and it's always interesting to see how new students react to the course and how it impacts their life.
This is especially true since the pandemic started. I'm really interested to see how the new students feel along the way and what they get out of it during this time.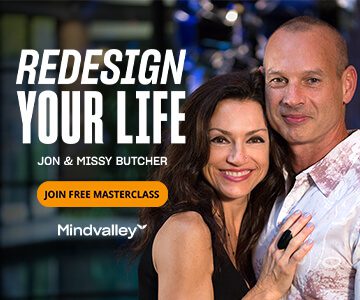 Personally, I've been digging into the 12 categories of my Lifebook quite a bit throughout this time. My life is different than it was at the beginning of 2020 – it's different than it was even a few months ago! And I think that a lot of things are going to be different for me after the pandemic levels out.
Plus, I'm in a different headspace than I was a few months ago. For instance, my emotions are different. I think that going through such a big upheaval in life has made me realize that I can handle stuff – even bad stuff – so there's no reason to get so worked up about anything anymore.
I consistently want to dig into Lifebook's 12 categories and see how my beliefs have shifted around certain areas of my life because of it and decide what I want now for the future in my Lifebook.
Digging Into Lifebook's 12 Categories Can Help You Figure Things Out During This Different Time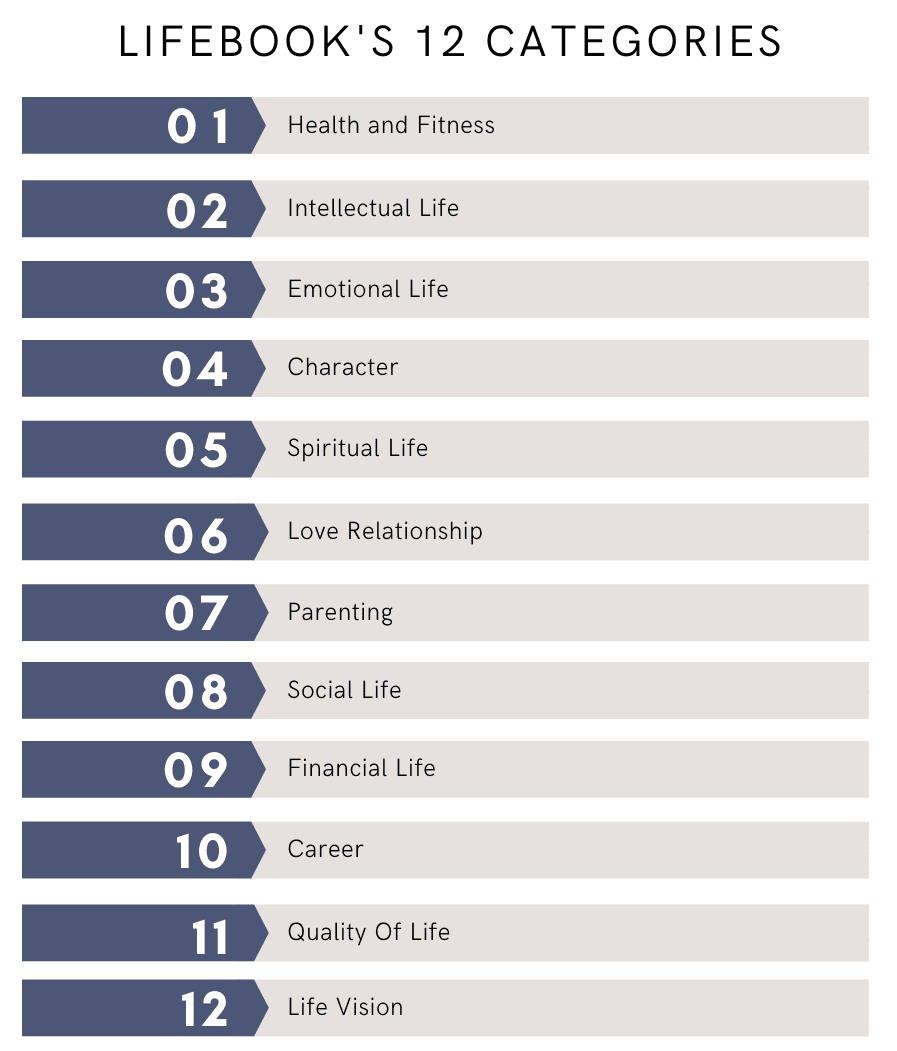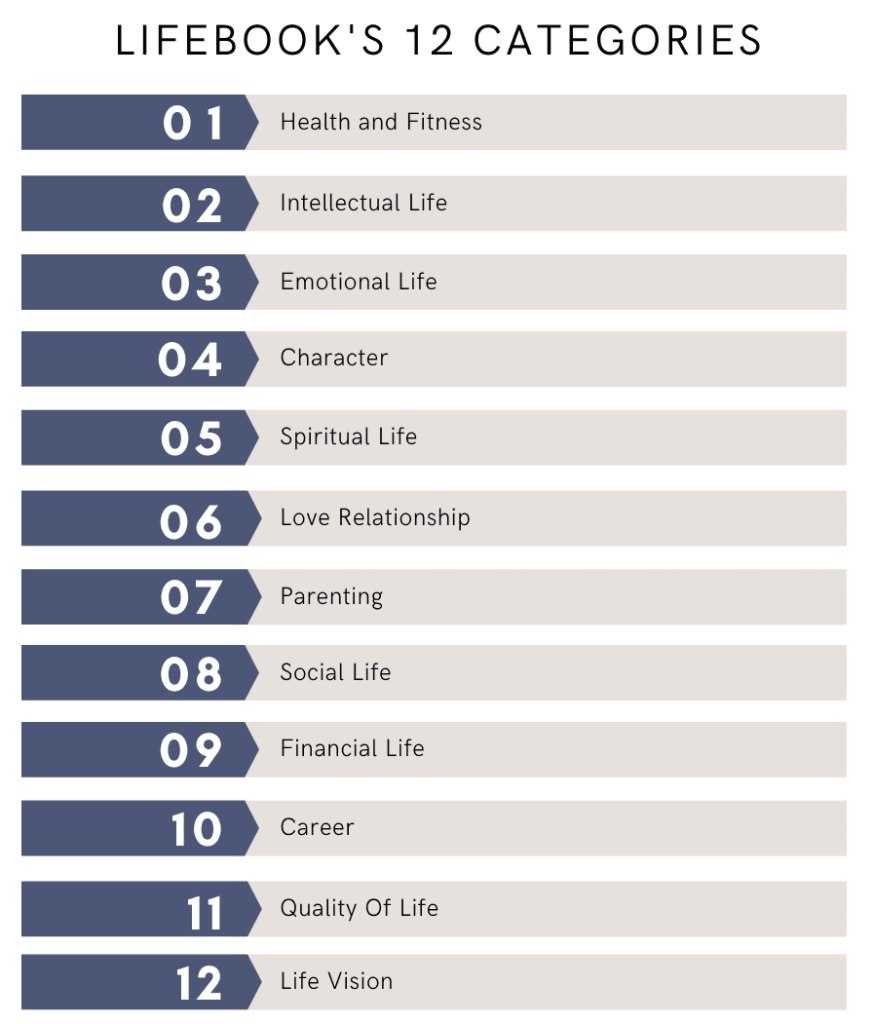 If there was ever a time I recommend taking Lifebook and figuring out the Lifebook 12 categories, it would be now. I think a lot of people have had their lives shifted in one way or the other and may not know where to go right now, which is why the Lifebook quest can be so valuable.
Exploring the 12 categories in Lifebook can help them get on track to something new, something they want, and something that gets them excited and motivated to work through this time in the most productive ways possible.
For instance, some questions I can think of in the 12 categories of Lifebook include:
Health and Fitness – How do you keep yourself healthy during COVID-19?
Intellectual Life – What do I want to become an expert in going forward so I can keep myself going in all areas of life?
Emotional Life – How do I keep myself happy with all the negative news? How do I let go of fear and grasp onto hope as I move forward in my life?
Character – How do I maintain a sense of respect and dignity during a time when I might be getting let go from my job or dealing with other negative things?
Spiritual Life – How do I maintain faith that there is something more than just disease and negative news?
Love relationship – How do I deal with a new dynamic in my relationship? How do I go about dating and finding love in a world where social distancing is a thing?
Parenting – How can I make the most of this time with my kids? What can I do today to help my kids have a better tomorrow? How can I lead by example with social distancing and practicing good behavior?
Social life – How do I stay connected with friends? How do I deal with friends who are crumbling and falling apart during this time? How do I help my friends understand that social distancing is necessary?
Financial Life – How am I going to afford the next few months? What can I do today to help me bring in more money for the next year? How can I protect myself financially if something like this happens again?
Career – How can I use this time to create a new career path?
Quality of life – How can I be most fulfilled in this world?
Life Vision – Where do I see myself in this new world?
These are all questions that are important to me. Jon and Missy and Lifebook will help you think of so many more that are applicable to you on a personal level. As you go through the 12 categories in Lifebook, Jon helps you see the possibilities, the limitations, and gives you the tools to come up with what matters most to you.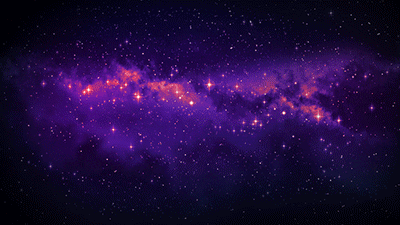 In short, if you are going to take one course, I recommend Lifebook so you can dig into Lifebook's 12 categories of your life and get clear on what you want most right now.
Jon and Missy Butcher go over the 12 categories of Lifebook in their free masterclass here. They discuss what each category is about and how it affects your life, including insight into their lives and the 12 categories. You will definitely have a better understanding of the 12 categories and how to use the 11 other categories to discover your life vision. You'll learn questions to ask yourself to figure out what you really want. In short, it's a very deep class that can help will shift some of your thoughts and possibly your entire life.
If you want to learn more about Lifebook, you can read my Lifebook Online review here.