Anxiety and stress are being felt by almost all of us right now. We all know the reasons that we share – politics, pandemic, and uncertainty – and then we have our individual reasons that have to do with our personal lives and relationships. Anxiety and stress are killers of happiness, health, and relationships, and if you are feeling them, you got to do something about it. That's where Paul Mckenna's quest called Everyday Bliss comes in. The renowned hypnotist has created a course full of techniques to help you fight anxiety and stress in your life, no matter where it's stemming from. Here are some things to know about Paul Mckenna's Everyday Bliss course.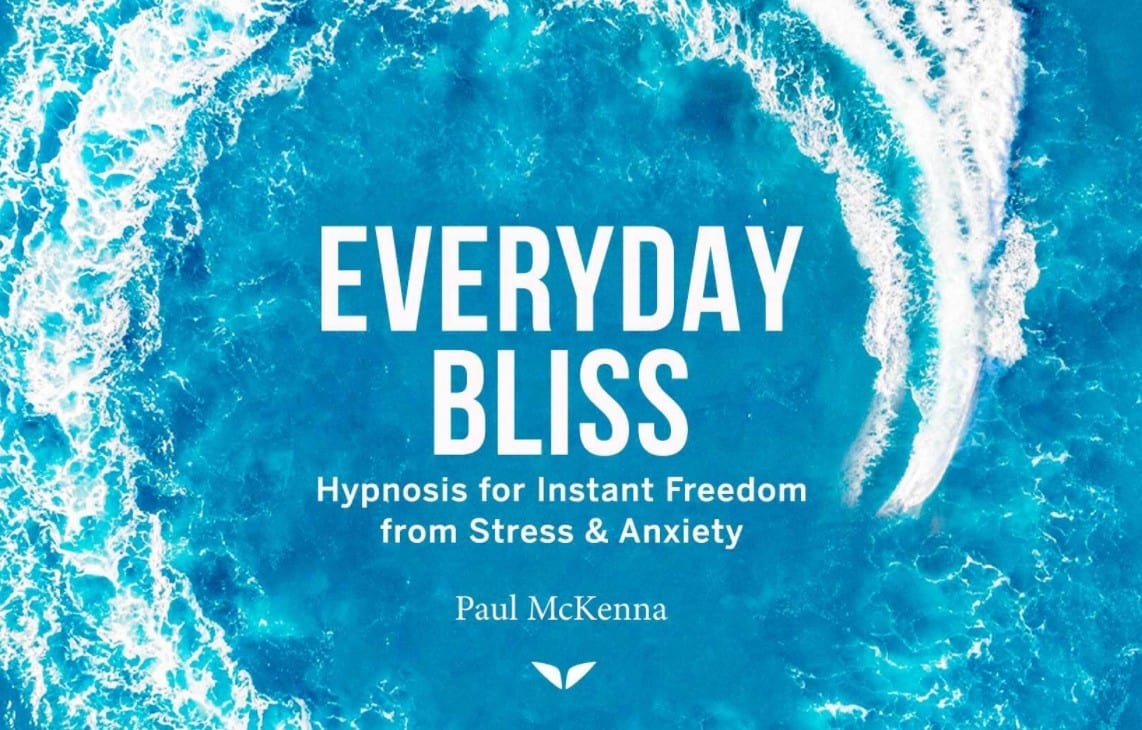 1. Everyday Bliss Uses Proven Techniques
Paul McKenna is teaching stress-busting techniques that are meant to help you retrain your mind to be more resilient.
Using hypnosis, NLP, and photosensory techniques, you will find yourself feeling happier, more confident, healthier, and more creative.
Paul McKenna says at the start of Everyday Bliss that not only will you transform the way you deal with stress and anxiety, your entire life is going to be transformed. This is so true. You are going to have a tool kit to help you fight stress, anxiety, and worry in any situation.
2. There's a Relaxing Stress-Busting Hypnotic Trance
Everyday Bliss is 21 days long, and on 19 of those days, you get different techniques to help you combat stress, worry, and anxiety. But, for the entire quest, you will be listening to the hypnotic trance audio every single day. That's 21 days of listening to a deeply relaxing audio where you will feel a sense of calm and well-being.
Not only does the hypnotic trance give you 23 minutes a day of pure relaxation, but the hypnotic session is also meant to reinforce all the positive changes you are trying to make through the quest at an unconscious level.
How will you feel after listening to this trance?
Some people say that they feel peaceful when they are done the hypnotic trance.
Some people easy they have been sleeping better and accredit it to the hypnotic trance.
Most people say they feel relaxed, refreshed, and positive after listening to the hypnotic trances.
3. There Are Relaxation Exercises That You Can Use Anywhere
Some techniques that Paul McKenna teaches in Everyday Bliss may feel too silly to do in public, but he includes techniques to help you relax no matter where you are whenever you want or need to. Whether you are going to bed, in a tense situation, or just need to take some time to chill out, you will learn how to do that in this course.
4. There Are Techniques To Reduce Your Stress
In Everyday Bliss, you are going to learn how to reduce the intensity of an emotion or feeling and reduce stress chemicals in your body. Paul McKenna teaches you how to reset the way your brain responds to stress.
You may not realize how much stress you have right now as some stress can go unnoticed for a while. Paul McKenna says that if you find yourself in a bad mood, losing your sense of humor, making silly mistakes, or getting headaches, then you are likely dealing with stress and anxiety in your life.
The problem is that most people let that background stress affect their health in a big way before they go out and get help. With Everyday Bliss, you will be tackling the stress you currently have and reducing future stressors from coming into your life so that, if it hasn't already, you can stop it before it does major damage to your health.
If it's already affected your health, then it's important to eliminate it now and as much as possible in the future, so your body can get a reset.
You are going to learn how to reactive your body's natural stress reduction system and control your stress in a way that will benefit you now and in the future.
5. Everyday Bliss Can Help You Deal With Your Inner Voice
If you are struggling with your inner critic, then Everyday Bliss can help with that too. We are often tougher on ourselves than we are on our worst enemies, and that's not a good thing.
There is one exercise inside Everyday Bliss that helps you deal with your inner voice in a very creative way. You will find yourself distancing yourself from that inner voice instead of listening to it and it won't be able to beat you up and hold you back anymore.
6. How To Stop Worrying And Start Solving Problems
Worrying is the worst thing you can do in life. It gets you nowhere and keeps you in a negative state. It's like running on a hamster wheel… you are going to be tired and stressed out, but no matter how hard you try, you are not going to go anywhere.
Paul McKenna teaches how to deal with worry and move forward to solutions. You will learn how to solve problems and bust worry when it starts.
Interested in reducing your stress and anxiety with Paul McKenna? You can take the free masterclass here to learn more about Paul McKenna and what he can help you do.
Or, you can learn more about the course and sign up for the next intake of the course here.