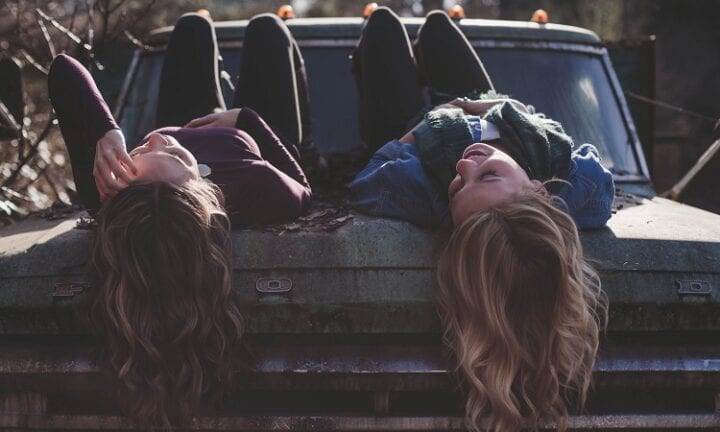 Life has a magical way of introducing us to special people who will not only make a huge difference in our everyday existence but will also help us go through the most challenging times that reality has to offer. We call these people friends and perhaps they are the closest thing we have to an ideal relationship that only a few are fortunate to be a part of.
However, life being unpredictable leads us to different paths and life-changing decisions that can sometimes alter our course. This sudden reroute can mean moving to a new city, leaving people behind or even breaking the strongest of friendships because of something inevitable.
If you've ever lost a friend before, you would understand how terrible it is to part ways with someone really special. Be it because of a decision, an action or the distance that kept you from keeping your promise of forever friendship, this article will help find you a way to bring that special soul back into your life.
So how can we get that second chance and rekindle a broken friendship? Read on.
1. Make the first move.
If distance or lack of time made you lose a dear friend, why not give them a call or invite them over for lunch or dinner? People who have been friends for a long time understand how making an effort makes a big difference when it comes to keeping a relationship. A text or a phone call won't hurt. Just show them that you are willing to spend time and energy just to see them again.
For instance, why don't you plan something fun or go to a restaurant you both used to love? How about a relaxing dinner or a chill evening watching movies?
2. Offer a genuine apology.
If you've lost someone important because of a mistake you've done in the past, then you already know what to do: offer a genuine and sincere apology. It can be extremely terrifying to admit your fault but it's necessary if you don't want them out of your life. You owe it to them.
Don't lose that person just because you are too afraid or too ashamed to apologize and give them the 'sorry' that they deserve. Just ask yourself this question: are you willing to sacrifice what you have and just walk out of their life because of a single mistake that they can easily forgive if you just do what you have to do?
3. Do the unpredictable.
You don't need a perfect formula or a genius plan just to win people back in your life. Just be spontaneous, do something sincere, and unpredictable. Surprise them and make them feel how important they are to you.
Plan something special and don't expect anything in return. Send them something memorable, create something that will remind them that they are loved and that they have this person who is willing to make an extra effort just to make them feel loved – the list goes on. All you have to do is to make the first step.
4. Travel together.
Go on and make that unforgettable travel plan together. Maybe time and distance made both of you grow apart and travelling can be a fun way to get to know your friend for the second time.
People change and sometimes even the best of friends can grow apart but going to a memorable place, doing new and exciting activities together can help bring back whatever you have lost along the way.
ALSO READ: 20 Signs You've Found Your Best Friend Forever
5. Talk about the old times.
No matter how long you've been apart, stories about old times never fail to bring you back to your old selves, as friends and as partners. Look at old photos, reminisce the past and bring back the most special events that you have shared together five, ten, twenty years ago.
6. Share new memories together.
The only constant thing in the world is change and even people are vulnerable to changes physically, emotionally, spiritually. This is why we are never the same person and we evolve depending on how life treats us.
Sometimes we no longer recognize our friends because of how the realities of life have transformed them into a totally different person. However, it doesn't mean that you have already lost all the pieces of that person you once knew.
7. Get to know the new them and accept it with all your heart.
Accept people for what they are and for what they have become. One thing that good friendship teaches us is how we wholeheartedly accept and love our friends no matter how much they have changed through the years.
It's important to accept them as they are, accept the new them, even if you no longer recognize the person that you once met years ago.
8. Try the fun things you used to do together.
Remember the activities that you used to do together and how they made your relationship stronger? Relive those bonding moments and savor every single moment of it. Travel together, eat at your favorite restaurants, and explore new places and experiences.
Where do you used to hang out? An old neighborhood bar? A warm and cozy diner? Remind yourselves why your friendship has survived through all those years and why it deserves a second chance.
9. Never lose them again.
Lastly and most importantly, never lose them again. We are only given one lifetime and one chance to meet people whom we can truly share the most important parts of our days with. As a person and as a friend, be there and be present in every step of their lives. Appreciate what you have and don't make the same mistakes ever again.
ALSO READ: 15 Ways to Build Strong and Lasting Friendships
It's such a rare treasure to have that someone with whom you can share the best and the worst moments of your life and you should realize how lucky you are.  However, many people fail to recognize how important it is to call someone a 'friend' until it's already too late.
Perhaps the big lesson that we can learn from here is, you have to know what you have and don't make the mistake of taking them for granted.
Photo by Greg Raines