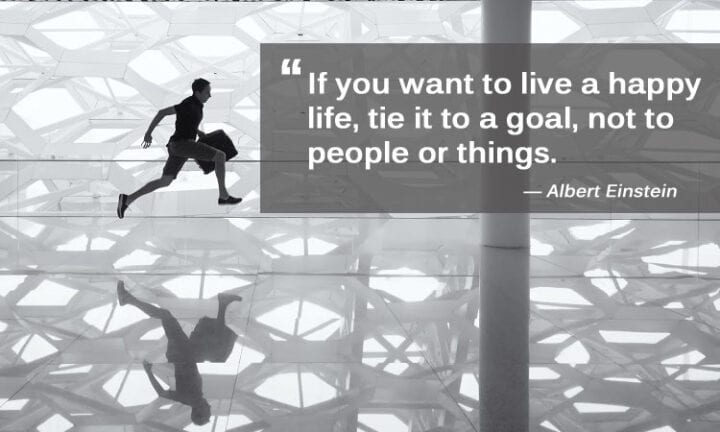 We all have goals that we're striving to achieve. Setting goals is easy but taking an action to attain it is difficult. If you're passionate about it, you'll surely find the way to get it. However, there are times when you start to lose motivation. Don't get overwhelmed and decide to walk away. Instead, find your inspiration and motivation through the powerful words of wisdom in these quotes taken from different people across time and places in this world.
1. "If you want to live a happy life, tie it to a goal, not to people or things." — Albert Einstein
2. "There is no substitute for hard work, 23 or 24 hours a day. And there is no substitute for patience and acceptance." — Cesar Chavez
3. "Plans are only good intentions unless they immediately degenerate into hard work." — Peter Drucker
4. "The road to success is not easy to navigate, but with hard work, drive and passion, it's possible to achieve the American dream." — Tommy Hilfiger
5. "Power means happiness; power means hard work and sacrifice." — Beyonce Knowles
6. "If you want to be happy, set a goal that commands your thoughts, liberates your energy and inspires your hopes." — Andrew Carnegie
7. "I think that my biggest attribute to any success that I have had is hard work. There really is no substitute for working hard." — Maria Bartiromo
8. "All who have accomplished great things have had a great aim, have fixed their gaze on a goal which was high, one which sometimes seemed impossible." — Orison Swett Marden
9. "You have to set goals that are almost out of reach. If you set a goal that is attainable without much work or thought, you are stuck with something below your true talent and potential." — Steve Garvey
10. "The trouble with not having a goal is that you can spend your life running up and down the field and never score." — Bill Copeland
11. "A goal properly set is halfway reached." — Zig Ziglar
12. "One way to keep momentum going is to have constantly greater goals." — Michael Korda
13. "If you set goals and go after them with all the determination you can muster, your gifts will take you places that will amaze you." — Les Brown
14. "Success is the progressive realization of a worthy goal or ideal." — Earl Nightingale
15. "You're always working to improve, and you're always being critiqued on your next performance. It's not about what you've done. There's always room to grow." — Misty Copeland
16. "You can do anything if you set goals. You just have to push yourself." — RJ Mitte
17. "A goal is not always meant to be reached, it often serves simply as something to aim at." — Bruce Lee
18. "Be practical as well as generous in your ideals. Keep your eyes on the stars, but remember to keep your feet on the ground." — Theodore Roosevelt
19. "Impossible is just a word thrown around by small men who find it easier to live in the world they've been given than to explore the power they have to change it. Impossible is not a fact. It's an opinion. Impossible is potential. Impossible is temporary. Impossible is nothing." — Muhammad Ali
20. "You are never too old to set a new goal or to dream a new dream." — C.S. Lewis
21. "If we have a goal and a plan, and are willing to take risks and mistakes and work as team, we can choose to do the hard thing." — Scott Kelly
22. "Everybody wants to be famous, but nobody wants to do the work. I live by that. You grind hard so you can play hard. At the end of the day, you put all the work in, and eventually it'll pay off. It could be in a year, it could be in 30 years. Eventually, your hard work will pay off." — Kevin Hart
23. "There are no secrets to success. It is the result of preparation, hard work, and learning from failure."
— Colin Powell
24. "Perseverance is the hard work you do after you get tired of doing the hard work you already did." — Newt Gingrich
25. "Talent is cheaper than table salt. What separates the talented individual from the successful one is a lot of hard work." — Stephen King
26. "Things may come to those who wait, but only the things left by those who hustle."
— Abraham Lincoln
27. "Never give up. Today is hard, tomorrow will be worse, but the day after tomorrow will be sunshine." — Jack Ma
28. "It's important to set your own goals and work hard to achieve them." — Yuichiro Miura
39. "Some failure in life is inevitable. It is impossible to live without failing at something, unless you live so cautiously that you might as well not have lived at all — in which case, you fail by default." — J.K. Rowling
30. "You should set goals beyond your reach so you always have something to live for." —Ted Turner
31. "It must be borne in mind that the tragedy of life doesn't lie in not reaching your goal. The tragedy lies in having no goals to reach." —Benjamin E. Mays
32. "The thing about goals is that living without them is a lot more fun, in the short run. It seems to me, though, that the people who get things done, who lead, who grow and who make an impact… those people have goals." — Seth Godin
33. "Life's problems wouldn't be called "hurdles" if there wasn't a way to get over them." — Author Unknown
34. "The only thing standing between you and your goal is the bullshit story you keep telling yourself as to why you can't achieve it." ― Jordan Belfort
35. "If you're bored with life — you don't get up every morning with a burning desire to do things — you don't have enough goals." — Lou Holtz
36. "Winners are losers who got up and gave it one more try." — Dennis DeYoung
37. "Focused, hard work is the real key to success. Keep your eyes on the goal, and just keep taking the next step towards completing it. If you aren't sure
which way to do something, do it both ways and see which works better." — John Carmack
38. "It's harder to stay on top than it is to make the climb. Continue to seek new goals." — Pat Summitt
39. "If something is important enough, even if the odds are against you, you should still do it." — Elon Musk
40. "You can always find a solution if you try hard enough." — Lori Greiner
41. "The question I ask myself like almost every day is, 'Am I doing the most important thing I could be doing?'" — Mark Zuckerberg
42. "Any unforeseen challenges that crop up are only there to test your resolve on your way to ultimate success in reaching your goal." — Byron Pulsifer
43. "A goal without a timeline is just a dream." — Robert Herjavec
44. "Everyone's dream can come true if you just stick to it and work hard." — Serena Williams
45. You have to be able to get up and dust yourself off and always be going forward." — Rita Moreno
46. "Instead of looking at the past, I put myself ahead twenty years and try to look at what I need to do now in order to get there then." — Diana Ross
47. "To win big, you sometimes have to take big risks." — Bill Gates
48. "One part at a time, one day at a time, we can accomplish any goal we set for ourselves." — Karen Casey
49. "Success is the progressive realization of a worthy goal or ideal." — Earl Nightingale
50. "It's hard to beat a person who never gives up." — Babe Ruth
Rekindle your enthusiasm and learn to stand up once again. I hope these 50 inspiring quotes about working hard and achieving goals inspire and motivate you to keep going even if you feel like you're about to throw in the towel.
ALSO READL: 40 Inspiring Quotes about Success
Photo by Andy Beales