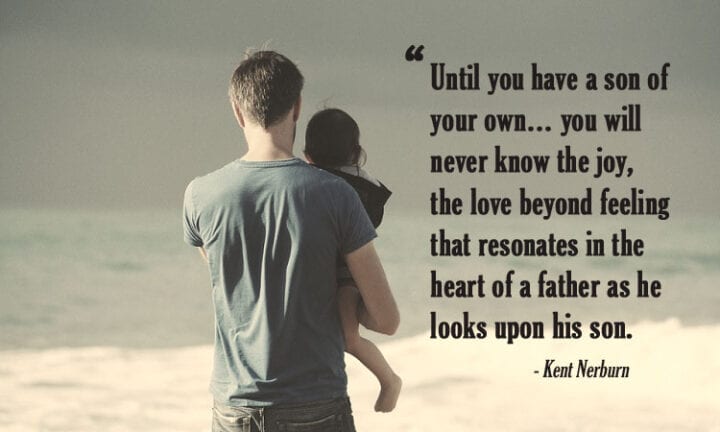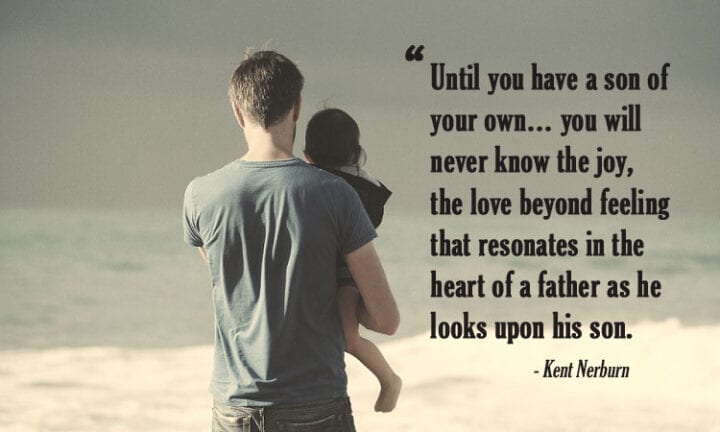 There are real-life superheroes living among us and it's not that difficult to meet one every day since unlike the powerful superhumans that we often watch and read about, these special individuals are not afraid to reveal their identity. In fact, he may be just sitting beside you right now, drinking his coffee, sitting by the porch reading the daily paper, or cleaning his car in the garage.
So who is this superman, this unsung hero of our everyday life? You guessed that right: our father, papa, dad, daddy, pop, whatever you call these extraordinary individuals. They may have different names but they all have one special power: a super strength to be your rock and your refuge in good times and bad times.
To celebrate Father's Day, we have collected some of the best inspiring quotes and most encouraging thoughts that will surely remind you that you are one lucky soul to have someone you can call a father.
1. On acceptance. No matter who we have become, our dad will always accept us even if he doesn't know how to show it. There may be several aspects of ourselves that can never be understood by our parents but fathers, with a caring heart, will find all the love to respect it.
"There will always be a few people who have the courage to love what is untamed inside us. One of those men is my father." ― Alison Lohman as Katie McLoughlin in Flicka 2006
2. A father's love. Just like how extraordinary a mother's love is, a father's love is one of the most unique things in the world. They may not be as expressive or as emotional but they have their ways of showing you how happy and joyful their heart is every time you're around.
"Until you have a son of your own… you will never know the joy, the love beyond feeling that resonates in the heart of a father as he looks upon his son." ― Kent Nerburn
3. Embracing fatherhood. Every role that an individual plays in life and the people they meet along the way contribute to their overall perception of the world. For a dad, fatherhood can be a life-changing experience. It sure can be challenging to have people depend on you but at the same time, it can be a source of pride and inspiration.
"Being a father has been, without a doubt, my greatest source of achievement, pride and inspiration. Fatherhood has taught me about unconditional love, reinforced the importance of giving back and taught me how to be a better person." ― Naveen Jain
4. When words aren't enough. Our dads may not say it all the time (or not at all) but they also feel afraid and hurt. He doesn't rely on words to emotionally express himself but he has this unique ability to show us beyond words how he feels and how he would do everything to protect us. Without words, we know that with his strength, we are safe and loved.
"A father's tears and fears are unseen, his love is unexpressed, but his care and protection remains as a pillar of strength throughout our lives."― Ama H. Vanniarachchy
5. On courage and optimism. Our father plays an important role in the family not only as a provider but also as a decision-maker. Life can be hard sometimes but we can learn a lot from the courage and optimism from our old man especially at times when we need them the most.
"One of the greatest gifts my father gave me – unintentionally – was witnessing the courage with which he bore adversity. We had a bit of a roller-coaster life with some really challenging financial periods. He was always unshaken, completely tranquil, the same ebullient, laughing, jovial man." ― Ben Okri
6. Defining fatherhood. It is easy to be a father but the real challenge is in trying to act like one. How do we define a good father? Is it about their patience? Their commitment? Their love? We all have our own answers and recognizing them is one way to show our dads how thankful we are for their existence.
"Real fatherhood means love and commitment and sacrifice and a willingness to share responsibility and not walking away from one's children." ― William Bennett
7. The best job in the world. Fatherhood is the best occupation in the world that will give you a lifetime of incentives and bonuses in the form of tiny bundles of joys from the people that you love the most.
"Fatherhood will put a man through a lot, but it's a tremendous job, the best in the world – even better than playing basketball." ― Derek Fisher
8. Learning life's lessons. We grow up carrying the lessons that we learn from the people that we meet along the way. Our dads may not be the first person to turn to for advice but they have this clever and subtle way of teaching us things that we thought we never needed.
"I believe that what we become depends on what our fathers teach us at odd moments when they aren't trying to teach us. We are formed by little scraps of wisdom." ― Umberto Eco, Foucault's Pendulum
9. As a father and a husband. We are blessed with two people in our lives, our mom and dad and it's amazing how their love for each other can tell us something about caring for someone other than ourselves. It's wonderful how the affection that we see in our parents inspires us to be a loving and thoughtful individual.
"The greatest thing a father can do for his children is to respect the woman that gave birth to his children. It is because of her that you have the greatest treasures in your life. You may have moved on, but your children have not. If you can't be her soulmate, then at least be thoughtful. Whom your children love should always be someone that you acknowledge with kindness. Your children notice everything and will follow your example."― Shannon L. Alder, 300 Questions LDS Couples Should Ask for a More Vibrant Marriage
There are times when we don't even recognize the efforts that our dads are willing to give just for us to be happy. Ask yourself this question: what can I do to make my dad feel special not only today but every day?
ALSO READ: 12 Ways to Make Your Dad Feel Special on Father's Day
Photo by Steven Van Loy