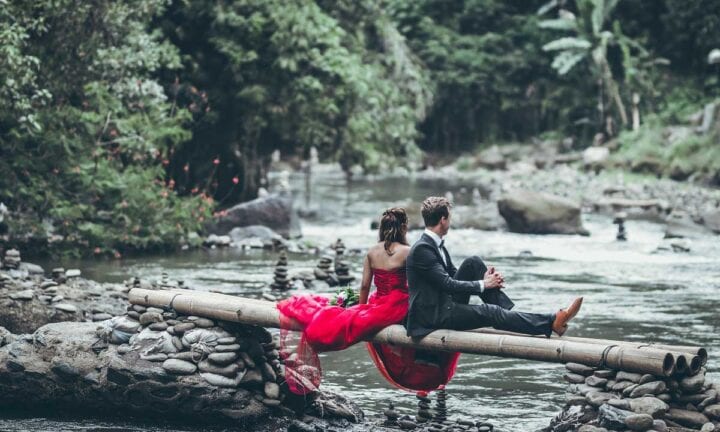 Never thought you'd get into a long-distance relationship? Well, no one would love to be in this kind of situation. It's never easy. It will only get harder. It takes a lot of courage, maturity, and patience for you to survive an LDR. However, who says it's all about suffering?
No matter how hard it is, there's still beauty behind a long-distance relationship. It's an opportunity for you and the relationship to grow. You can even keep it interesting and exciting. How? Here are 10 ways to do it:
10 Ways to Keep a Long Distance Relationship Exciting Video
Please help to  

our YouTube channel if you like our video. Let's grow together!
10 Ways to Keep a Long Distance Relationship Exciting
1. Schedule date nights.
Yes, you may be separated by time and distance, but that doesn't mean there are no more date nights. In this era where everything is just a click away, it becomes a lot easier for couples to stay connected. You can always schedule your virtual dates. Video call with your partner. Watch your favorite movies on Netflix together. Order your favorite nuggets or burger, and eat them at the same time. Lit some candles, buy your favorite wine, and enjoy your date. Sure, it's unconventional yet beautiful.
2. Play games together.
You may think you can only do so much in a long-distance relationship. Truth is, you only have to use your resources to make it more fun and exciting. Why don't you play some games together? Enjoy playing your favorite board game. Compete with each other over an online game. Doing interactive activities will help keep the excitement and strengthen your bond as a couple.
3. Send love letters.
Sure, you can always video call each other, but nothing beats a written love letter that comes from the heart. It will always be romantic to receive a collection of those love notes. It shows a different kind of effort, sincerity, and sweetness. It also proves how precious your partner is to you that you want to immortalize your memories together. So,  if you haven't done it yet, start surprising your partner by channeling that inner poet in you.
ALSO READ: 11 Ways to Show Love in a Long Distance Relationship
4. Pay a surprise visit.
Even the strongest relationships fail because of distance. That's why it's very important for you to see each other every once in a while. Plan a surprise visit. It can be on his/her birthday, on your anniversary, or on any day. Truth is, you don't really need a special occasion just to see him/her. The goal is for your partner to realize that you will move mountains just to be in each other's arms again.
5. Send more surprises.
If you're miles and miles away from each other, it can get really costly to visit each other. However, there are still a lot of ways to pull off a surprise for your partner. What about sending him/her a customized shirt, a mug, a concert ticket, or anything that is valuable to you both? What about sending him/her favorite food? Ask his/her friends to do you a little favor to make the surprise success. You don't really have to spend much; you just have to be creative and genuine. After all, it's your sweet little gestures that will melt his/her heart away.
6. Get clingy.
Keeping the fire burning is a real challenge in an LDR, but this doesn't mean there's no chance for intimacy anymore. In fact, you can still get as clingy as you want, thanks to technology. Exchange flirty messages. Send sexy pictures. Be creative and naughty enough to tease your partner and make him/her want you more. All the teasing will be worth it when you finally get to see each other again.
7. Laugh at old pictures together.
While you're still not together, you can make use of your old moments together. Get those throwback pictures and remind yourselves how beautiful and crazy your love story is. Reminisce how you guys started and how your love blossomed. Doing this is not to frustrate over the fact that you're not together now. Rather, it's to remind you that you can survive this, and one day, you'll be able to laugh together again and make more fun memories.
8. Keep a ritual.
While surprises are usually the best, keeping a ritual is also helpful as it gives you something to look forward to. This is also another way of affirming your commitment to each other. For instance, make it a habit to chat with each other if you're already at work or at home. Make sure you give each other a good night kiss before going to sleep. Or, make it a habit to send pictures of the silliest things you do each day. Doing these things will make each other feel that you're not missing out on each other's lives.
9. Plan your next adventures.
This is very crucial in a long-distance relationship. The idea that you won't be seeing each other in a long time will drive you crazy. It will make you feel impatient. You might even lose hope. That's why it's important to always have something to look forward to. Plan your next adventures. List all the things that you will be doing. Knowing that one day, you will be in each other's arms again will help you learn to be extra patient, and you know it'll be worth it.
ALSO READ: 10 Ways to be Patient in a Long Distance Relationship
10. Enjoy your independence.
Truth be told, there's a silver lining in a long-distance relationship. While it will always be difficult to not be together physically, you can actually use your time away from each other to improve yourself. Enjoy your independence. Do the things that you want. Get to know yourself more. Go out with your friends. Travel. Your happiness does not only depend on your partner, so explore your independence while staying committed to your partner.
No one would ever want to go through the tedious process of being in a long-distance relationship. However, one day, it may come to you without a warning. And you'd be left with no choice but to deal with it. Yes, LDR will never be ideal, but it doesn't mean it will never work. It doesn't mean it can't get interesting and exciting. Follow the tips given above, and don't just endure an LDR; learn to enjoy it.
ALSO READ: 10 Fun Ways to Overcome Boredom in Your Relationship
Online courses recommended for you: