Are you ready to take the Conqueror Challenge and walk your way into better health? If you are interested in walking and challenging yourself, then you will like the Conqueror Challenge. The Conqueror Challenges offers you a way to virtually walk all over the world without having to travel all over the world. It's essentially an app that allows you to pick between various walking challenges, including The Grand Canyon and Mount Everest, and helps you keep track of how far you've gone and how far you have left to go.
5 Reasons To Sign Up For A Conqueror Challenge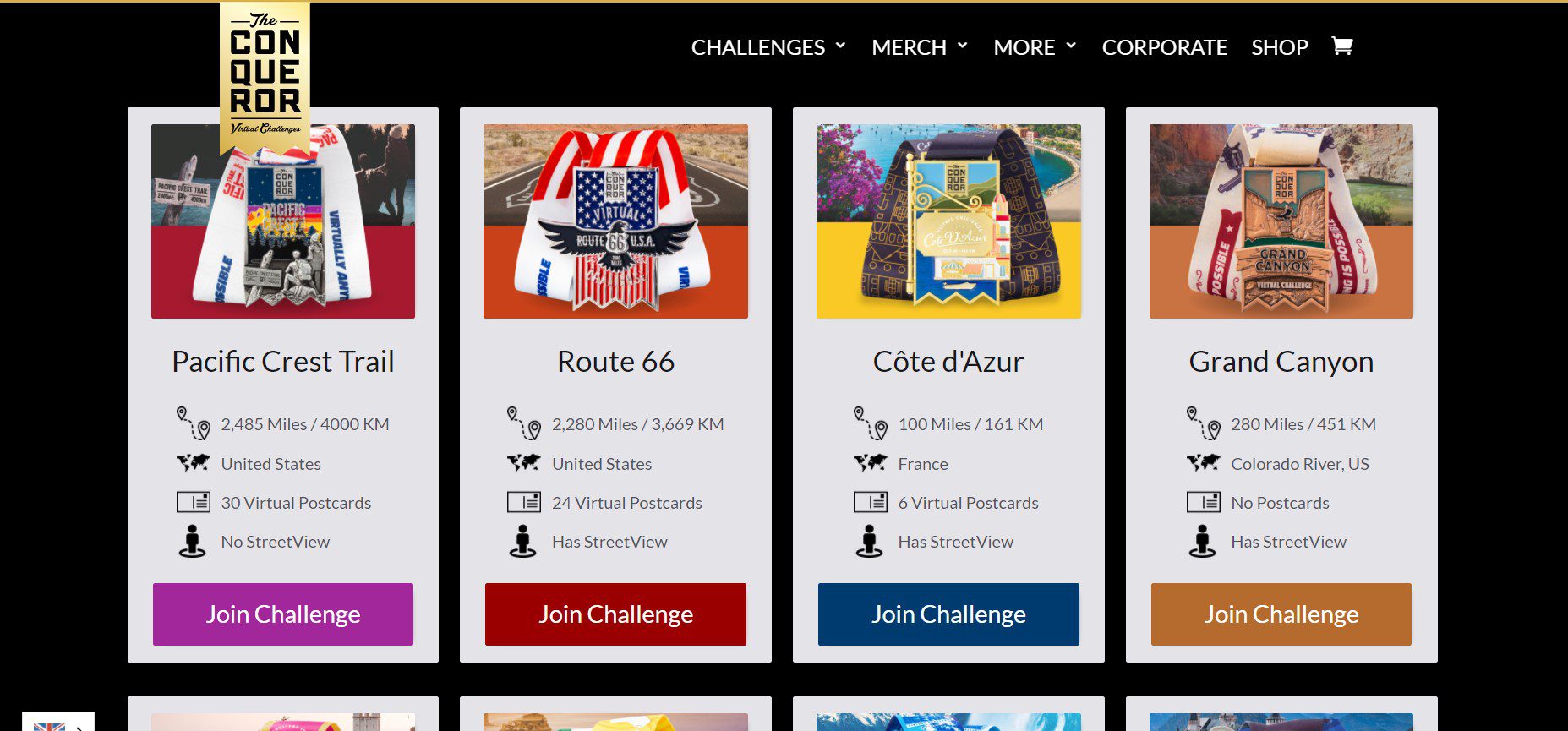 1. Walk All Over The World… Virtually
We tend to walk the same route day in and day out, but with the Conqueror Challenges, we can virtually walk anywhere in the world.
As of now, there are 33 different places you can walk, including the Length of the UK and the Appalachian Trail. In order to do that in real life, you would have to spend months in those places, which is impossible for most people.
In other words, how else can you walk all over the world?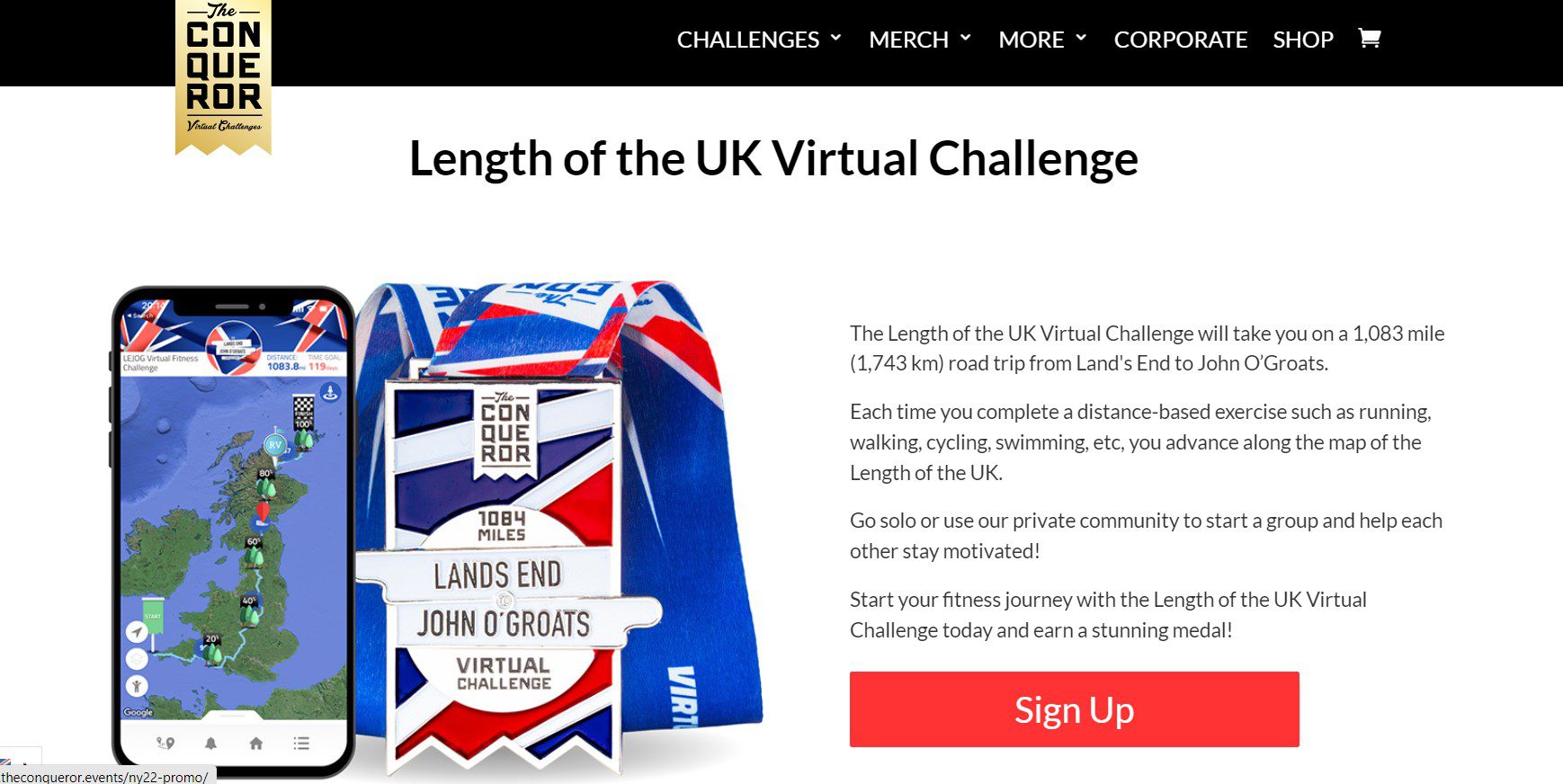 2. See Where You Are With Google Street View Integration
The Conqueror Challenge has somehow integrated Google Maps, which is awesome.
In some challenges, you have street view, where you can see every step of the way with Google Maps. You can see all the houses, people, cars, landmarks, and more you pass as you walk along the route to your destination. You can also see a marker that represents where you are.
In some challenges, though, there is no street view. However, you can still see yourself on the map and use Google view to help you see hot spots that people have posted in Google Maps.
Some people like to see every step of the way while others enjoy seeing points that others have been to off their walking path.
It's up to you. There are plenty of challenges with street view.
Here's an example of me looking around on my walk with street view.
3. Get Postcards
Along the way, you receive postcards from yourself… technically, that talk about the landmarks you experience along the way. It's a great way to learn the history of places along the route you are walking.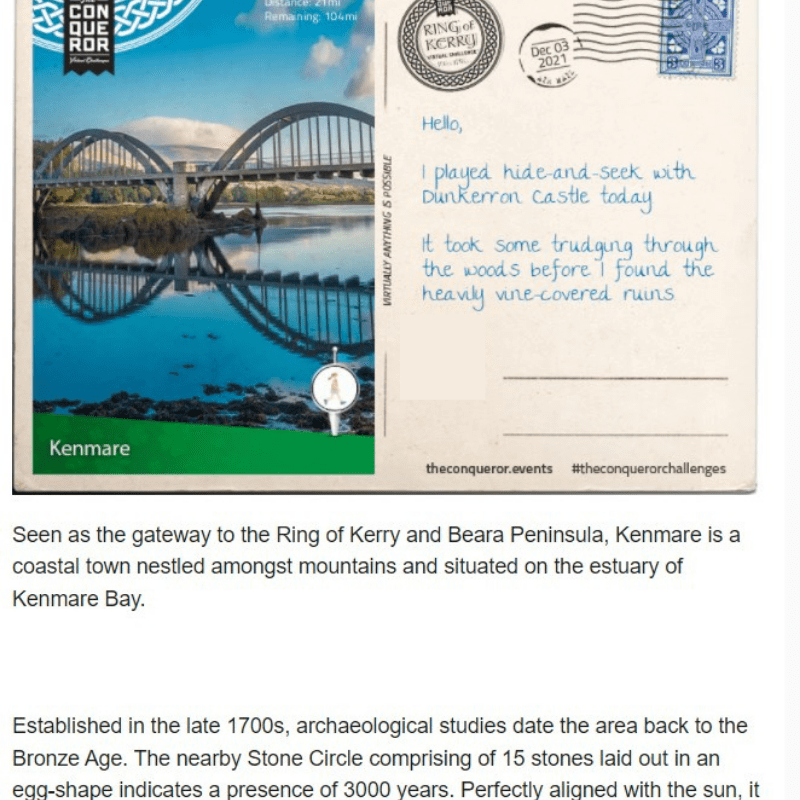 4. Receive Medals When You Finish Challenges
The Conqueror Challenge isn't just about virtually seeing how far you've gone on a challenge and when you are done a challenge. You also get medals when you complete the challenge. These medals are very unique to the challenge at hand at they are gorgeous.
Some have elements that move or come off and reattach magnetically. Some have designs on the front and back. And some have one design on the front that is stunning.
Here is someone unboxing his Hadrian's Wall medal.
These medals add to your accomplishment and help you visually see your accomplishments as you finish each walking challenge.
5. Contribute To The Environment
Not only are you helping the environment by virtually traveling to these places, but the Conqueror Challenges helps you help the environment even more by accomplishing goals along your challenge.
When you reach 20%, 40%, 60%. 80%. and 100%, you can help the environment by planting a tree or stopping ocean plastic. They do this in collaboration with Eden Projects and Plastic Bank.
How To Take A Conqueror Challenge?
Easy.
View all the challenges.
Pick a challenge you want to take.
Join the challenge.
Download the app.
Choose how long you want to do your challenge.
Connect your tracking device for automatic postings to the Conqueror Challenge. Or you can enter your distance manually.
Start walking.
A Few Other Things To Note
There are a few things to note about the Conqueror Challenge.
Who You View On The Map
You can view just yourself on the path or all the other people walking. If you view all the other people walking, it can look quite crowded on the trail, but it can also indicate how well other people are doing compared to you. For example, take a look at the next screenshot where all the people are on the map with me.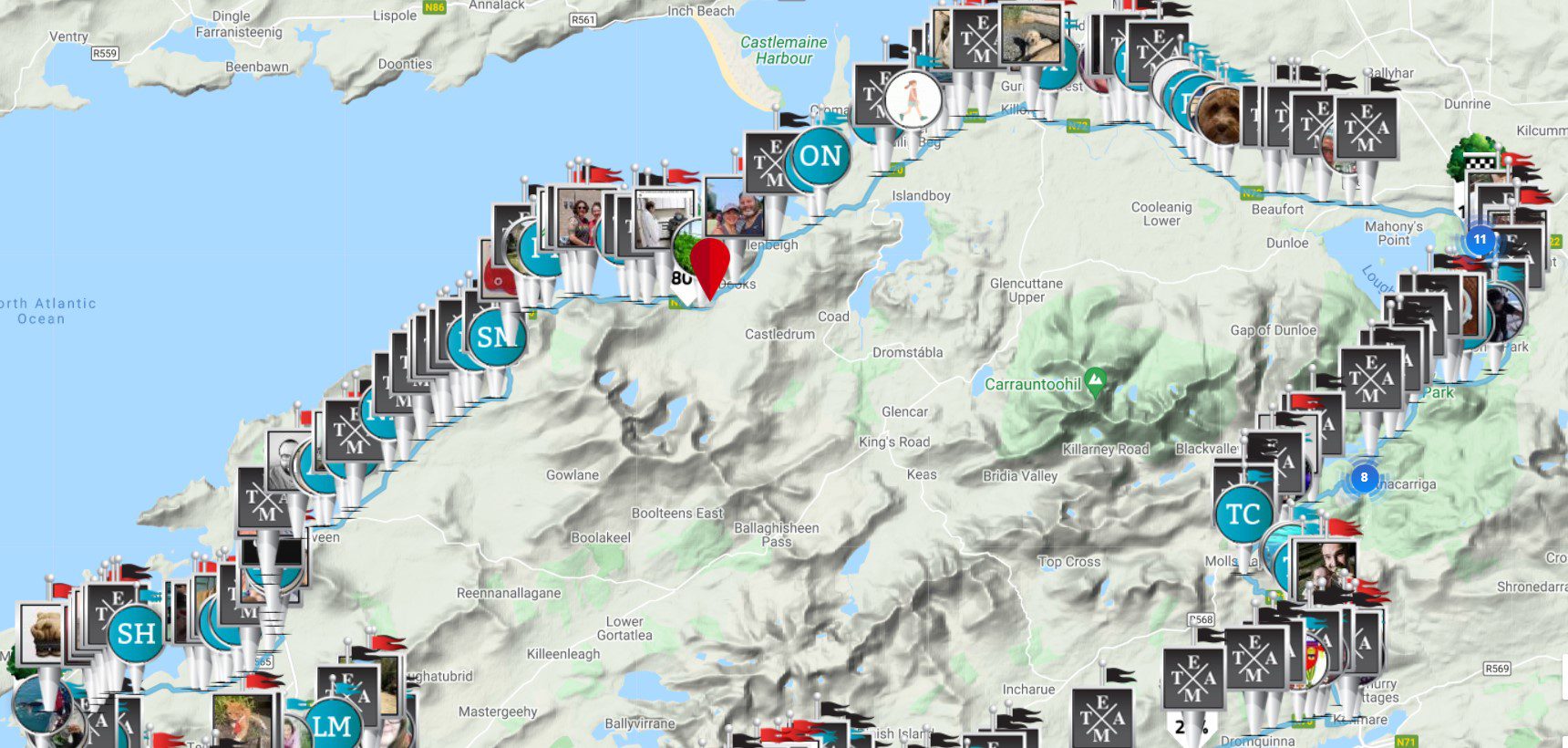 I can zoom in and get an idea of who is next to me if I want. And, if the challenge has a street view, you can virtually see where other people are on the map when you put it into street view. For instance, here is someone called DT who is not too far away from me. It's kind of trippy to see.

And then here is a map with just myself.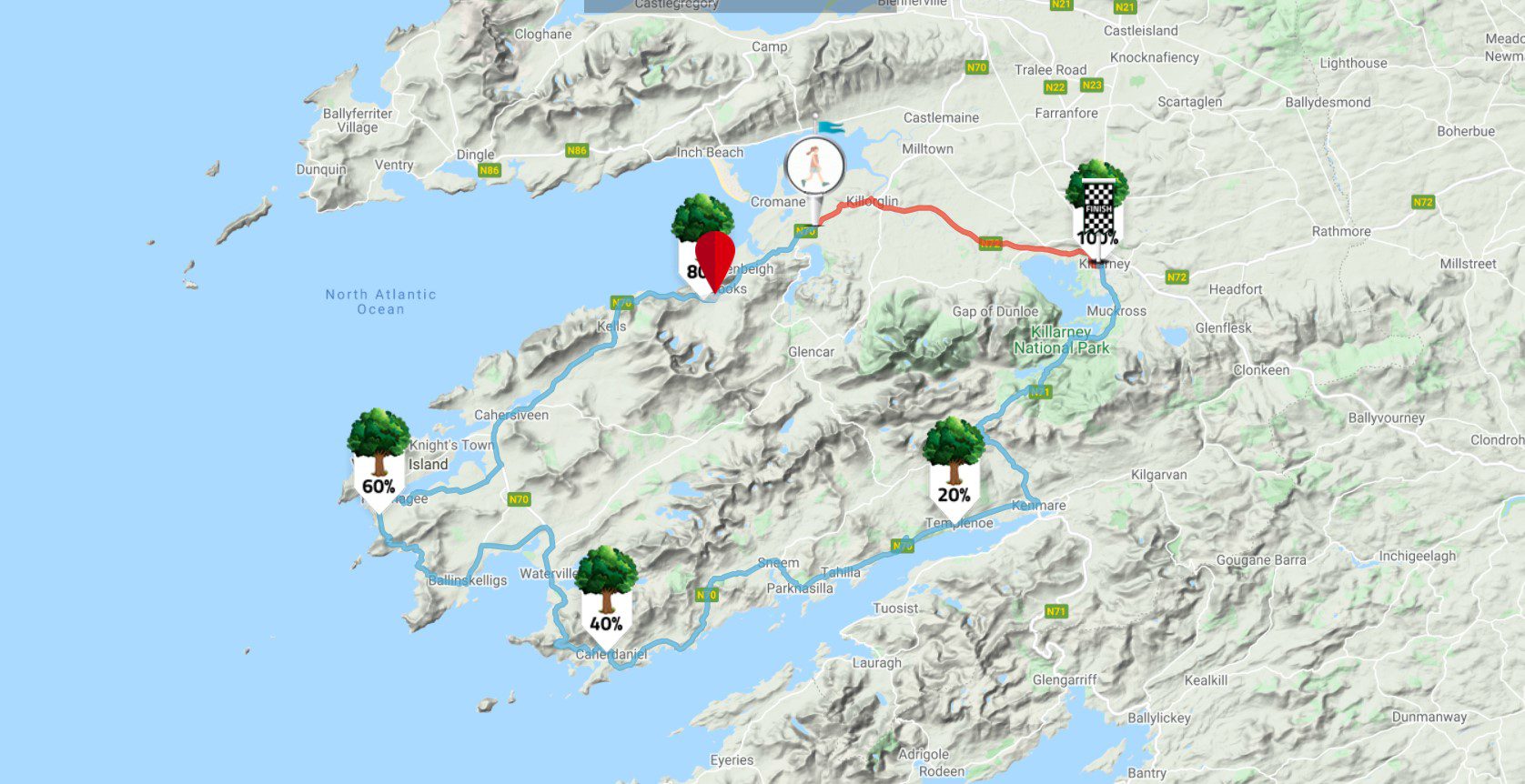 You Can Do More Than One Challenge At One Time
I don't really understand why you would want to, but you can do more than one challenge at one time. Some people do this and maybe I'm missing out on why it would benefit you.
As far as I'm concerned, one challenge at a time is most beneficial.
You Can Do The Conqueror Challenge In Teams
This is not something I would want to do, but maybe you would like to create a team. Apparently, you can work together to finish a challenge. I suppose this might be fun if you are out as a family and want to challenge everyone to walk as much as possible. But, I like my challenges to be with just me.
In fact, I have a friend who wants to do a challenge with me and that sounds horrible. She walks most of her day whereas I don't, which is why I need the Conqueror Challenge to motivate me and ensure I have a reason to get off my computer and get up. She would be done the challenge before I got 40% through, and while she might feel good about that, I wouldn't.