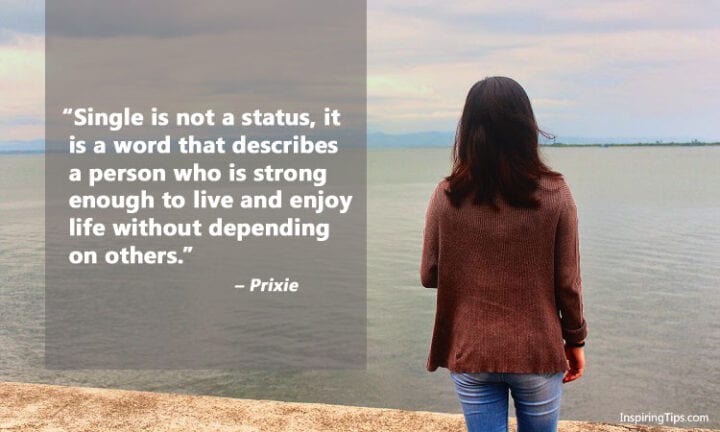 You may not be perfect but God is and he makes no mistakes. You are a beautiful creation of what He intended when He created you. Embrace your imperfections.  Be proud of who you are. You are single not by chance but by choice. Ladies! Let these inspiring quotes for singles be a reminder that you are undoubtedly beautiful, just the way you are.
1. "Single is not a status, it is a word that describes a person who is strong enough to live and enjoy life without depending on others." – Prixie
2. "A busy, vibrant, goal-oriented woman is so much more attractive than a woman who waits around for a man to validate her existence."  – Mandy Hale, The Single Woman: Life, Love, and a Dash of Sass
3. "There are some places in life where you can only go alone. Embrace the beauty of your solo journey." – Mandy Hale, The Single Woman: Life, Love, and a Dash of Sass
4. "They don't have the power to ruin you beautiful, the power is in your hands." – Pierre Jeanty
5. "Happily Single" is recognizing that you don't need or want to be rescued from your life by a handsome prince because your life is pretty awesome, as is." – Mandy Hale, The Single Woman: Life, Love, and a Dash of Sass
6. "A woman should be like a single flower, not a whole bouquet." -Anna Held
7. "You do not need to be loved, not at the cost of yourself. The single relationship that is truly central and crucial in a life is the relationship to the self. Of all the people you will know in a lifetime, you are the only one you will never lose." – Jo Coudert
8. "Some people think it's wrong, being single isn't right. But you hurt the right person you'll be wrong all your life." – Tyga
9. "That we find a crystal or a poppy beautiful means that we are less alone, that we are more deeply inserted into existence than the course of a single life would lead us to believe." – John Berger
10. "Hope for love, pray for love, wish for love, dream for love…but don't put your life on hold waiting for love."  – Mandy Hale, The Single Woman: Life, Love, and a Dash of Sass
11. "Look at you. You've stitched your life so perfectly together. You've worked so damn hard to get to where you are, and now have everything you ever wanted. So why do you keep looking back at the one thing that can undo it all? – Lang Leav
12. "Single is no longer a lack of options – but a choice. A choice to refuse to let your life be defined by your relationship status but to live every day Happily and let your Ever After work itself out." – Mandy Hale
13. "The beauty of a woman is not in the clothes she wears, the figure that she carries, or the way she combs her hair. The beauty of a woman is seen in her eyes, because that is the doorway to her heart, the place where love resides. True beauty in a woman is reflected in her soul. It's the caring that she lovingly gives, the passion that she shows & the beauty of a woman only grows with passing years." – Audrey Hepburn
14. "Happy girls are the prettiest" – Audrey Hepburn
15. "It takes a strong person to remain single in a world that is accustomed to settling with anything just to say they have something." –unknown
16. "You deserve the world even if it means giving it to yourself." – r.h. Sin | the self-love
17. "She is single, not because she can't find a man, but because she's waiting for the right man to come along and make her feel so secure in the relationship that loving him just comes natural and easy." Mr. Amari Soul
18. "A woman with a beautiful smile is attractive, but a strong woman with a beautiful mind is addictive." – Mr. Amari Soul
19. "Be the woman you want to be, not the woman everyone else expects you to be."  – Mr. Amari Soul
20. "If you really are going to be a happy single, you have to stop treating being single as the annoying time that you pass between relationships and embrace it. Rather than focusing on what you lack, focus on what you have: You." – Natalie Lue
21. "Single lady, the man you want might not necessarily be the man you need." – Martha Macharia, Waiting for a Husband: The Godly Way
22. "Most of the times single means drama free, less stress and not settling for less, as long as we happy and healthy that's good enough." – (Ejump,2017)
23. "Still single today? No worries. Keep love in your heart, a life without it is like a sunless garden when the flowers are dead, the consciousness of loving and being loved brings a warmth and richness to life that nothing else can bring." (Ejump,2017)"
24. "When you acknowledge that there is nothing repulsive or unforgivable or shameful about yourself, it becomes easier to be that authentic person and feel like you're living a less performed life." – John Green
25. "Nothing that's worthwhile is ever easy. Remember that." – Nicholas Sparks
I hope when you wake up this morning, you looked exactly what I see when I look at you, an incredibly beautiful woman who is unique and deserving of all the love and attention that a good man has to offer.
Love yourself first and that you will always be loved.
ALSO READ:
10 Reasons Why Smart Girls Stay Single
9 Ways to Live Your Life to the Fullest While Being Single
15 Tips to Stay Happy while being Single