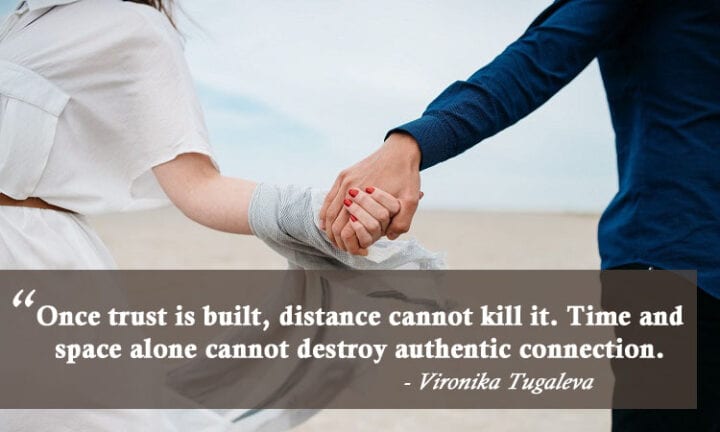 Sometimes, being away from the person we love is inevitable. It may be because of job opportunities, family issues, or even for personal growth. While people think of distance as a kind of solution to a failing relationship, others see it as a defining test of love.
Nonetheless, distance must not be treated as a barrier that can put an end to any kind of relationship. It should be seen as a challenge, not only for couples but also for individuals wanting to grow as a person and as a lover – for it will not only test the strength of your bond with someone but will also show how you respond to the challenges that life has to offer.
If you are in a long distance relationship right now or will soon face the reality of being away from the person you love, let these best quotes for couples in LDR give you strength and inspiration to look forward to better days.
1. "Once trust is built, distance cannot kill it. Time and space alone cannot destroy authentic connection." ― Vironika Tugaleva
2. "But nothing makes a room feel emptier than wanting someone in it." ― Calla Quinn, All the Time
3. "Absence makes the heart grows fonder, doesn't it?" ― Simon Van Booy
4. "How do you know if something is real? That's easy. Does it change you? Does it form you? Does it give you wings? Does it give you roots? Does it make you look back at a month ago and say, "I am a whole different person right now"? If yes, then it's real. The evidence of truth and reality, lies in how much something can touch you, can change you, even if it's from very far away. Distance is only the evidence of what can be surpassed." ―  JoyBell C.
5. "After so many years, we kept our nearness, by paying with our distance." ― Mladen Đorđević, Svetioničar – Vesnici oluje
6. "Distance has the same effect on the mind as on the eye." ― Samuel Johnson, The History of Rasselas, Prince of Abissinia
7. "Friendships – and indeed most relationships – are measured in the closeness of hearts,
minds and soul ties… not in the distance of physical miles or even the passing of time." ― Rasheed Ogunlaru
8. "Distance matters only when you fail to cover it through your mind" ― Munia Khan
9. "I don't cry because we've been separated by distance, and for a matter of years. Why? Because for as long as we share the same sky and breathe the same air, we're still together." ― Donna Lynn Hope
10. "Distance simply means separation in place but never in connections. Heart remains inseparable." ― DhelChen
11. "I am foolish in the way distance makes me feel partial." ― Taylor Patton
12. "Distance sometimes lets you know who is worth keeping, and who is worth letting go." ― Lana Del Rey
13. "I imagine a line, a white line, painted on the sand and on the ocean, from me to you." ― Jonathan Safran Foer, Everything Is Illuminated
14. "If you cannot hold me in your arms, then hold my memory in high regard.
And if I cannot be in your life, then at least let me live in your heart." ― Ranata Suzuki
15. "If you listen to the wind very carefully, you'll be able to hear me whisper my love for you." ― Andrew Davidson
16. "If you truly want to be respected by people you love, you must prove to them that you can survive without them." ― Michael Bassey Johnson, The Infinity Sign
17. "It was all I wanted for the longest time- to open my eyes and see you there. To stretch out my hand and touch the soft, yielding warmth of your skin. But now I have learned the secret of distance. Now I know being close to you was never about the proximity." ― Lang Leav, The Universe of Us
18. "It's painful, loving someone from afar.
Watching them – from the outside.
The once familiar elements of their life reduced to nothing more than occasional mentions in conversations and faces changing in photographs…..
They exist to you now as nothing more than living proof that something can still hurt you … with no contact at all." ― Ranata Suzuki
19. "It's like we've been living in two different cities. You up here in all this marbled comfort, and me down there, killing myself in slow motion." ― Garth Risk Hallberg, City on Fire
20. "It's making me so sad that you are unreachable. My desire for your touch, and your lips. It's breaking me inside. I'm so scared you are the only one i will ever love. I'm so scared because I know there is no other you." ― Salomé Steinz
21. "Maybe, I thought, it's not distance that's the problem, but how you handle it." ― Rachel Cohn, Dash & Lily's Book of Dares
22. "Missing someone can hurt. But when you know they are yours forever, negativity it helps avert." ― Trishna Damodar
23. "My heart is your home, wherever in the world you are – you will always have a place to stay." ―  Hill
24. "I believe in the immeasurable power of love; that true love can endure any circumstance and reach across any distance." ― Steve Maraboli, Unapologetically You: Reflections on Life and the Human Experience
25. "Sometimes distance was easier than acting, or explaining." ― Laura Kaye, Hearts in Darkness
26. "Sometimes the things that are felt the most are expressed between two souls over the distance and over time…where no words abide. And others may speak freely, live with one another freely, express themselves freely– just like everyone else, but then there is you… you have no words for proof of reassurance, no tokens of professed love, but you have something. Something worth keeping." ―  JoyBell C., Saint Paul Trois Chateaux: 1948
27. "Sometimes you just need to distance yourself from people. If they care, they'll notice. If they don't, you know where you stand." ― Ziad K. Abdelnour
28. "The stars up there at night are closer than you think." ― Doug Dillon
29. "The world is vast, its huge and you never know where your perfect or even comforting mate lies in this ocean of emotions and mixed world, hence one needs to explore and explore in the wild, giving it all to their fate, who knows whom we come cross, maybe 7 seven seas across who clicks us perfectly, even more perfectly than the person sitting next to you." ― Meeran W. Malik
30. "There is an ocean of silence between us… and I am drowning in it." ― Ranata Suzuki
31. "They say "Follow your heart"….
…. But I can't follow you where you're going…" ― Ranata Suzuki
32. "To love purely is to consent to distance; it is to adore the distance between ourselves and that which we love." ― Simone Weil, Gravity and Grace
33. "We were together even when we were apart."― Shannon A. Thompson, Death Before Daylight
34. "When two souls are one, they hear each other, even in silence."― Matshona Dhliwayo
35. "Your memory feels like home to me.
So whenever my mind wanders, it always finds its way back to you."― Ranata Suzuki
36. "You're too far for my hands to hold you, but too near for my heart to love you." ― Heraline
37. "The simple lack of her is more to me than others' presence."―Edward Thomas
38. "Absence sharpens love, presence strengthens it."―Thomas Fuller
39. "For anything worth having one must pay the price; and the price is always work, patience, love, self-sacrifice."―John Burroughs
40. "It's not the distance that's the enemy, but the endless time I have to wait until I hold you in my arms."―Besski Levius
41. "Just because things are not at their best right now does not mean that we should give up. Gold is tested in fire and something precious like love needs distance to be tested."―Olga Peters
42. "Waiting does not bother me, nor does the distance that is cropping up between us. All I want is a true commitment and to know that your heat will never change."―Ting Stores
43. "Some of the toughest things in this world are to really want someone and not have them around you. Those are the times when you don't know what to do. All you can do is wait."―Tamara Louis
44. "Love is missing someone whenever you're apart, but somehow feeling warm inside because you're close in heart."―Kay Knudsen
45. "No matter how far you manage to go, distance will never be able to erase those beautiful memories. There is so much goodness that we shared together."―Lucy Aims
46. "In true love the smallest distance is too great, and the greatest distance can be bridged."―Hands Nouwens
47. "And ever has it been known that love knows not its own depth until the hour of separation."―Khalil Gibran
48. "Distance makes the heart grow fonder."―Thomas Haynes Bayly
49. "Love knows not distance; it hath no continent; its eyes are for the stars."―Gilbert Parker
50. "Your absence has not taught me how to be alone; it merely has shown that when together we cast a single shadow on the wall."―Doug Fetherling
Loving someone who is miles away from you is tough. You will have to experience different kinds of emotions and deal with lots of difficulties that come with it. However, take comfort in the fact that a long distance relationship can work as long as you believe in the promises you made to each other.
ALSO READ:
8 Signs that You're Ready for a Long Distance Relationship
11 Signs of True Love in a Long Distance Relationship
10 Ways to be Happy in a Long Distance Relationship
10 Inspiring Tips for a Successful Long Distance Relationship
For more inspirational quotes, visit our list of most popular inspiring quotes.
Photo by Pablo Heimplatz