One of the challenges I think everyone should take part in is a meditation challenge. It has so many benefits that you would be doing yourself a disservice if you don't at least give it a try. But, you don't have to take my word for it. Following are 7 people who had their life affected positively because of meditation. You will find that these benefits are talked about over and over again by many different people.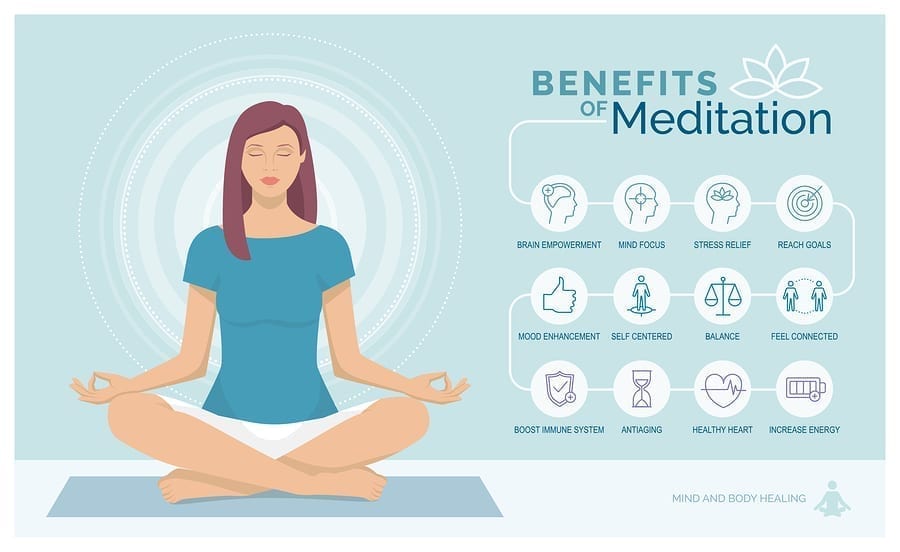 1. Getting Back On Your Feet
Jonathan Marcoschamer has a story that I know many people can relate to. He had some failed businesses under his belt and he needed to clear his mind so that he could start over. He went on a 10-day silent meditation retreat and his life was changed. In fact, he was so inspired by meditating that he ended up creating OpenSeed Meditation Pods. In short, his meditation retreat helped him get back on his feet with a killer idea.
You will find that many people talk about coming up with great ideas once they are able to get out of old patterns that are keeping them stuck, which meditation can help with. They can create new businesses, goals, and life paths once they've allowed themselves to get still and make way for some new information to come in.
2. Managing Anxiety
I've struggled for YEARS with anxiety, and I credit meditation with helping me learn to manage it. It also allows you to access creative problem-solving in a big way.  – Tom Bilyeu
Tom Bilyeu is the Co-Founder and CEO of Impact Theory, as well as the Co-Founder of Quest Nutrition.  In this article, he talks about how in a meditative state, your brain feels clear and flexible and doesn't get stuck in obsessive loops. Anyone who deals with anxiety knows that obsessive loops are the key and lock to getting into and getting stuck in anxiety.
Really, I've found that all the benefits of meditation are helpful for anxiety. Many people feel a sense a calm and focus that helps them calm down, let go of stress, and be more at peace in life.
3. Acting Calmly In The Face Of Chaos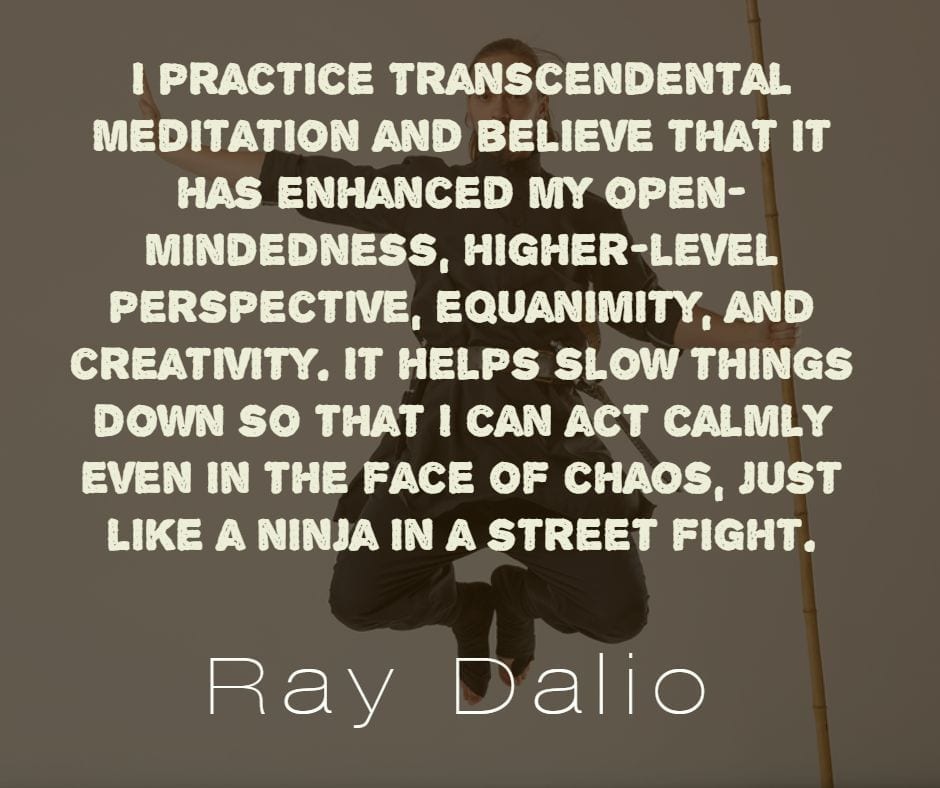 I love that thought by Ray Dalio – act calmly in the face of chaos. It's definitely something I have been striving to do consistently. I don't always do it, but I'm getting better and it feels so good when I keep my cool.
You will notice that many people who practice meditation are able to maintain a sense of calm when the going gets tough.
If you've ever been in the midst of chaos, you know that acting chaotic doesn't help anything. It adds to the chaos, but it doesn't solve problems or help you escape danger.
What is Transcendental Meditation? Following is a video introduction or you can learn more on this website.
4. Finding Success
I personally attribute a lot of my success to #meditation. In fact, the title for my book Chicken Soup for the Soul®, which has become a brand worth hundreds of millions of dollars, came to me after three days of meditation. Here's how to #meditate: https://t.co/lGDtmuXebU pic.twitter.com/otpgyryoqU

— Jack Canfield (@JackCanfield) April 27, 2019
I didn't know that Jack Canfield came up with the name for his book after meditating, but it makes sense. Meditation can help you find the answers you are looking for and, sometimes, help you find the answers you didn't know you were looking for. That makes it an important part of any success tool kit.
5. Staying In The Moment
As a performer losing yourself in the music requires a clear mind and complete focus. Meditation has helped me stay in the moment @Headspace pic.twitter.com/4fEl1yuXWq

— Paul Karmiryan (@paulkarmiryan) November 21, 2016
Paul has been on a few So You Think You Can Dance shows, in Armenia and in the USA, and he took part in Dancing with the Stars. He knows a thing or two about needing to stay in the moment.
People who practice meditation will tell you that are naturally more mindful in their everyday life. They develop a sense of stillness that helps them be more present and aware of what's going on around them.
By the way, you can check Paul out in the Headspace Commercial below where he says he meditates to go full Salsa. So cute.
6. Fighting Depression
Meditation has helped me with creativity, depression, pain management and productivity. – Adam Best
Among other things, Adam Best says that meditation has helped him with depression. This is a huge reason to practice meditation. Depression can kill productivity and success in every area of your life, and, honestly, nobody wants to live in a state of depression.
I've seen people claim their doctors recommended they try meditation to help with their depression. That's nice to see that doctors are looking at complementary approaches to treating depression. As this guy said in a reddit post, meditation taught him that he's not his thoughts, which were consuming him and sapping his energy and will to live.
Feeling depressed? Here's an article on different meditations that can help you treat depression.
7. Finding Guidance
Meditation has helped me so much in life to connect deeper to my intuition and listen to the gut feeling. – Camilla Dallerup
The judge of Dancing With The Stars New Zealand has found a really good benefit of meditation. Listening to your intuition is the key to success and happiness in life. It helps you make choices based on what you want instead of what other people want. And it helps you make the choices that will keep you on a path towards your goals and dreams.
I have taken many courses through Mindvalley, and all the teachers talk about listening to and following your intuition in one way or the other. In fact, even Mindvalley's co-founder, Vishen Lakhiani, covers intuition in his course Becoming Limitless.
In the following short video, Camilla teaches a simple meditation.
Take A Meditation Challenge!
In short, if you are going to try to incorporate something new into your life that will benefit your physical health, mental health, success, happiness, and relationships, I recommend trying out a meditation challenge.