Chances are there are some better things you want to tell yourself. Maybe you want to stop telling yourself that everything sucks. Maybe you want to talk yourself out of a fear you are having. Or maybe there's something very specific that you are telling yourself that is hurting your life in some way.
If you want to change the way you talk to yourself on any level, that's where daily positive affirmations come in. When you use them daily, you flip the script on your daily thoughts and start thinking and saying better things every day until you find your life changing in some way.
Don't Just Write Your Positive Affirmations Down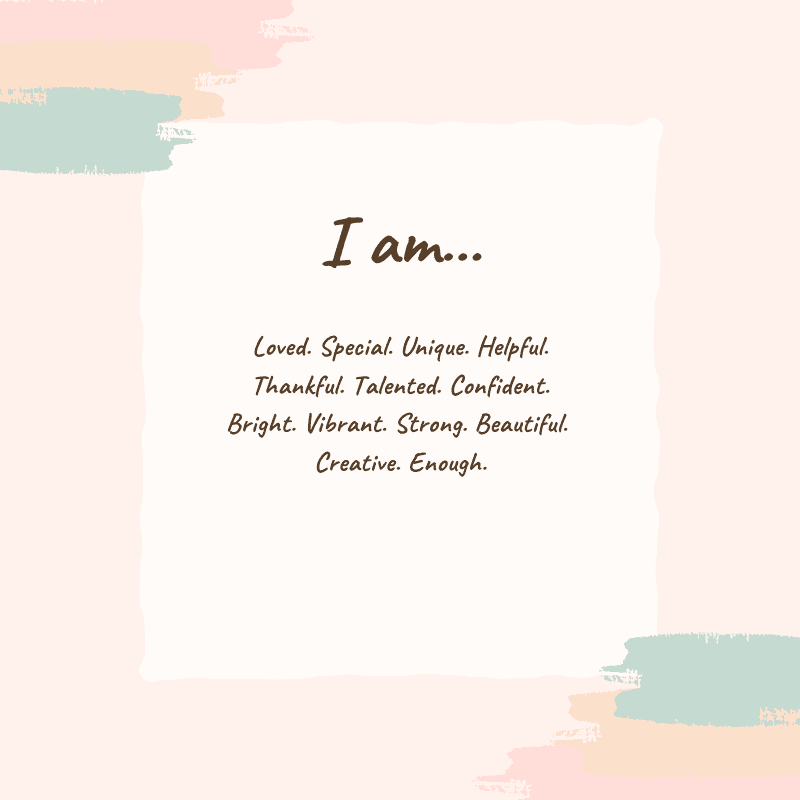 You can write down your positive affirmations and look at them daily, but that won't evoke the passion that video, pictures, and music can create.
It won't create the change in your mindset as fast as engaging with your positive affirmations will.
Emotion is the key to changing our thoughts. The more excited we are about something – or the more we feel something to our core – the more likely we are to change the way we think.
For instance, you may think that you will never find love. But, if you meet someone who makes you feel those butterflies in your stomach, your thoughts can quickly shift to better affirmations, such as 'I might find love' or 'this might be love' or 'I've found love'!
Use Canva To Give Your Daily Affirmations More Life
Recently we talked about all the ways that you can use Canva for more happiness. This is definitely one of them.
With a free or paid Canva account, you can create a daily positive affirmation slideshow with pictures, videos, animation, music, and text that will impact change much better than just looking at them on a piece of paper will.
For example, let's take the affirmations that we talked about for embracing the flow of life.
Writing them down and looking at them is fine. Especially when you know the meaning behind each affirmation as described in the article.
Here are the affirmations in that article.
My life is about moments
I stay open to change
I have a good sense of humor
I believe that things happen for a reason
I enjoy the ups and downs of life
I create order in chaos
I have daily practices that I look forward to
I am creative
I can find the positive in any situation
I accept where I am
Looking at these positive affirmations and saying them daily (or a few times a day) can help you create a shift in your mindset and embrace the flow of life.
But, when you put these affirmations with video, pictures, and sound, they become more impactful.
Here's what I did with them on Canva. I have a pro account, but I used all free options that anyone can use.
This was made using the video editor in Canva. Even with a free account, you can edit the text, videos, pictures, music, and more. And you can add as much as you want to the positive affirmation slideshow so that you can cover as many things as you want to address in your life with positive affirmations.
You can even upload your own pictures, videos, and audio to make the positive affirmations more impactful.
And, if you want, you can record your voice saying the positive affirmations rather than putting music in the video, if that makes it more impactful for you.
By the way, if you want to use this video template, you can do that for free here in Canva. If you don't have a Canva account, you can sign up for a free one and then edit anything you want in this video.
Make A Video With Your Positive Affirmations
If you don't want to use the template, you can create your own. It's so easy to make a positive affirmation slideshow with Canva.
To show you, here's a short video on how you can start when you create your account. There's no talking. I just show you how to choose a video template and add some video, pictures, and text.
Bring Your Positive Affirmations Alive With Canva
The bottom line is that the right positive affirmations can change your life. When you add video, pictures, music, and more to the affirmations that stir up emotion in you, there can be a much quicker and more dramatic change.
Canva makes it so easy to create positive affirmation boards with everything you need to stir up that emotion.
I highly recommend trying out Canva for yourself. Sign up here and see for yourself how Canva can be a tool for promoting positive change.