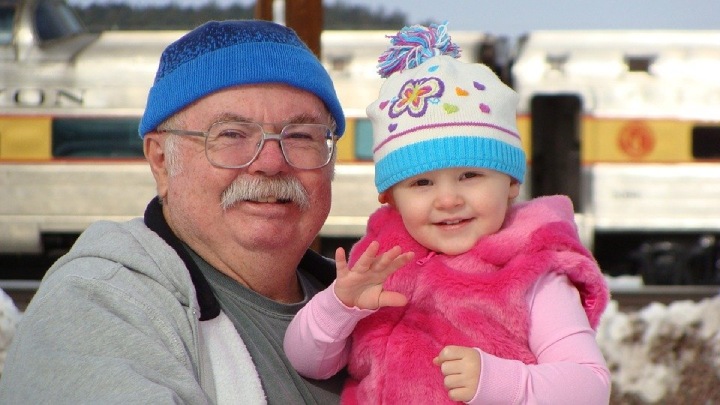 When we look back at our fondest childhood memories, most of them were the times we spent with our grandparents. Grandpa could be strict sometimes, but most often he is the one who could do everything to make his grandchild safe and smile. Thus, it is only right to find the best gifts for your grandpa and make him feel loved despite the rare times you see each other now.
Whether it is for his birthday, Father's Day, Grandparent's Day, or other reasons to celebrate, we have gathered the most practical gift ideas for grandfathers in 2021.
1. Cell Phone Screen Magnifier.
The oldies always complain about how little the texts and pictures they see on screen. With a screen magnifier, your grandpa can watch movies with a clearer, high definition quality. This gadget is not only for the elderly but for anyone who finds discomfort in watching videos on a small screen. You may choose the color and size for your grandpa on Amazon.
* As an Amazon Associate I earn from qualifying purchases.
2. Life Story Picture Frame.
Grandparents are sentimental and they love reminiscing the old, happy times with their family. It is a sweet idea to create a life story frame for your grandpa that features your family photos. Under each photo (or anywhere you want), add a caption that expresses his memorable milestones. You can even have the frame engraved with his name or a short message that will put a smile on his face. You may look for frames on Amazon.
* As an Amazon Associate I earn from qualifying purchases.
3. A box of Snacks.
Grandpas love something to munch on while watching their favorite soccer game on TV. You can satisfy his leisure time by giving him a snack box that is full of healthy crackers, cookies, dried fruits, or any snacks he loves — and can still chew. It is also perfect for traveling, work, and other simple occasions. Just make sure you do not include food that he is allergic to or those which are prohibited by his doctor. You may visit Amazon for healthy snack boxes.
4. Personalized Tools.
A lot of grandpas are into carpentry. They are experts at fixing furniture and even creating new home stuff. If this is your grandpa, it would be great to surprise him with a hammer or other carpentry tools. Make it extra special and have it personalized by having his name engraved on it. You can find the coolest tools on Amazon.
5. Trivia Game.
Through the years, grandparents have gathered knowledge and wisdom, that is why they know so much about many things. Thus, it will be exciting to give your grandpa a trivia game set that has a series of questions to challenge his stock knowledge. It can also be a good bonding time with the family. Amazon offers a variety of trivia games for all ages.
* As an Amazon Associate I earn from qualifying purchases.
6. Slippers.
The oldies need to feel comfortable when walking even at home, so you better get a pair of grandpa-friendly slippers that will keep him cozy all year-round. It is best to choose those that are made with rubber soles. Whether for indoor or outdoor use, you can get a pair on Amazon.
* As an Amazon Associate I earn from qualifying purchases.
7. Photo Book.
The oldest and most precious baby photos, graduation pictures, holiday memories — grandparents have them. They are the best keepers to photo albums of the family, from one generation to another. It would be beautiful to curate a photo book for your grandpa that will take him back to his favorite people, places, and events. You can check for some guides on Amazon.
* As an Amazon Associate I earn from qualifying purchases.
8. Beside Pocket.
If your grandpa has become forgetful, you can help him avoid jumping in and out of the bed by giving him a beside pocket for the essentials he needs. By putting it on his bedside table or sliding it between the mattress and foundation, he will feel the convenience it offers. You can pick the perfect color for him from Amazon.
9. Bookmark.
If your grandpa is a voracious reader, then a bookmark might be a perfect surprise. Find one that you can personalize with his name, short message, or date. You can choose a leather bookmark for an elegant look. You may search on Amazon.
* As an Amazon Associate I earn from qualifying purchases.
10. Barbecue Set.
A lot of grandparents love grilling and hanging out on their lawn during fine weather. You can upgrade his grill game with a set of barbecue tools that is grandparent-friendly. Go for a set that is complete with a spatula, tongs, and fork. You can find one that offers a fork that comes with a bottle opener on Amazon.
* As an Amazon Associate I earn from qualifying purchases.
11. Personalized Wallet.
He probably has not thought about getting a new wallet for years. You can express your love with a wallet that has his name engraved or embroidered on the outside. To make it more special, add a sweet note on the inside part. You can use your own handwriting. You may visit Amazon and see the right wallet for him.
* As an Amazon Associate I earn from qualifying purchases.
12. Portable Turntable.
Turntables are nostalgic. They bring back the good, old times with their vintage vibe. Get your grandpa one and enjoy the sight of him as he dances with grandma to their favorite old love songs. You can find portable turntables in a wooden suitcase on Amazon. You can check out those that play vinyl records in different sizes.
13. Book Club Subscription.
Aside from personalized bookmarks, a book subscription is the best gift you can give to a bibliophile. Support your grandpa's love for reading by signing him up on a book club over the internet. Every month, he can pick among the book titles offered by the app or website. He can have the books delivered to his doorstep if he prefers a physical copy. One of the best things about being a member of a book club is that he can interact with other readers, share reviews, and get the early releases. Go to Amazon and have your grandpa registered in a few clicks!
14. Folding Chair.
Folding chairs are the best choice for camping or simply hanging out in the backyard. Let him experience comfort with a durable type of folding chair that includes a padded seat and armrests. You can also pair it with a fold-out side table for his books, snacks, etc. Get one at Amazon.
15. Media Streaming Device.
Your grandpa deserves to relax. Support him by turning his TV into a smart TV with a media streaming device. Some oldies no longer understand how high technologies work, so you have to set it up for them and teach them how to go about it. Log them into your Amazon account and show him how to watch a movie. You can also recommend good shows to keep him entertained.
16. Neck Massager.
You would probably not hear the oldies say no to a massage. Since it is not yet safe to go to a massage spa due to the pandemic, a neck massager is a right alternative for your grandpa. Get one that provides comfortable, adjustable heat, and has an auto shut-off to protect him in case he falls asleep. You can purchase on Amazon.
* As an Amazon Associate I earn from qualifying purchases.
You may have a family of your own but your grandparents will always have a special place in your heart. So, get the sweetest gift for your Pa and remind him of your irreplaceable grandchild's love.
ALSO READ: