I like Mindvalley and talk about it quite a bit on Inspiring Tips, but I equally like Optimize, a personal growth platform that's dedicated to helping you optimize your life in every area. I really like Brian Johnson, the creator of Optimize. He is the voice and face behind many of the philosopher's notes, classes, and videos found in Optimize.
It's apparent that Brian has a genuine goal to help a million people optimize their lives. Not all CEOs of companies are like Brian Johnson. Many let their ego get to them. Many forget about the people who helped them get to where they are. Brian Johnson is not like that at all. He's down-to-earth and full of wisdom that can help you live a happier life.
Optimize Membership Compared To Mindvalley Membership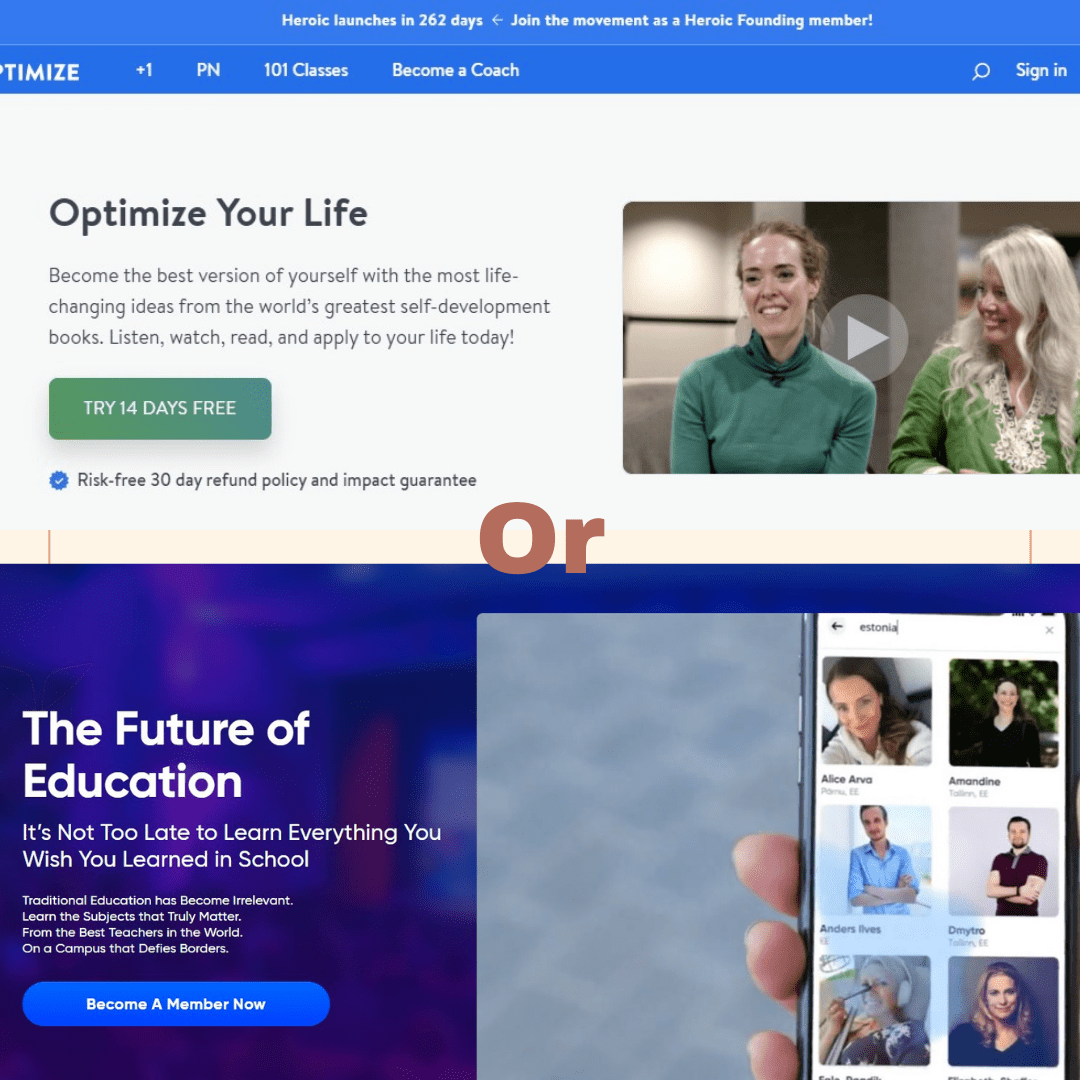 In short, Optimize is a great alternative to Mindvalley. It deals with personal growth in all areas of life and the content just keeps coming, similar to Mindvalley.
Optimize Is Cheaper Than Mindvalley
The Mindvalley Membership is $499 per year or $99 per month.
Optimize runs at $69.99 per year or 12.99 per month. (Update October 2021: It's now free. Seriously. Free. No catches. Go join and get all the stuff for FREE!)
These are the prices as of this review, but I'm pretty sure they will stick around for a while.
What Optimize Offers In Comparison With Mindvalley
Philosopher's Notes  
Optimize has something called Philosopher's Notes. These are summaries of books with big ideas highlighted and discussed. There are over 600 books made into philosopher's notes as of now.
Most teachers on Mindvalley have books. And, I have found that on Mindvalley, a lot of the speakers cover points that are in their books. In other words, often you can go out and find the same material throughout their books as they discuss in their quests. Yes, the authors do elaborate quite a bit in the quests, but it really comes down to the big points, right? That's what Optimize covers in the Philosopher Notes – the big points.
For instance, Optimize has a philosopher's note on Indistractable by Nir Eyal. Recently, Mindvalley had a quest by Nir Eyal called Becoming Focused and Indistractable. There's more content in the quest, but a lot of the big ideas are covered in the philosopher's note. And, if I were to read the book, I would bet that most if not all the ideas covered in the quest would be in the book.
Not all the authors on Mindvalley are found on Optimize. But there are a ton of authors on Optimize not found on Mindvalley.
Optimize Has Classes Too
As of this review, Optimize has 51 classes. These classes are generally an hour-long or so, but a class on journaling that I just took was two hours long.
The classes on Optimize have the big ideas of the topic put together. For instance, all the ways that Brian Johnson uses journaling is packed into his journaling class.
And each class has a workbook, MP3 file, poster, and notes to go along with it. Some classes even have an MP3 with affirmations included related to the content taught.
Mindvalley has over 50 quests available to you when you become a member. These are classes that you take in bite-sized daily portions. They can range in total length from a few hours to 10 hours. So, there's obviously more being taught there, although a lot of it is examples and discussing exercises for the day.
Optimize Has Daily Videos To Help You Optimize Your Life One Step At A Time
Optimize has daily videos called +1s. They are short videos, coming in at only a few minutes each, and they are to the point. There are currently 1288 of these videos on Optimize. The videos help you optimize one area of your life each day. And they include a worksheet and MP3, as well as related philosopher's notes and classes if you want to dig deeper into the topic at hand.
Mindvalley has daily classes, Monday to Friday, and these run an hour-long each. They are on all kinds of topics, and they are live, so often the host will invite attendees to ask their questions live. If you are part of the Mindvalley Membership, then you have access to these classes in your account to watch at any time.
Note: Optimize has interviews as well.
I like both the Optimize and Mindvalley classes.
Mindvalley has some very interesting people in their classes. But I like that Optimize has short and sweet daily classes that can help you uplevel your life quickly.
You Can Search For Key Topics On Optimize
One feature that Optimize has that Mindvalley doesn't, is the ability to search by topics on the site.  When you do, you are shown all the relevant content. For instance, searching for happiness shows that there are 150 +1s, 276 Philosophers Notes, 1 Masterclass, 6 Interviews, 215 quotes, and 8 live coaching sessions.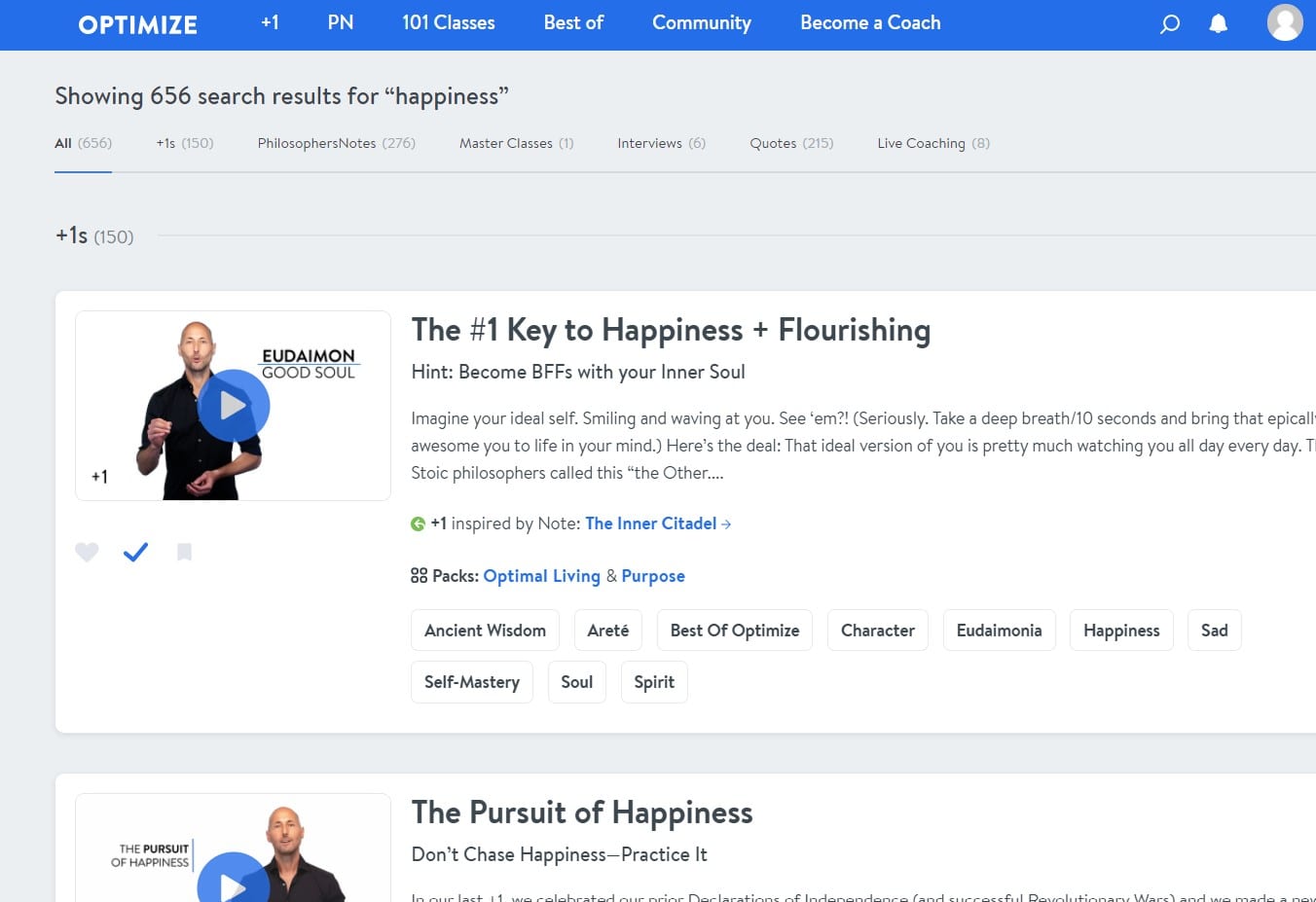 Optimize Support Compared To Mindvalley
Optimize is quicker to initially respond, without a doubt. They are on top of things.
Mindvalley often takes a few days to get back to you. But when they do, they tend to solve your problem rather quickly.
The Optimize Membership And The Mindvalley Membership Can Both Help You Uplevel Your Life
I think having a membership with both places is ideal. You can really bounce around and dig into areas that you want to dig into.
However, if you have to pick one, it really comes down to preference. Here's a list of what each membership offers.
Mindvalley Membership
Over 50 quests are available.
All quests come with workbooks and homework.
News quests being added every month or two.
Monday to Friday live classes on a variety of topics.
Mindvalley insights where you can write down private thoughts or share thoughts with other people in the community.
A community for each quest.
A connections app with a social network to help you connect with like-minded people, network, and meet up.
A meditation app with a variety of meditations.
Mindvalley mentoring classes that focus on up-leveling your life in business and career.
A section called Zenward that focuses on yoga classes.
$499 per year or $99 per month.
Things are always updating, so you can read everything that the Mindvalley membership currently offers on this page.
Optimize Membership
Philosopher's Notes summarize important points of over 600 books, which can be great if you don't have the time to read but still want to pull out the big ideas from books you are interested in.
Daily +1s to help you uplevel your life just a bit each day.
51 classes on a variety of topics full of big ideas.
The ability to search for a topic and have notes, +1s, classes, interviews, and coaching sessions come up for you to choose from.
A community to interact with.
Both Optimize And Mindvalley Offer More Than Just Their Main Membership
Both platforms offer more than I'm covering in this comparison of the membership. For instance, they both offer a coaching program. Mindvalley offers Evercoach and Optimize offers Optimize Coach.
And, both platforms are consistently expanding and adding new features and content. For instance, Optimize has the upcoming (2022) Heroic Training Platform that will help train you to be a hero. And Mindvalley is working on an artificial intelligence system that will help you connect to like-minded people even easier (think dating, networking, and friendships.)
I'm sure I'm missing things in this comparison, so, please, if you have any questions about the Optimize membership or Mindvalley membership, ask in the comments below.