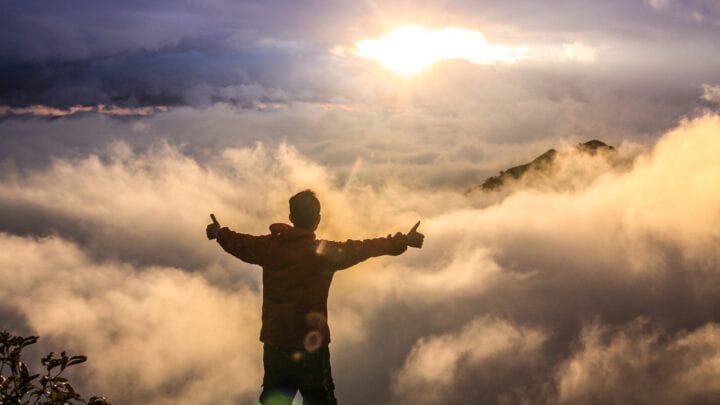 Being successful is not dependent on luck. Moreover, you do not need to come from a rich family or graduate from a popular school just to be a successful person. It is something that can be achieved with perseverance, discipline, and the right mindset.
If you are easily discouraged from failures and you want to renew the way you think to be more optimistic in achieving your dreams, then read these tips below. Hopefully, these ways can help you find the right mindset for success.
1. Set goals.
One of the reasons why people do not get what they want is because they have an unclear vision of what they want to achieve. A vision of where you want to go will give you the direction of how to go there. For this reason, you need to create Specific, Measurable, Attainable, Result-oriented, and Time-bounded (SMART) goals.
2. Plan how you will achieve those goals.
Once you already have your goals, then you should come up with a plan—and back-up plans—of how to reach your objectives. Your plans should include specific steps and the right strategies of how to get what you want.
ALSO READ: 50 Inspiring Quotes about Working Hard and Achieving Goals
3. Evaluate previous action plans.
If before you already have had goals and plans but you were not able to achieve your target results, then think about where it went wrong. Evaluating your past steps and approach will help you avoid the same failures you encountered before and come up with better solutions this time.
4. Get an organizer or planner.
Successful people are mostly organized with their daily activities. They usually have hectic schedules so they have to take note of their appointments to avoid conflicts of commitments—which is a big turn-off to clients, employers, or partners—and manage their time well to prevent stressful cramming. If you are not organized with your time, then this is one of the basic disciplines you need to apply to yourself.
5. Treat time as gold.
Proper time management is one of the secrets of successful individuals. Aside from maximizing the use of planners, they hate oversleeping and procrastination. They use every minute productively because they have to accomplish their goals within their target time.
6. Be wise in investing or spending your finances.
If you are earning your money the hard way, then you would understand how important it is to be cautious about how you spend it. Investments are good, but not everything is worth it and would not give you returns. Have a businessman's mindset—only invest in something which will return to you double or more. For instance, between buying a condominium unit and a commercial space, you would invest in the latter because you could use it for business purposes.
7. Forget about past achievements.
Stop thinking about the good old days but, instead, think about how you can create better days ahead. Just because you were an achiever in high school does not automatically guarantee you are still in college, unless you strive to keep excellent grades. Give your best TODAY.
8. Learn from past failures.
Instead of thinking of your failures as traumatic experiences, consider them as opportunities to learn and improve. Find out how you could respond better to those situations if in case you find yourself in them again. Use the lessons you have learned from your experiences to avoid the same mistakes in the future.
9. Be willing to be mentored and learn from successful people.
If you want to grow more in your career, then you need to humbly accept that you still have a lot to learn. Learn from the examples and strategies of successful individuals. If you know them personally, and if possible, ask them to mentor you.
10. Seek opportunities to grow your knowledge.
Never stop learning and seeking opportunities to increase knowledge in your chosen field. If availability and resources permit, enroll in post-graduate studies after finishing your bachelor's degree. You can also enroll in short-courses, attend seminars and training, and even learn from Youtube tutorials.
11. Decide that you will never be a quitter.
Success never comes easy—it is a prize that only goes to the overcomer. Expect that there will always be obstacles, disappointments, and frustrations in the process, and you have to get past them if you want to harvest the fruit of your labor. Therefore, decide that you will never give up no matter how hard it gets along the way.
ALSO READ: 15 Ways to Not Give Up When Things Get Hard
12. Take calculated risks.
If you fear failures, then you will never attempt greater ventures because they require greater risks. To kill "what if's", wise people will courageously take opportunities in the higher level, but will not gamble everything they have worked hard for. They will first count the cost by weighing the pros and cons of their decision to take the risk and evaluate how much would the possible return of investment and probable loss be.
13. Do not be intimidated by those who became successful first.
Comparing your pace and level now to those who have gone ahead of you will only result in intimidation and frustration. For this reason, do not use their accomplishments as the measurement of your own success. Instead, make them an inspiration to keep working hard to achieve the same or even more.
14. Always see your glass half-full—not half-empty.
Success has no cut-off time—meaning it is not defined by how long it takes you to achieve it. Actually, how fast and big your progress is actually depends on your standards. To avoid frustrations, do not be harsh on yourself. Instead of scolding yourself for not meeting your expectations, celebrate every accomplishment, no matter how small it is—at least you are one step closer to your goals.
15. Apply Philippians 4:8.
Philippians 4:8 says, "Finally, brothers and sisters, whatever is true, whatever is noble, whatever is right, whatever is pure, whatever is lovely, whatever is admirable—if anything is excellent or praiseworthy—think about such things." This verse encourages us to think about positive things instead of being pessimistic. If you want to have a mindset for success, then you need to be optimistic that you will be successful as long as you strive for it.
Have the Right Mindset
Nothing is impossible for those who believe. Therefore, if you want success, then you have to believe that you can get it. It all starts in the mind.
ALSO READ: 17 Ways to Unlock Your Full Potential