Bad and stressful stuff is always happening around us, and it can be easy to get caught up in it and let it affect our inner peace negatively. But, we don't have to let it. We have control over our own inner peace, no matter where we are and what is happening. Not sure how to start moving towards more inner peace? Following are 5 quotes about inner peace that may help.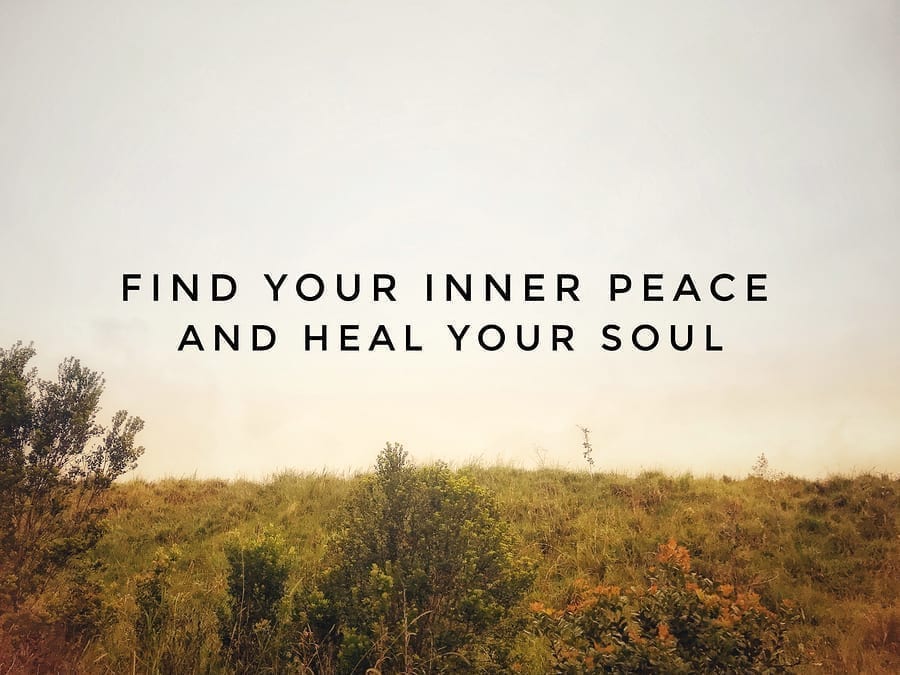 1. Don't Let Other People Dictate Your Inner Peace
Don't let the behavior of others destroy your inner peace – Dalai Lama
If you were on an island with your favorite people, you would have much more inner peace. Why? Because there wouldn't be people pushing your buttons, doing stupid things, and making you crazy.
It's very important to live and let live, or you will destroy your inner peace with jealousy, hate, and frustration. In other words, if you can't accept other people, their actions and words will dictate whether or not you have inner peace.
You don't have to love how other people behave or speak. You can stand up for your rights and speak up when things are not right. But, don't let their behavior or words stay with you throughout your day. Let it go.
Ruminating over them will do nothing to change them – it will only destroy your peace of mind, so don't do it.
2. What Will Bring You Inner Peace?
Only things which bring inner peace is my own inner value, compassion, spirit of forgiveness, and also realistic attitude. These things bring inner comfort. – Dalai Lama
If you want inner peace, I highly suggest you listen to the Dalai Lama on a regular basis. He's all about compassion, love, and kindness, and he can help you understand how to cultivate more peace of mind in this world.
This quote sums up what we need to do to bring more peace of mind into our lives.
Inner value – Valuing yourself and your worth can help you avoid beating yourself up.
Compassion – Having compassion can help you avoid judging and hating other people. It can help you step into their shoes and see things from their point of view.
Forgiveness – You must forgive yourself and other people if you want inner peace. Without forgiveness, you will always struggle with what should've, could've, and would've been.
Realistic attitude – The truth is that our imaginations can disturb our inner peace in a big way with worry and anxiety. It's important to be realistic, stay calm, and take what's happening at face value.
The Dalai Lama also said that his physical health was important for inner peace. Anyone who is sick knows this to be true. Struggle, anger, fear, and sadness can all be present when someone is sick.
The Dalai Lama said he once had a doctor tell him that he was much younger than his years suggested, and he said that he believes his inner state makes a difference to his body.
3. You Can't Snap Your Fingers And Get Inner Peace
I'm sorry to tell you, there's no app for instant inner peace. If you have depression or anxiety, you know it requires hard work to face down your most painful thoughts and find self-compassion. – Chris Dancy
'There's an app for that' doesn't really apply to inner peace. You can download apps to help you be more productive, meditate better, and improve your state of mind in other ways, but you need to work on fixing issues like depression and anxiety before you can have complete inner peace.
I have found that this is all about self-exploration. The more personal development courses and books I've taken, the more I've reflected on myself and what's holding me back from having the success, happiness, and inner peace I want. New thoughts are introduced, new beliefs are formed, and new habits take place.
Stop worrying about stuff that doesn't matter – stuff you don't have control over. Start focusing on yourself, your personal growth, your happiness, your success – that's when you will start to bring more inner peace into your life.
4. Inner Peace Is A Choice
Positivity is a choice. When worked on day in and day out, it becomes a habit. A habit that brings inner peace from one thought to the next. – Gareth O'Sullivan
How do you know inner peace is a choice? Because some people have peace of mind and some don't. Moreover, some people in bad situations have peace of mind, and some people with everything they could ever want, don't.
It's a choice. You can choose to work on developing your inner peace, or you can choose to focus on external things that keep you upset, negative, and fearful.
My mother-in-law is a great example of this. She focuses on what didn't work out rather than what did. There's is very little that didn't work out in her life, but that's where her focus always goes. She has never had peace of mind that would bring her happiness. She is negative, miserable, and lonely because she chooses to focus on things that don't really matter in the long run.
5. Choose What Brings You Inner Peace
If it costs my inner peace, worth, or value, I don't want it. – Shahd El Shaarawy
Speaking of choices, it's always best to make a choice that brings you happiness, value, and worth.
For instance, if you are dating someone who is abusive, you have a choice to stay with them or leave them. An abusive person will affect your inner peace and self-worth, so if you choose to stay with them, you are choosing to affect yourself negatively. It's much better to choose the option that helps you regain your self-worth and inner peace.
This applies to every situation in life.
You can choose to get rid of old habits and bring in new ones.
You can choose to let go of people who are affecting you negatively.
You can choose to look for a new job or go back to school.
You can choose to stop doing that thing that makes you feel bad about yourself.
If it doesn't make you happy or feel right, I would suggest not doing it. That's the best way to keep your inner peace intact.