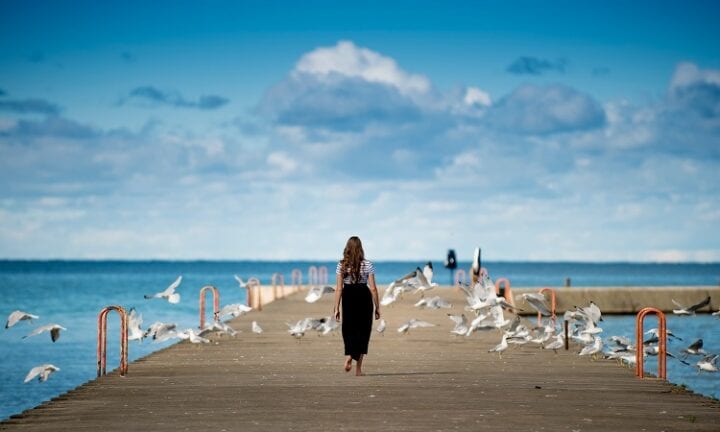 Breakup is one of the worst things that any person can go through—especially if s/he has loved the other person so much. For some people, the pain could be so overwhelming that they think they would never recover.
However, just like other challenges in life, heartbreak can be overcome through positive response. It will soon pass away, and the wound will eventually heal.
If you are suffering from a recent heartbreak, here are 15 ways that may help you move on soon.
1. Decide to be a better you.
Cliché, but it is helpful. Use the breakup as a motivation to improve yourself. This is not for revenge. Rather, it is a call to reinvent yourself, so that the next time you enter a relationship, you can avoid the same mistakes that contributed to your failed relationship. Also, this is a reminder to yourself that you deserve to be treated better, and that you certainly deserve the best in everything.
2. Feel the bliss of singleness.
There are a lot of things that you cannot do when you are in a relationship. Remember, if you have a partner, you need to consult him/her for decision like accepting a job offer abroad or going out of town for days with your friends. That is why, you better savor this chance of being free again. Once you find a new love, your liberty will be limited again.
To know more about the benefits of being single, read 9 Ways to Live Your Life to the Fullest While Being Single.
3. Think of it as a chance to find someone better.
If you had a rough relationship with your ex, then you should be thankful for the chance to get away from him/her. Now that you are single—and hopefully have learned a lot about dealing with a partner—you have the opportunity to find a person who will treat you better and you can understand better.
4. Get rid of your ex's stuff.
One of the best ways to move on faster from your breakup is to get rid of the things your ex gave you, or his/her stuff that are still in your possession. Seeing those around would constantly remind you of the pain. If you cannot bear to throw or burn those things, you have options to either give them away or give them back to your ex.
This one is not easy to do, since it is hard to detach yourself from the only things that could give you hope of having your ex back. However, you need to be wise, or you will end up suffering for a long time. There are many other wise things that you can do to move on from your painful breakup. All you need is be willing to do them, even if it hurts.
5. Enjoy time with family.
You still have a lot of loved ones around you. These are the people who will forever love you no matter what. They are your family. Take time to bond with these special people, so you can express your love for them. Aside from making them feel your affection, this will make you feel better as well. Date with your parents, take a trip somewhere with your siblings, or simply stay with them at home and do fun things together like watching television or cooking dinner.
6. Bond with your friends.
Being with your friends can help you forget about what you are going through for a while. Your best friends are part of your support system, so having them around will make you feel better. Do something fun and productive with them. You can watch movies, enjoy outdoor activities, or simply hang out at your favorite spot. Just make sure to stick to mature and good influence friends who can be the right people to run to during these times.
7. Take a vacation.
Going for a holiday trip can also help you unwind and feel much better. Go somewhere beautiful and refreshing with family members or closest friends. You can also try traveling alone if you need a retreat. Let the healing power of the nature restore your joy and enthusiasm in life. This can be a soothing therapy to your wounded soul. ALSO READ: 20 Inspirational Quotes about Travel, Relaxation, and Vacation
8. Pamper yourself a little bit more.
Treat yourself to a movie, spa, or shopping spree. Get a new haircut or reinvent your wardrobe. This is one of those times when you have an excuse to indulge yourself in things or activities you have been wanting to do ever since. This can help you freshen up, plus you deserve it.
9. Do not stalk.
Stalking your ex on social media would keep you bitter and longing. For this reason, you have to control the urge of finding out what s/he is up to or who s/he is with. Completely letting go means not caring about your ex's activities and whereabouts anymore. You need to erase him/her from your system. You are over him/her, remember?
To know more about how you can fight off bitterness, read these 8 Effective Ways to Overcome Bitterness and Resentment. Overcoming bitterness or resentment is one of the necessary steps you need to take so you can let go of the past.
10. Go out more often.
Instead of crying behind closed doors, decide to go out more often to get fresh air. Staying in your room the whole day and isolating yourself from the world would lead to depression—and that would not do you any good. Fight the urge to succumb to loneliness. Get yourself moving and enjoying even the small things around.
11. Wear bright colors.
The color of your outfit can also affect your disposition (source: DailyMail.co.uk). This is proven in color psychology. Therefore, be aware of what you should wear. Avoid wearing clothes of dark and dull colors like grey or black. They would pull down your mood and make you sulky. On the other hand, wearing bright colors like yellow and pink can help brighten your mood.
12. Enjoy physical activities.
Physical activities like sports or outdoor games would not only make you fit and healthy. They can also help boost your mood and increase your energy. This is because physical activities can make your body release happy hormones that can brighten your mood and make you more active. Through this, you will be less prone to depression and your moving on will be faster.
13. Forgive for your own peace.
This one is not easy to accomplish, and this does not happen at once. However, releasing forgiveness is necessary for you to completely move on. Do not think of it as doing your ex a favor. Instead, just think of how you will have peace in your heart, because you do not keep grudge against anyone.
If you do not know how to forgive your ex, read my blog post about how you can forgive someone who has broken your heart. You will surely learn a lot.
14. Believe that you are strong to handle this.
During painful moments like this, you need to be strong for yourself. You cannot rely on other people to carry you throughout this time, because they have their own battles to fight. Furthermore, no matter how hard others encourage you if your will is weak and you do not help yourself, you will still be miserable. Therefore, you have to strengthen your will and believe that you are indeed a strong person. You can survive this.
To find out how you can be strong in this battle, learn these 14 Ways to be Happy and Strong After a Breakup. You will find wise steps of how to be happy in spite the pain too.
15. Choose to be happy.
They say happiness is a choice. Well, it really is. You cannot control the circumstances around you, but you can control your response to them. If you decide to be positive despite the problems you go through, then you have a better chance at thriving in life. To thrive means to be successful, prosperous, and fulfilled.
It is a new start for you
The end of your relationship does not mean the end of the world. There are many more reasons to strive harder in life. Just look at things in a positive way. Moreover, see it as an opportunity to make better decisions and find someone better for you. In short, treat this as a new beginning in love and life.
Photo by Ben White